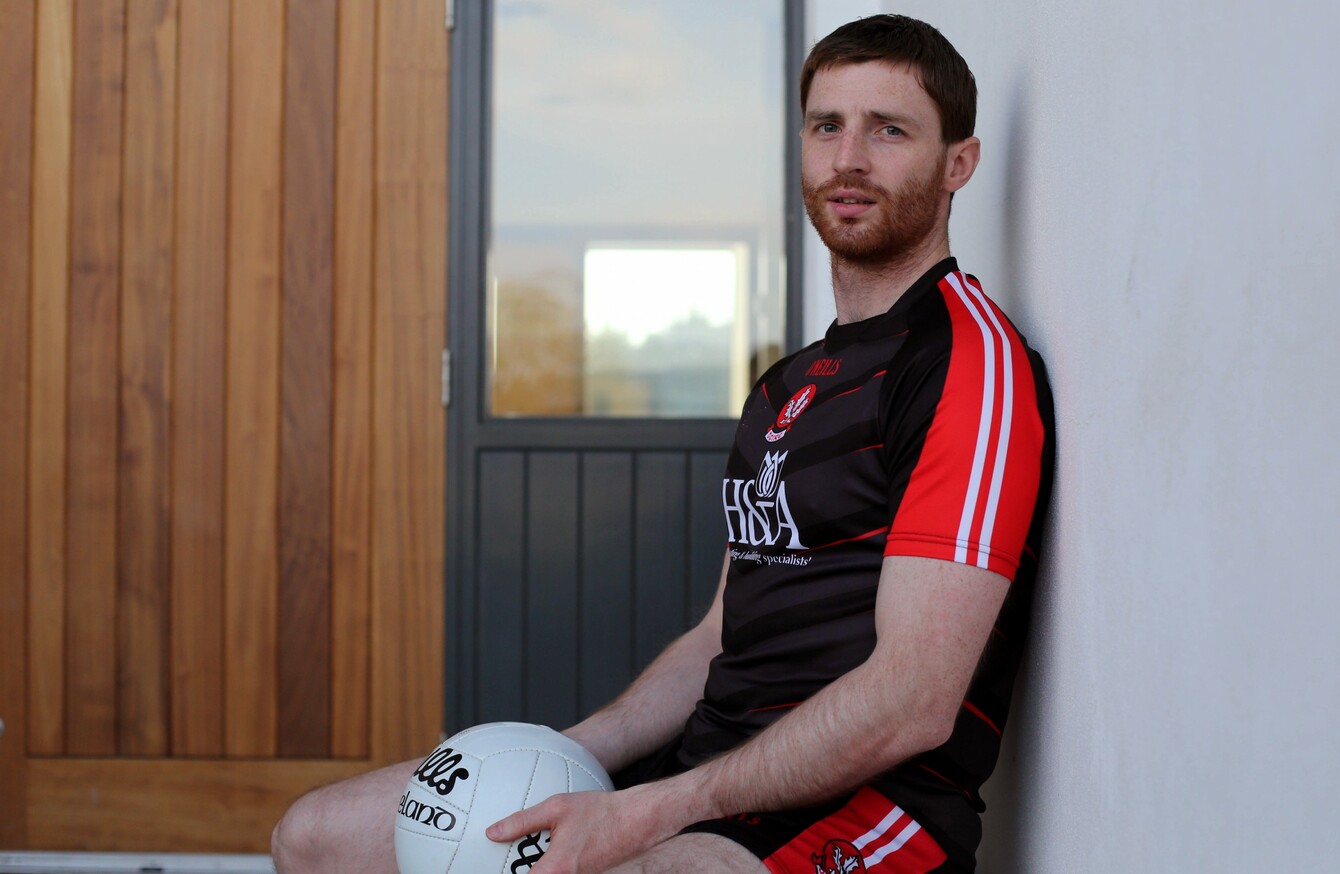 Gerard O'Kane has brought his Derry senior career to an end.
Image: Presseye/Lorcan Doherty/INPHO
Gerard O'Kane has brought his Derry senior career to an end.
Image: Presseye/Lorcan Doherty/INPHO
LONG-SERVING DERRY senior footballer Gerard O'Kane has announced his retirement from the inter-county game.
The 31 year-old, who captained Derry to the 2002 All-Ireland minor football title, has confirmed his decision this morning.
Injuries marred his 2016 campaign and while he was part of the match day squad, he did not see action in Derry's championship exit at the hands of Tipperary in Cavan last month.
O'Kane's last appearance for his county was when they were convincingly defeated by Tyrone in the Ulster quarter-final back in May.
The Glenullin club man spent 13 seasons as a Derry senior footballer, having first started out back in 2004 when Mickey Moran was in charge. He captained Derry at minor, U21 and senior level.
O'Kane released a statement via the Derry county board outlining the reasons for his decision.
"I would like to officially announce my retirement from the inter-county football scene. Ever since my father started taking me to Derry games as a child, all I have wanted to do was to play for my county.
"From the moment I first pulled on a Derry jersey as a minor in 2001, I could never have expected that fifteen years later I would still be playing for my county, having also had the opportunity to captain Derry at minor, under-21 and senior level.
"I have experienced many ups and downs as a player. Throughout it all I have had some great experiences and made some fantastic friendships which stretch far beyond the playing fields.
"I have worked under six different management teams and can say that each one has worked hard for the good of Derry football and to develop both myself and all the players. For that, I am thankful.
"I would like to go on record to acknowledge the Derry county board. I have played under four different county chairman and each one has led the board with distinction. At times, even though it seems like a thankless job, the county board continue to provide football for over one thousand adults weekly, and not just thirty county panelists. I feel that this should be acknowledged.
"To the supporters of Derry, I would like to thank you all. On a personal level I have received untold support over the years. There are too many moments to mention individually. However, when I recall them, I hope that the supporters of Derry football continue to follow the team that I now return to being a supporter of for the years to come.
"My own club, Glenullin, has always supported me in playing for Derry. I look forward to continuing my playing career with Glenullin and I want to thank everyone at the club for their support over the years.
"Finally, I would like to thank my friends and family for the support throughout the years. My immediate family – particularly my parents – have given me the opportunity to represent Derry and provided me with immeasurable support which can never be repaid, but for which I am grateful. I hope that I have provided some moments of joy for them that make it all worthwhile.
"I now return to being an ardent Derry supporter, just as I was before I began my playing career. I look forward to watching Derry teams and players bringing some silverware back to the county in the years to come, but perhaps more importantly, wearing the Oak Leaf jersey with pride and knowing that they have the backing of a county behind them."
Current Derry manager Damian Barton paid tribute to O'Kane.
"It's really only during the last year that I've gotten to know Gerard, but in that time I have been struck by his absolute commitment and dedication.
"His attitude to training is exemplary, and as is evidenced by his playing record, his passion for the Derry jersey is second to none.
"I wish him, his family and his club the very best."
The42 is on Snapchat! Tap the button below on your phone to add!