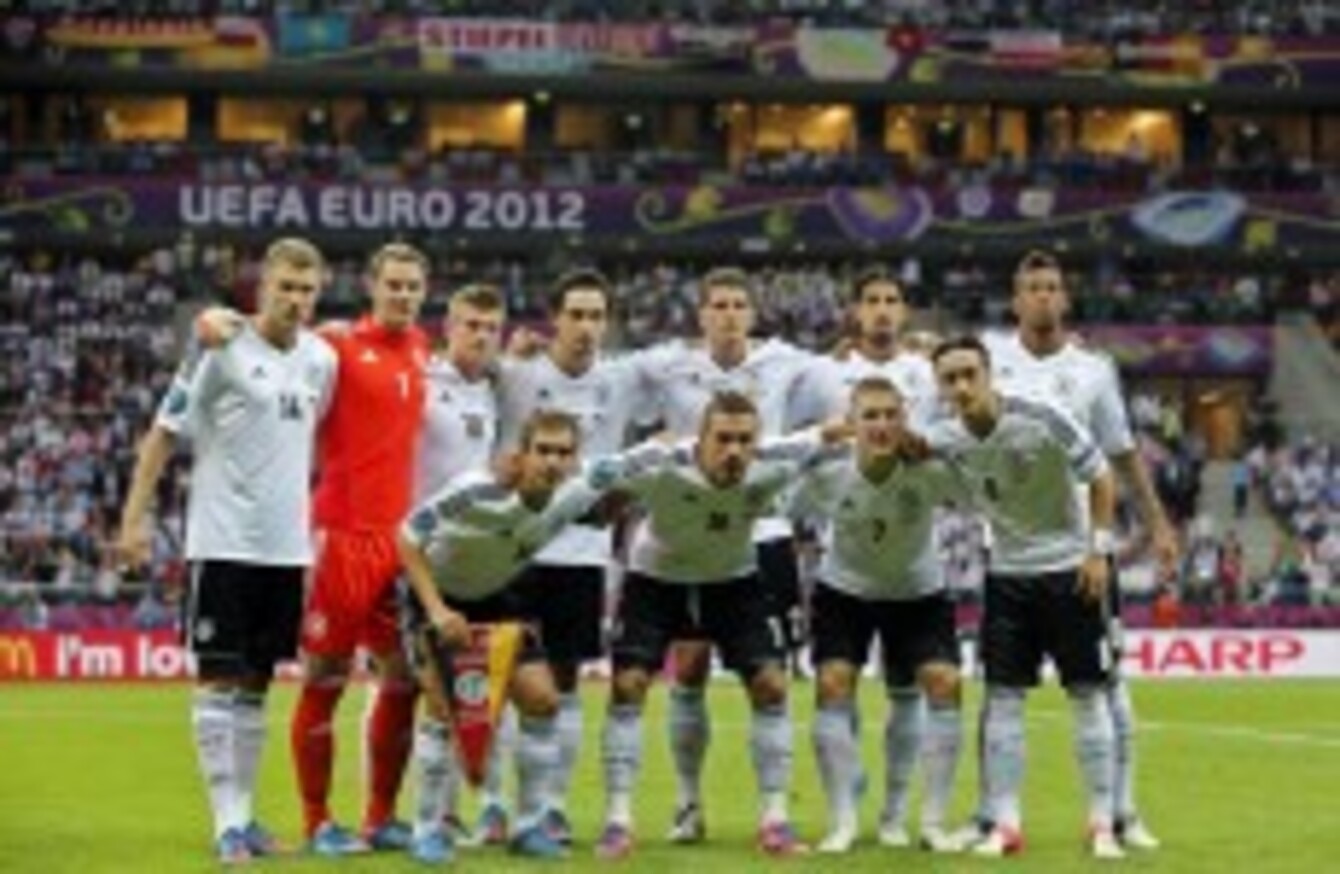 The midfielder, second from right on back row, was amongst those critisi
Image: Matthias Schrader/AP/Press Association Images
The midfielder, second from right on back row, was amongst those critisi
Image: Matthias Schrader/AP/Press Association Images
GERMANY MIDFIELDER Sami Khedira today hit back against criticism of players, including himself, who do not sing their national anthem before matches.
Khedira also gave his backing to under-fire head coach Joachim Loew, insisting that he had the players' complete support despite a backlash against his tactics following their 2-1 Euro 2012 semi-final defeat to Italy.
"It (criticism of Loew) is something that has been completed over-exaggerated," he told a press conference in Frankfurt, where Germany play Argentina in a friendly tomorrow.
"People tried to find the reasons for our defeat but we won the Euro under-21 championships with eight originally foreign players and no-one said anything, in fact the team were celebrated as heroes.
"As the coach said yesterday, it is better to sing but it doesn't determine whether someone is a good German," said the 25-year-old Real Madrid player, who has a Tunisian father and German mother. "Someone is a good German if they speak the language and live by the customs of the country. To reduce this affair down to the national anthem and whether someone is a bad German if they don't sing is completely unfair.
"I have done this since I was 15 and I am not going to change. It is also part of my pre-match preparation. To sing the anthem or not has nothing to do with the amount of effort we give on the pitch."
As for Loew, Khedira said the man who led Germany to three consecutive semi-finals at Euro 2008, the 2010 World Cup and Euro 2012, had the complete backing of the players.
"We have 100% confidence in him. A coach shows his courage when he takes risks with his decisions and no-one can criticise him for his starting 11," he added. "It was us, the players, who were on the pitch and not down to tactics or the composition of the team. The coach did his best and gave us the best conditions in which to prepare."
Khedira said Germany missed two "fantastic" chances against Italy but they did not take them and were made to pay.
German football officials have also expressed their faith in Loew, who has been in charge since 2006 and is set to lead the Mannschaft for the 2014 World Cup qualifying campaign, where they play Ireland as well as Sweden, Austria, Faroe Islands and Kazakhstan.