Ryan Bailey reports from Offenbach, Germany
THE GERMAN RUGBY Federation has held preliminary discussions with Guinness Pro12 over the possibility of its national team joining the league, but recent reports suggesting it will happen in the next few years are wide of the mark.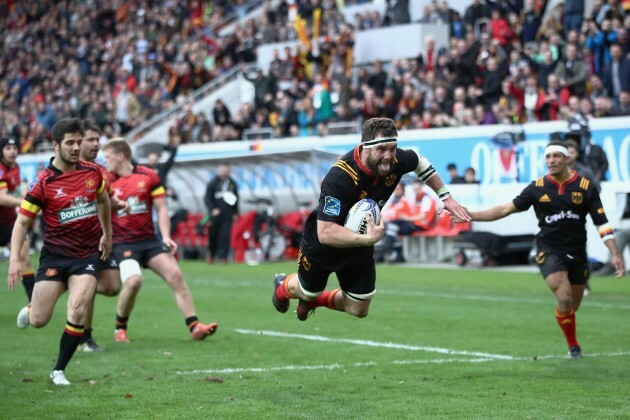 World Rugby / Getty Germany beat Belgium in the Rugby Europe Championship yesterday. World Rugby / Getty / Getty
It's no secret that Pro12 organisers are exploring avenues to expand the competition and with substantial investment from Capri Sun owner Dr Hans-Peter Wild, Germany have emerged as a viable option alongside the likes of Georgia, USA and Canada.
Officials from Deutscher Rugby-Verband (DRV) were invited to a meeting with the Pro12 last summer, but the union's president says it was a 'very low level discussion' and the German team would firstly need to become professional to make it a possibility.
Speaking to The42 ahead of yesterday's Rugby Europe Championship game against Belgium in Offenbach, Klaus Blank said: "We have been in contact with Pro12. They explained to us what they are targeting for the next seven, eight years so it's not next season or it's not the season after that. It's a long-term thing.
"There was contact last summer when they asked us to have a little chat about the ideas of Pro12. They said to us that they're thinking about maybe North America, maybe countries here in Europe but it's just as an idea.
"I actually don't understand the discussion in the media about that because it's not realistic to where we are in conversations. It was just one chat. I wasn't involved in this discussion but as I said there was only one time and that was half a year ago so I really don't know why this happened, maybe one interview at the wrong time. I don't know if it was a misunderstanding."
While Blank has dismissed the idea of Germany joining the Pro12 anytime soon, he did admit that competing in a competition similar will be vital for the team's development and the evolution of the sport in the country.
"It doesn't matter if it's Pro12 or something else, if we want to develop our team and more players we need a competition like that," he continued.
World Rugby / Getty Germany have now beaten Romania and Belgium on home soil. World Rugby / Getty / Getty
"If it's Pro12 or something else, it doesn't matter but we need more competitions on a higher level. That's what we need and that's one of our targets but it's not on us to get into Pro12 or something else.
"If they want us or any other country to join, they have to ask and they have to give the structure and then we can discuss that. It's not our tournament but if we are invited we would be happy but that's it, we don't force it."
Germany, currently ranked 23rd in the world, recorded their second victory of the Rugby Europe Championship campaign on Saturday with a 34-29 win over Belgium.
Kobus Potgieter's side sit third in the standings with eight points after three games as the race to qualify for the 2019 World Cup intensifies.
With Georgia already qualified by virtue of their performance in 2015, the next best-ranked team from the 2017 and 2018 campaigns will earn a much-coveted place in Japan.
It offers Germany a realistic chance of qualifying for a first World Cup in their history and there is real momentum behind the team and sport in a nation otherwise obsessed by football.
"We see our pathways and our goals," Blank added. "Our first target is not to win every game, it's to develop and we're then hoping that leads to the Rugby World Cup."
Subscribe to The42 Rugby Show podcast here: