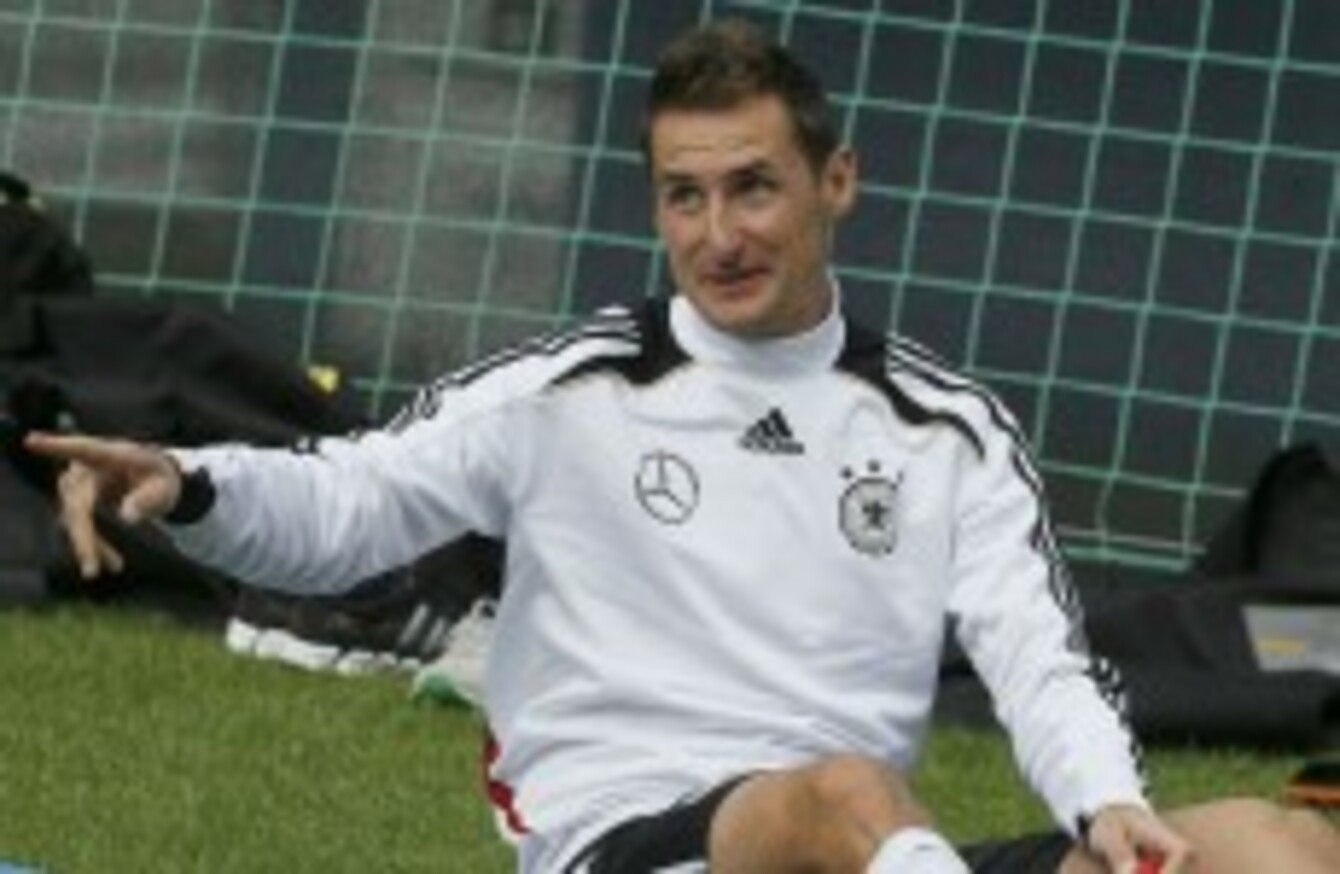 Image: Frank Augstein/AP/Press Association Images
Image: Frank Augstein/AP/Press Association Images
EVERYONE KNOWS THE stereotypes about the Germans. It's very evident, however, that they have many of their own for others.
At today's press conference just outside Gdansk, Miroslav Klose – a recent émigré to Italy with Lazio – was asked what he thought about the perception that his new country are, well, lazy…
He was, at the very least, almost diplomatic.
"There are differences in people's attitudes to life but I would never say Italians are 'lazy'. They always give their best. All the German qualities, however, the Italians take with a pinch of salt. They are a more laidback people, also in football. But, for this match, it might be an advantage for the Italians."
Klose insists, though, that his move to Serie A has definitely been an advantage for him and may well prove so for Germany: he'll be able to understand the Italians' tactical instructions.
"I'm a bit of a spy I suppose and will try and pass on info to my teammates if need be.
"I think my transfer has done me the world of good. I feel completely at home, both as a human and a footballer. I try to help the team as best I can and, as for the Italian league, it isn't easy. There's a perception that there's a lot of emphasis on tactics but I disagree. They do play more defensively, yes, but not so much an emphasis on tactics.
"You're saying they have a forward-oriented style [at this tournament]. If the opponents sets up as deep as England did, then you're right. Italy did play forward-orientated football [in that game].
What I can say is they were utterly comfortable on the ball and managed to push the opponents back. I think we'll play different tactics. We know where the Italian weaknesses are and will try and exploit them."
Whatever about what the Italians do, though, Klose repeated the Germany's squad's mantra: if they play to their full potential, they will win.
"I think we've trained very well and we've also prepared very well. We're in good states mentally and physically. Bring on Italy is all I can say."
Klose, of course, is one of the few survivors of the German team that lost to Italy in 2006 World Cup, another tournament preceded by a Serie A scandal. He doesn't think either will have any effect.
A long time ago
"What they're trying and achieving is to really concentrate on the football and football only. That is not really for the Germans to discuss. It's a totally different side, for both teams.
"I can remember there was a cross, we didn't manage to clear the ball and Grosso then managed to hit it in. There were moments of grief, desperation even. That was a long time ago. We're completely new teams. Let's just see what happens."