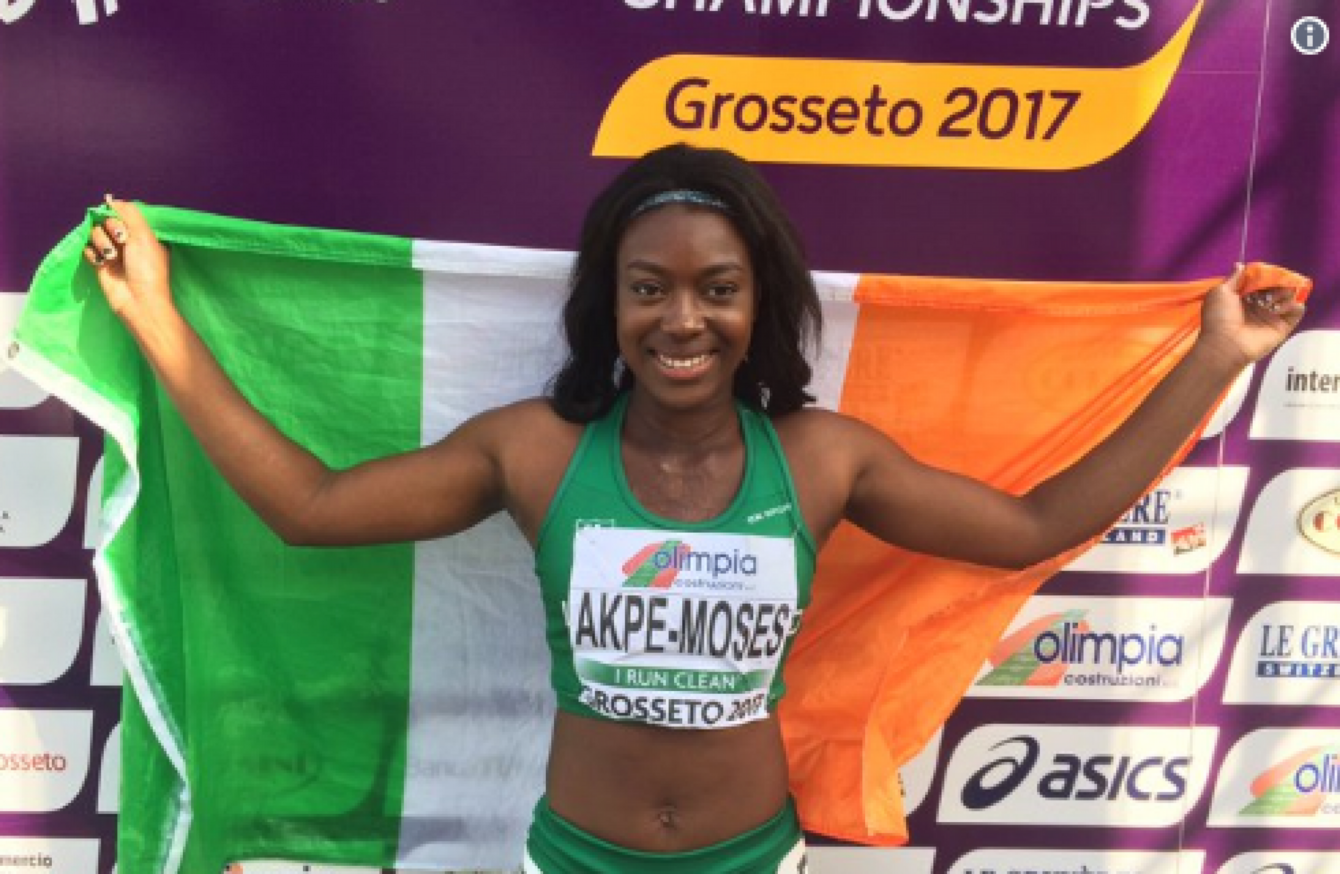 Ireland's Gina Akpe-Moses celebrates after winning a gold medal at the European U20 Championships last summer.
Image: Athletics Ireland
Ireland's Gina Akpe-Moses celebrates after winning a gold medal at the European U20 Championships last summer.
Image: Athletics Ireland
Updated at 16.13
IT IS COMING up to a year since Gina Akpe-Moses sensationally won a gold medal on the track for Ireland at the European U20 Championships.
The 19-year-old's career can consequently be divided into two clear parts — before and after that memorable triumph, which occurred in Grosseto, a city located in the central Italian region of Tuscany.
Before the achievement, she would have been largely unknown outside of athletics circles. Afterwards, she was gaining national attention with the Irish public eager to know more about this rising star.
Akpe-Moses describes the moment last July, where she surprised many people including herself to a degree, as the highlight so far of a career that — bad luck permitting — is still in its infancy.
The immediate aftermath, however, was not exactly straightforward. There was a sudden intense level of media scrutiny on her, which the teenage athlete was not accustomed to dealing with.
"When I first came back from Grosseto, the day I landed back in Birmingham, I got like five phone calls that day and I didn't get any sleep," she tells The42. "The minute I landed, I was on the phone doing interviews. I remember I was on Snapchat to one of my friends and I had a massive breakdown. I was like 'I can't do this'. Obviously I was quite overwhelmed. I started to cry. I was like 'I haven't slept. Everyone keeps calling me. What's going on?' Then I called my coach [Andy Paul] after as well. After that, he dealt with who would call me at a certain time.
At the beginning, I found that it was way too much for me to handle. I'm not big on being in the limelight, because people start to annoy me and do stuff that I really don't like. I prefer to just be the athlete that runs really fast.
"I like to do stuff and I like to be known for certain things, but I don't like people to be too involved in my personal life. When you become famous, people will dig more into your life and they'll want to know more, and that for me is a bit like 'mmmm, I'd rather you know what you need to know and then I'm fine'. You don't really have to get too invested in me like that.
"But it was like: 'This is going to be a very interesting few weeks or few months that I'm going to have to deal with.'"
Inevitably though, the media moved on to the next big story and Akpe-Moses' life quietened down again in the weeks following her European Championships triumph. Media work, meanwhile, comes easier to her now.
"I think right now, I'm fine with it. I can handle things a lot better. At the beginning, I was not able for it at all. I think I was just tired and probably a little hungry as well [in the immediate aftermath of the race], so I was like: 'I haven't got time for this.'
"It's calmed down now, and I'm just back to basics and I know in the summertime, when I start competing again, it begins. But I feel like I've settled in properly and know what I'm doing now. I've become more organised and I have a lot of good people around me — my coach, [the people at] Under Armour, Derry [McVeigh], my agent. So if it did get intense again, they'd sort out that public life or that publicity, the stuff that I don't want to deal with, so I can just focus on track and do what I do best, which is just running.
"They set me up nicely, they say 'you've got this call on this day, just make sure you're free at this time'. It's like 'yeah, cool, sorted,' do you know what I mean?'"
GOLD FOR IRELAND!

Gina Akpe-Moses wins the 100m at the European U20 Championships in 11.71 from Germany's Keshia Kwadwo. #Grosseto2017 pic.twitter.com/UbMdSA0njQ

— European Athletics (@EuroAthletics) July 21, 2017
It's been quite a journey up to this point. Akpe-Moses moved to Ireland from Lagos in Nigeria at the age of two, living in Athlone for a couple of years before subsequently moving to Dundalk.
I really enjoyed Athlone," she says. "I've always had friendly people around me. I never had any bitterness, anyone who would cause me any kind of trouble or anything like that."
And did she ever feel self-conscious or different growing up in a predominantly white area?
"When I was there, there was actually quite a lot of Nigerians or people from Africa. One of my best friends was from the Congo. There were a lot of black people and white people, it was very mixed, so I didn't really have more white than black friends.
"When I went to Dundalk though, in school, it was more white than black people, because Dundalk and Louth is a small place.
"The town itself, it was predominantly white people rather than black people, but I was still used to it regardless."
For the most part, Akpe-Moses along with her parents, three sisters and one brother were made to feel welcome in Ireland, but there were very occasional exceptions.
"I do remember one time, I was still in primary school I think. I remember some guy in my estate, we were having an argument, and then he decided to use the 'n' word on me. I was like 'whoa'.
"I flipped out, I was like: 'What the hell?' I did fight with him. I was quite feisty as a young one. I didn't really take anything from anybody. But that was probably my only real first-hand encounter of racism.
"Even then, I was younger, I still didn't understand the depths of it, but it still triggered me, it still [occurred to me]: 'Why would you say that?' I didn't really know that much about it, but I knew it was something you really shouldn't be saying.
"It did light a bit of a spark in me, it was like 'if that's how you want to be, fine,' but other than that, I haven't really experienced much of it and even if I have, it hasn't been anything that's been directed at me. So it's never really fazed me that much, or I've just let it slide — I can't even remember if I had any more encounters like that, but that was the only one that [stands out] after all these years."
In Ireland, Akpe-Moses discovered her love of competing in a number of sports, particularly athletics, and her phenomenal natural talent was apparent quite early on.
At the age of seven, she joined St Gerard's Athletic Club.
Straight away, you just knew that she had the ability," her former coach at St Gerard's, Michael O'Connor,

told LMFM last year

. "We would have all said at some point, that she was going to do something very, very special and she's starting to show the ability that she has now."
Aged eight, at her first Community Games, Akpe-Moses took part in a competition for U10s, running barefoot and triumphing despite most of her opponents being at least a year older than her.
"The competitor who came second to me started to cry and I was like: 'Oh, don't cry, I can give you my medal if you want?'
"I was like: 'Why are you crying? You shouldn't be crying, it's just a little race, it's fine.'
"I think I've always had a bit of a talent for it, but I never really explored it that much, because I was young and I still wanted to do different things. I did track, but I would always play basketball on the side, badminton, dancing as well, I did quite a lot of sports. I wanted to find out what I was really good at, and obviously, track stuck.
"I think I had an auntie on my mum's side, she was quite talented, so I must have got something from her, because my parents didn't really have any [natural sporting talent]."
As she entered her teens, Akpe-Moses' prodigious ability was becoming increasingly apparent. In 2014, along with her family, she moved to Birmingham and linked up with one of Britain's top clubs, Birchfield Harriers. The following year, she represented Ireland internationally for the first time.
In 2016, she told The Irish Times: "There are lots of Irish sprinters who would be amazing but they haven't got the right support or the right facilities. It's a lot better in England, because I get a lot of support from my club, they give me funding as well and they really recommend athletes, they really push you on to do better."
Moving to Birmingham was not especially easy initially though.
"I wouldn't say I struggled, but I didn't really like it," she says.
It was the summer and all her friends were back in Ireland. School didn't start until September and she didn't really know anyone in this strange new city.
Nevertheless, and it's not always the case with teenage athletes, Akpe-Moses comes across as confident and outgoing, so it's no surprise that she ultimately found it quite easy to make friends.
"'I was like: 'Ugh, this place is big, I'm not used to these people, I'm not used to this area, what's the point in me being here? This is not needed.' So I was really frustrated the first few weeks.
Then I started school and blended in so well. I think, after a couple of months, people even forgot I was the 'new girl,' because they thought I'd been there since the first year. And I've just been making more friends ever since really. I've got a really good training group in Birmingham, everyone's nice, it works for me, being here."
She adds: "I'd say I am an extrovert. I am very social. If I'm in a place where I don't really know anyone, I would somehow meet someone I can talk to."
Frequently not being able to go to parties or attend nights out is "frustrating," but her friends are understanding and aware she has chosen a life that involves a strict adherence to discipline, which seldom leaves scope for teenage excess.
"When I have a quiet period, even in my season, I'd probably go out within that period," she says.
"When it comes to competition season, I don't really go out at all. It tires my body out too much, so I can't really be doing that.
"My diet's got a lot better than it was last year. Last year I was like, 'nothing's going to happen to me, it's not that big of a deal'. I've never really had any negative effects because of my diet, but I know eating healthier will help me in the long term. And I think because I have eaten better, I've been able to train more efficiently, and I've been getting more professional."
If my 100m record lasts the summer I'd be shocked. Serious early form by @GinaAkpeMoses @philhealy2 last week and @AmyFaster coming from record breaking indoors #youngguns #fastones https://t.co/m2JfYPMW8A

— Ailís McSweeney (@AilisMc) May 8, 2018
I ask her about a recent tweet from Ailís McSweeney, the Cork-born former sprinter who currently holds the Irish record at 100 metres (along with Amy Foster). McSweeney suggested that her place at the top of the table was unlikely to last much longer owing to the performances of Akpe-Moses and others.
When questioned about whether she feels hopeful about proving McSweeney right, Akpe-Moses pauses, considering the answer, perhaps trying to avoid coming across as too big-headed in her response while also not wanting to diminish her ability or potential.
"I think… Yeah, might as well," she says.
"I'm not chasing it, but if it comes, it comes, and I'll take it. Everyone is running really well so far, so I highly doubt the record will stand for an extra year or an extra couple of months, to be honest.
"Hopefully we do break that record, it's good to have new things," she laughs.
Talk of 'Irish' records leads naturally to the subject of her own feelings about national identity. Under the considerably lenient and controversial rules of athletics, Akpe-Moses could technically switch international allegiance at any time, and British Athletics among others would surely be happy to have her onboard. However, she has always insisted in previous interviews that she is committed to Ireland and feels no differently now.
"I feel like British Athletics would never come to me head on, saying: 'Oh, we want you to come run for us.'
My friends who are English are like: 'Oh, just come run for us, Gina. You might as well, you live here anyway.' But I've never been approached by people saying: 'Will you run for us instead of Ireland.'
"And even then, I still would say 'no,' because I know how the system works and it's not really appealing, it's very political, I'm not into that kind of stuff, I'd rather be in a more peaceful and fair selection."
What are they
really like?
Rare insights on sport's biggest names from the writers who know them best. Listen to Behind the Lines podcast.
Become a Member
44.15 and a national junior record for the women's 4x1 relay. Number 3 all-time to boot! #IFAM #oordegem pic.twitter.com/jf8tAF2oU4

— Athletics Ireland (@irishathletics) May 26, 2018
As it stands, few people would bet against Akpe-Moses being part of the Team Ireland contingent for the Tokyo 2020 Olympics, and the teenage star herself is confident of achieving this goal provided she can maintain her current rate of progress and avoid serious injuries.
There have been positive signs of late. In her season opener at Newham earlier this month, she secured times of 11.51 and 11.46. In addition to this feat being an U20 record for her club, it also left her fourth in the all-time Irish record stakes, narrowly behind McSweeney, Foster and Michelle Carroll.
Women's 4x1 team 2nd at Loughborough International in a time of 44.81 pic.twitter.com/Ke2f6g1IwC

— Athletics Ireland (@irishathletics) May 20, 2018
And Akpe-Moses impressed again last week at Loughborough International, as she was part of the Irish Women's 4×1 team, finishing second behind Britain with a creditable time of 44.81.
One opponent she is likely to cross paths with again in future is Germany's Keshia Kwadwo. The pair have already developed a rivalry of sorts. In 2016, Akpe-Moses finished second behind Kwadwo in the European Youth Championships, while at the European U20s last summer, it was the German athlete who had to settle for a runners-up spot.
Akpe-Moses, however, says the pair have a healthy level of respect for one another.
Off the track, we're really good friends actually, but on the track, she does push me. I know her strengths and weaknesses and she knows mine, so we kind of feed off each other. Obviously, sometimes it works and sometimes it doesn't work for me.
"I know this year, we have World Juniors together. I don't know if I'll be in any races with her, because she might not be in my heat. But I'll try not to focus too much on her anyway. It probably helped at the Europeans because I raced her the year before and I think I needed that extra push to get me to the finish line. But this year at the Worlds, I'm not really [focused on her]."
The rivals also have contrasting personalities and slightly different approaches to big races.
"When we're in the call room, I do talk a little bit, I'm not completely quiet like most athletes are. I just kind of distract myself that extra bit.
"[Keshia is] the complete opposite, she likes to get into the zone. I just talk to whoever will speak to me. I can tell that there is some tension, but I don't like to think of it like that, I think 'it's just a race,' you don't really have to create tension for it to be intense."
This kind of positive thinking is important to Akpe-Moses, who credits working with a sports psychologist as a means of helping her to perform better in pivotal races.
"I got my first injury, a hamstring injury, in 2015,"she remembers. "I rehabbed, and got to training within 12 weeks and was going to come back, but around the end of my winter, before indoors in 2016, I pulled it again. It was like a grade one, so I was only out for two-to-three weeks.
"It wasn't anything, but I think it was more detrimental to me mentally than physically. It really got to me, I was so scared to compete and I was like: 'What if I'm not back in the same shape I was before I injured myself? Am I going to get any quicker?' I was scared to race and I was very negative about myself and how I was going to perform.
Even if I was to run a good race, I'd be so unhappy. I was like: 'That was disgusting, why am I even doing this sport? I might as well quit now anyway.' But I went to a sports psychologist and she really helped me mentally to be more positive and see things in a different light. And I've carried it on from then.
"I'm very realistic and fair to myself now. I'm not too hard on myself. I can give myself constructive criticism as well. I'm not putting myself down. I think: 'Do you know what, that was very good, but you can still fix this and that?'
"I coach myself mentally as well as physically. That helps me, because if I'm too hard on myself, I feel like I underperform. I feel like it's going to be bad anyway, so I might as well do whatever.
"But if I'm too 'oh that's perfect,' I won't push myself hard enough. So I try to get that happy medium, but seeing a psychologist has definitely helped and I would recommend it to other athletes as well. You might think you don't need it, but if you see someone, you realise there are certain things you can fix about yourself, how you think and your thought process."
She continues: "I think you'll always have nerves, it's something that happens to every athlete. But it depends on what you do with your nerves, it's how you use it.
People can be nervous and use it in a negative way, but I try to see nerves as like excitement to run. I use it in a positive way — 'do you know what, I'm nervous, but I'm going to use it so I can come out of the blocks faster,' or simple stuff like that. So when I am about to run, I'm ready, my belly is tingling, but it's good nerves.
"I think in my whole career so far, I've had my days where I wasn't happy and that kind of stuff, but I just learn from it. The only thing that would get me down is generally just being injured. Everything else, I take in my stride and get on with it.
"The sport is very intense and there are a lot of things going on in it, so you can't let every bad moment get to you, because if that's the case, you won't get far."
I finally ask Akpe-Moses to name the most influential person in her career to date. She pauses for a moment, before responding.
"I think out of everybody, I would still say Usain Bolt," she says. "I know he's retired now, but the thing about him is that he was an all-rounder — he was great on the track, but he was also a good personality off the track. And that's what I aim to be — I aim to be a really good athlete, I want to be the best of the best, I want to be more than just an athlete, and do stuff off the track, being out there, getting my name out there and that kind of stuff.
For me, he's interesting, because I see him in terms of on the track, he's amazing, but off the track as well. I can bounce off him and use him, because I see him as someone I want to be in the future."
Akpe-Moses obviously has a long way to go yet to fulfil her considerable potential, but on an island where athletes often play down their ability and instinctively adhere to a kind of false modesty, it is refreshing to come across someone so unapologetically unafraid to reach for the stars.
The42 is on Instagram! Tap the button below on your phone to follow us!