GINA AKPE-MOSES shot to the fore on Friday as she stormed to a sensational victory at the European U20 Championships, bagging a coveted sprint gold medal for Ireland.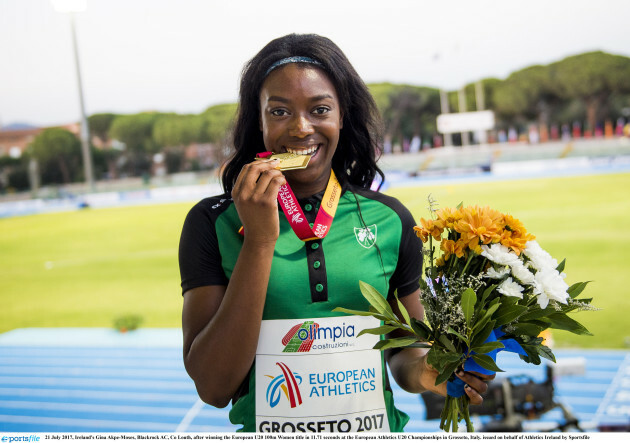 The 18-year-old produced a huge performance in the 100m final in Grosetto, clocking a time of 11.71 and making history in doing so — it was the first European women's sprint title at U20, U23 or senior level for Ireland.
Social media was flooded with the name Gina Akpe-Moses, along with pictures of the teenager beaming from ear-to-ear, wrapped in the tricolour.
Born in Nigeria, Akpe-Moses moved to Dundalk at the age of three. From there, she got involved with St Gerard's Athletic Club.
Her family relocated to Birmingham in 2014, where she linked up with one of the UK's top clubs, Birchfield Harriers.
Her former coach at St Gerard's, Michael O'Connor, was present in Grosetto to witness the sprinting sensation's blistering win, and spoke at length of his delight on LMFM Sunday Sport.
"Gina's performances out here have been absolutely incredible," he told David Sheehan on the line from Italy on Sunday. "She's just been absolutely super.
"To finish first in a European competition is incredible. The amount of ability and dedication that you need as an athlete really is incredible and Gina has that in bags full.
"To actually have been in the stadium when Gina achieved was absolutely incredible, and to have seen her afterwards was just absolutely incredible as well.
"For her to achieve that was amazing and to see her standing on the podium, the Irish flag going up and the anthem being played was just amazing."
GOLD FOR IRELAND!

Gina Akpe-Moses wins the 100m at the European U20 Championships in 11.71 from Germany's Keshia Kwadwo. #Grosseto2017 pic.twitter.com/UbMdSA0njQ

— European Athletics (@EuroAthletics) July 21, 2017
He recalls how Akpe-Moses first joined the club at the age of seven, and from early on, they knew that she was something special.
"Straight away you just knew that she had the ability. We would have all said at some point, that she was going to do something very, very special and she's starting to show the ability that she has now.
"The speed. She was also a really good long jumper. You could just see the natural turnover. She certainly had loads of natural ability.
"She moved a couple of years ago over to Birmingham, but she still keeps a good association with the club in Dundalk.
"I think myself and Madeline [Maguire -- another St Gerard's coach] would have thought, way back in those years, that she'd go the whole way to the Olympics.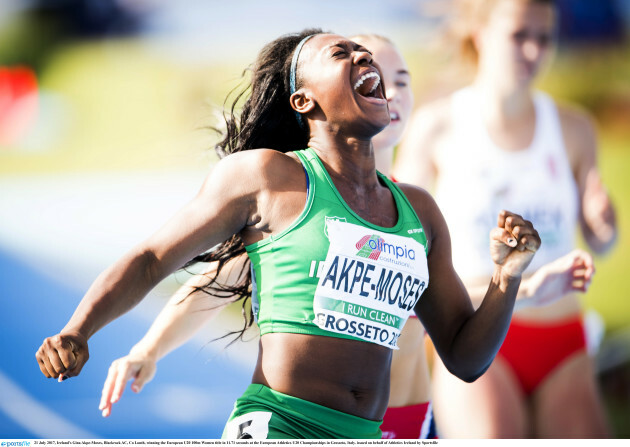 SPORTSFILE SPORTSFILE
"Gina would have started back at seven, would have gone through the Louth Championships and won medals there, gone through the Leinster underage championships, winning medals there and setting All-Ireland and Leinster records.
"Then, moving onto the All-Irelands and setting All-Ireland records. There's been a history and a slow development to this point."
O'Connor spoke about how even though he's no longer the European U20 100m champion's coach, he chatted to her after her heat on the Thursday, and he found himself emotional after she won.
"Thrilled, just thrilled. I couldn't believe it. And she was absolutely delighted with herself. I seen her, and gave her a big fist-pump, [saying] 'well, well done.' It was just super.
"I was speaking to her just after her heat and she was happy with that but one of the girls — a German girl who I think beaten her maybe last year — and she was saying, 'I hope now she doesn't beat me this year.'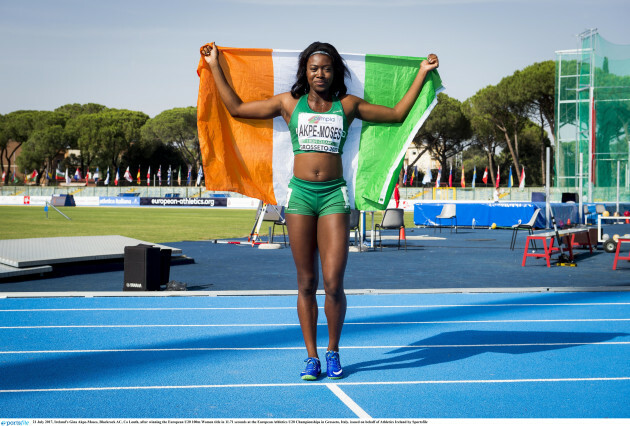 SPORTSFILE SPORTSFILE
"We had a quick chat, and although I'm not coaching her now because she lives in England, we were talking about her start and to maybe get that a little bit crisper."
O'Connor's own daughter, Kate, who has grown up competing alongside Akpe-Moses also had a dream few days at the championships.
The Dundalk 16-year-old finished 8th in the heptathlon, and set a new youth record in doing so. She was the youngest competitor in the whole competition, and her dad was understandably bursting with pride.
"She was absolutely delighted with herself," he smiled. "To finish in the top eight at 16 in an u20 competition is absolutely incredible.
"For a club in Dundalk to actually have two kids at a European U20 competition and to finish as highly as they have done is absolutely incredible.
LMFM Radio / SoundCloud
The42 is on Instagram! Tap the button below on your phone to follow us!