Mikey Stafford reports from Recife
THE AMERICANS MAY be buying into the World Cup more than ever before but there is one United States sports concept that should be imported into football.
Not the timeout, we already now have that in the shape of cooling breaks, which are otherwise known as a "Louis Van Gaal intensive coaching workshop". Not the concept of "fouling out", or else Fernandinho would not have lasted until half-time against Chile.
No, football needs to adopt the "Most Valuable Player" idea from our American brethren. The MVP is not necessarily the best player at a tournament or sometimes not even the most talented player on his own team, but that's unusual.
Ricardo Mazalan Ricardo Mazalan
The MVP is the guy who makes his team better, the player who contributes the most to his team and, without whom, his side would be significantly and decisively worse.
Lebron James is a better basketball player than Kevin Durant but the Oklahoma Thunder forward won this year's NBA MVP because, while you could imagine James's star-studded Miami Heat succeeding without his prodigious talents, the idea of the Thunder rumbling into the play-offs without Durant was ridiculous.
After four last-16 matches here in Brazil, the old-fashioned football "Man of the Round" is of course James Rodriguez. He scored both Colombia's brilliant goals against Uruguay, one a contender for individual goal of the tournament, the other in the running for the team goal gong. He's flashy, he's exciting and he is, we hear, Bernabeu-bound.
No way in hell
However the player Real Madrid really need to sign is the last-16 MVP — Costa Rica's Keylor Navas. You could imagine Colombia's array of attacking players battering down the Uruguayan door eventually on Saturday without Rodriguez. There is no way in hell Costa Rica could have beaten Greece last night without their goalkeeper.
Aside from his penalty save, which is one of the best we've ever seen, the Levante goalkeeper gave a complete goal-keeping performance during the 120 minutes preceding the shootout. His block with his outstretched right leg before half-time to deny Dimitris Salpingidis from close range was the highlight of a poor first half.
All night in Arena Pernambuco he simply did everything right. He was solid under crosses (and Greece put in lots of crosses), he was brave in smothering any low balls across his six-yard box, he marshalled his depleted defence well for the last 55 minutes after centre-half Oscar Duarte was sent off and he twice brilliantly denied Fulham's Konstantinos Mitroglou either side of full-time of normal time and also blocked a point-blank shot from Lazaros Christodoulopoulos.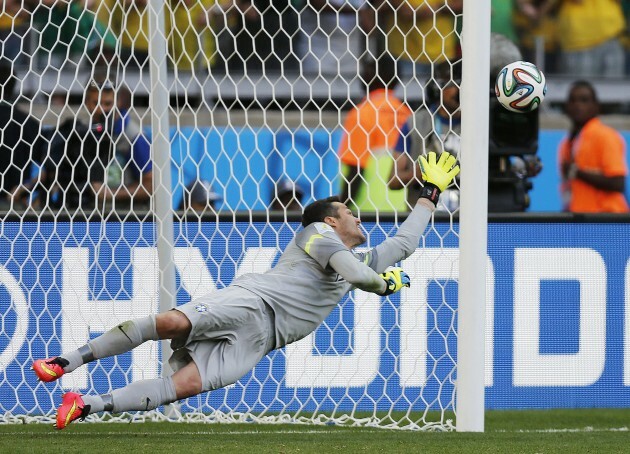 Frank Augstein A hero, even if this wasn't a save. Frank Augstein
Then came the shootout. Mitroglou finally beat Navas by sending him the wrong way with the first, Christodoulopoulos also scored after Navas again went right early but the Costa Rica keeper got very close to Greece's third penalty from Jose Holebas, again to his right.
Joel Campbell scored Costa Rica's fourth to put the pressure on Theofanis Gekas, whose penalty was firmly struck to the right of Navas, the keeper guessed correctly but he was under the Greek substitute's shot. He quickly raised his left arm to block the shot, showing incredible strength to deflect the ball away from the goal instead of just slowing its progress into the net.
Martin Meissner Martin Meissner
Without Navas Costa Rica, down a man and out on their feet for much of extra-time, would not have reached a penalty shootout, and there are very few goalkeepers who would have stopped that Gekas effort.
It is always nice when a player, like Rodriguez, live up to the legitimate hype and shines at a World Cup. It is even nicer when a player, like Navas, follows up the best club season of his career by being instrumental in his country's unlikely progress to a World Cup quarter-final.
When he happens to be a goalkeeper, well, that is just the cherry on top.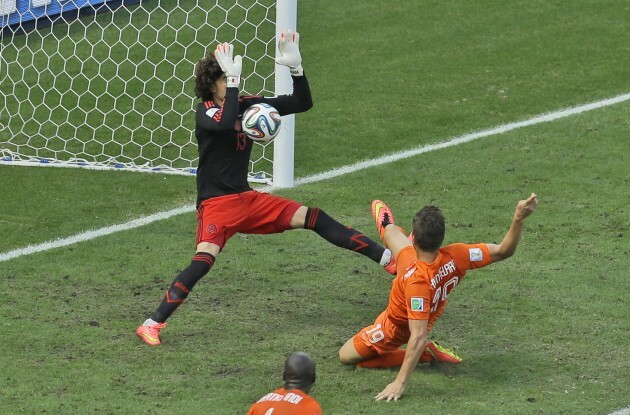 Themba Hadebe Themba Hadebe
Poor old Igor Akinfeev and Iker Casillas aside, this has been a good World Cup for those brave men between the sticks and it could be argued that Navas is just one of a number of custodian MVPs. Tim Howard has been possibly the USA's most consistent player, the slightly less busy Thibaut Courtois has helped keep Belgium's goals-against column to one, Julio Cesar made the front and back pages in Brazil yesterday after his heroics against Chile and even Argentina's Sergio Romero is stealing some of the spotlight from Messi — which must be a concern.
Then there is Guillermo Ochoa, the Mexican brick wall who did not deserve to lose to the Netherlands yesterday. For the second time in this tournament the goalkeeper gave a masterclass in positioning and almost eliminated one of the World Cup favourites.
Ochoa has gone from out-of-contract to Mexico MVP in the space of two weeks and the Netherlands must be less than thrilled that they must now face the only goalkeeper left in the tournament who is possibly more valuable to his team.