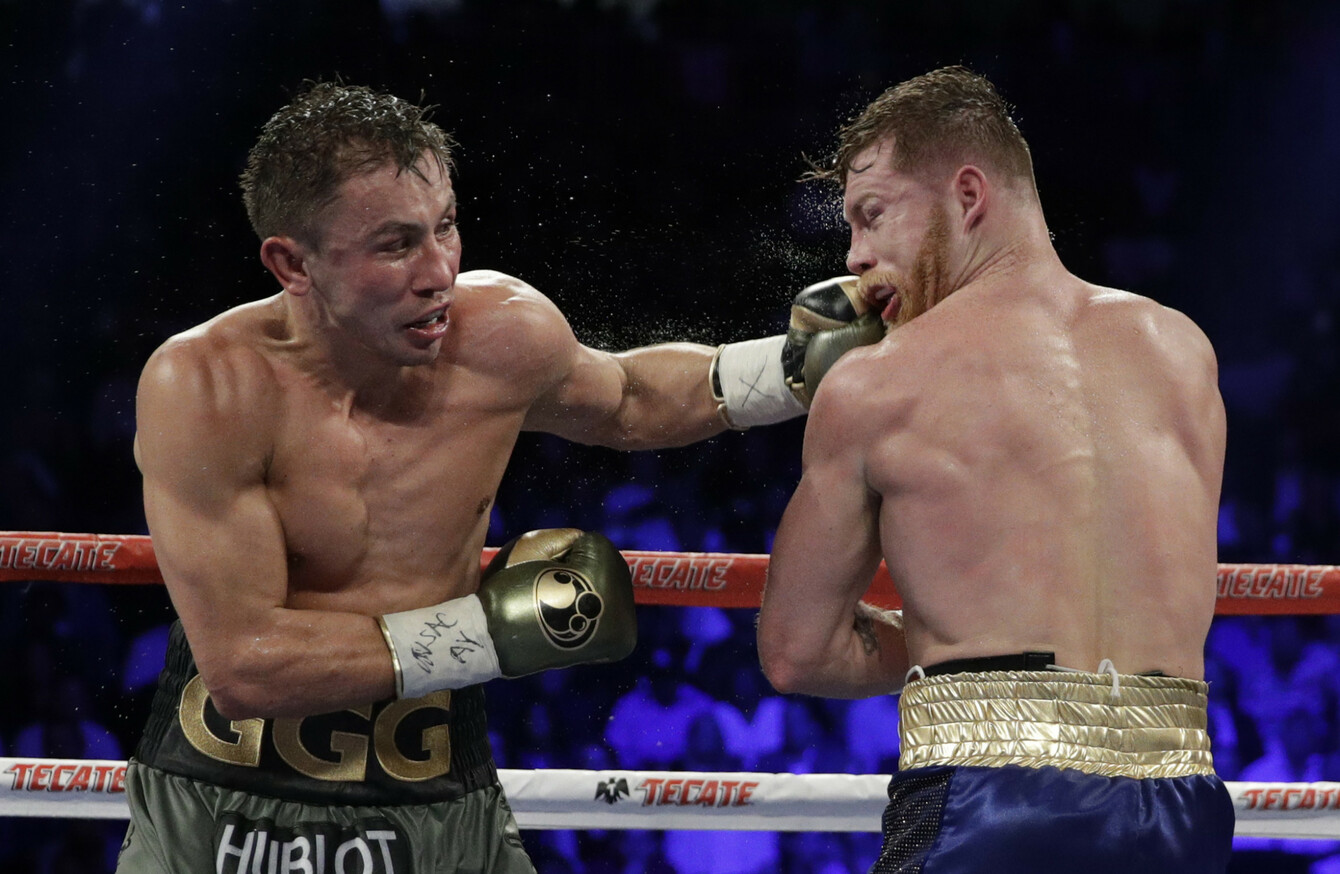 Gennady Golovkin, left, hits Canelo Alvarez during a middleweight title fight.
Image: John Locher
Gennady Golovkin, left, hits Canelo Alvarez during a middleweight title fight.
Image: John Locher
GENNADY GOLOVKIN RETAINED his three world titles Saturday, fighting to a draw with Mexican star Canelo Alvarez in a showdown for middleweight supremacy that lived up the hype.
The 35-year-old Golovkin, making his Las Vegas debut, kept hold of the World Boxing Council, World Boxing Association and International Boxing Federation belts in front of a crowd of 22,358 at the T-Mobile Arena.
Judge Dave Moretti scored the tense battle 114-114. Dan Trella saw it 115-113 for Golovkin but Adalaide Byrd had it one-sided, 118-110, for Alvarez.
Byrd's lopsided score didn't reflect the explosive drama of a bout in which Golovkin moved forward aggressively while challenger Alvarez was the counter-puncher with sometimes faster hands.
"This was a real drama show," Golovkin said. "I want to thank all my fans for supporting me.
"Of course I want the rematch. This was a real fight."
Asked if he thought he won, Golovkin said, "Look I still have the belts and I am still the champion."
The baby-faced champ from Kazakhstan with the steel jaw is considered one of the fittest athletes in boxing, but Alvarez was also well-prepared for the 160-pound fight which both needed to validate their places in history.
"This is one of the best fights we have seen in recent years," said promoter Oscar De La Hoya.
Asked if he wanted a rematch Alvarez said, "Absolutely. If the fans want to see it again, why not?"
Despite the draw this was Alvarez's coming out party in the higher weight class as he delivered a performance that established himself as a bona-fide middleweight. He had won seven straight fights since losing his only fight to Floyd Mayweather in 2013.
- 'Not the monster' -
"He has a different power than others I have faced," Alvarez said of Golovkin. "But he is not the monster everybody is talking about. I didn't feel that."
Alvarez, who is eight years younger than Golovkin, is entering his prime and will certainly move up on the pound-for-pound list.
"We used the ring. We used the ropes and we fought in the centre of ring. We did exactly what we prepared for," he said.
Golovkin won most of the early rounds but then got hammered a few times with Alvarez's uppercuts and right hands and seemed to be the more tired of the two near the end.
Golovkin established himself early with his stinging jab, all the while effectively cutting off the ring. There was no feeling-out process in this one as both fighters came to fight from the opening bell and tried to land big punches early.
Golovkin said he expected Alvarez's game plan to include a few surprises and the former two-time champion Alvarez didn't disappoint.
In the fourth round, Alvarez tried to press the attack, but he paid for it as Golovkin got the better of those exchanges.
There were very few clinches in the fight as both did damage in close. In the eighth round they each landed sharp uppercuts that snapped their opponent's head back.
The 27-year-old Alvarez's best round was the 10th, when he stunned Golovkin with a vicious right hand to the head about 30 seconds in. Alvarez tried to finish him off but Golovkin survived and once he shook off the cobwebs the two continued their brawl on the ropes and in the centre of the ring.
"I wanted to finish him off but he was a stong opponent with a lot of experience. It didn't unfold the way I wanted it too," Alvarez said of the round.
By the time they reached the final 12th round, both boxers looked exhausted. Alvarez charged out of his corner looking for the knockout and Golovkin finished the round with a wild flurry of lefts and rights.
Alvarez moved to 49-1-2 with 34 knockouts and Golovkin remained undefeated at 37-0-1 with 33 knockouts after a fight that was two years in the making.
- 'Be a war' -
Golokin's trainer Abel Sanchez said Alvarez fought the way they expected him to.
"No surprises. We knew going into this would be a war. Canelo was very resilient," Sanchez said.
Boxing fans will be hoping the contest is the launching point of a boxing trilogy like those of Manny Pacquiao and Juan Manuel Marquez, Erik Morales and Marco Antonio Barrera and Micky Ward and Arturo Gatti.
Byrd's one-sided score was heavily criticized by Golovkin who called it "unbelievable".
De La Hoya though insisted there was nothing shady going on.
"I can assure you there was no influence," he said. "I don't understand 118-110. I can understand 115-113. But I can assure you there is no influence whatsoever."
Subscribe to The42 podcasts here: