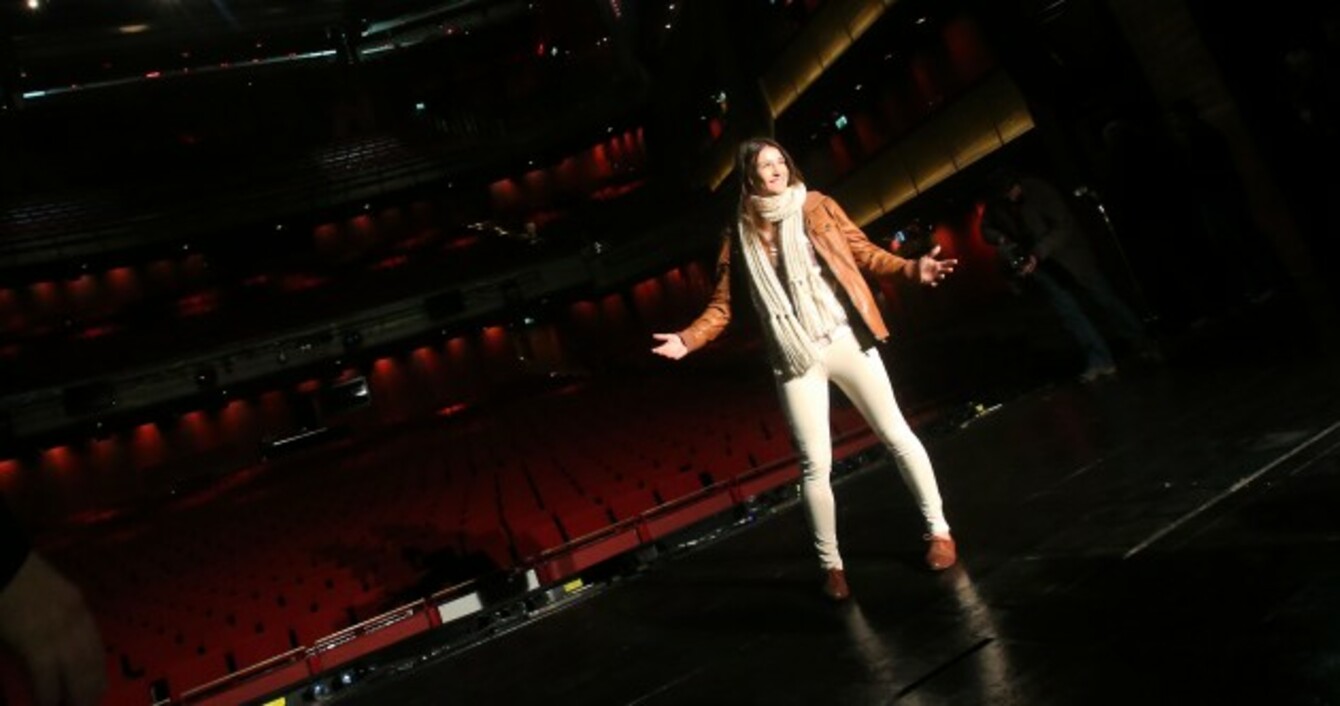 Katie Taylor at the Grand Canal Theatre, where she'll fight in the new year.
Image: INPHO/Donall Farmer
Katie Taylor at the Grand Canal Theatre, where she'll fight in the new year.
Image: INPHO/Donall Farmer
Eamon McGee (Donegal footballer):I would have to go with the Ryder Cup and Europe's comeback. It was massive. It was nice to see and unbelievable character to come back and go on to win it. There was a stage when I said 'Jeez, there's no way' when they were a few points down — not a hope. There was even a stage where I said 'No, I'm not even going to pay any attention to them but I flicked over and they were on their way up, they were back.
Dave Kearney (Leinster rugby player): The Ryder Cup. That was a pretty serious comeback. Nearly everybody had given up on them and didn't think they had it in them to comeback. It was amazing to watch. I backed Martin Kaymer to win it on the morning of (the final day) as well.
Rob Kearney (Leinster rugby player): It must be Katie Taylor. I'm sure everyone is going to say that. It was one of the most awesome sporting occasions I've ever witnessed. And because she's Irish and because she's such a likeable, likeable character — there was a real sense that everyone took ownership of her. It would be very difficult to top that.
Jean de Villiers (South African rugby captain): As it is an Olympic year, and South Africa did really well and won a few gold medals, I would have to say Cameron van der Burgh. He won the Men's 100m Breastsroke Final and broke a world record doing it. He did everyone proud. It was a great achievement.
Lord Mayor of Dublin Naoise Ó'Muirí (FG): I cannot say the European Championships. That wasn't a highlight. It would be between the Olympics… Katie Taylor's boxing in the Olympics, eh, but to be honest in a sense, that wasn't a surprise. I'd probably have to give it to Donegal just for the sheer will of coming through the series and getting their championship. In mid-summer last year, that manager was being pilloried for his approach to the team and one year later he delivered an All-Ireland, so on balance I'd have to give it to him. Hopefully next year it'll be a Dublin flag we'll be putting up [on the Mansion House]."
Galway manager Anthony Cunningham disappointed after the game  Pic: INPHO/Lorraine O'Sullivan
Anthony Cunningham (Galway hurling manager): It's hard to look past Katie Taylor's win in the Olympics. I think she was a sports person that everyone in Ireland felt they could relate to. She was under huge pressure to succeed but there was just a great feeling around the country when she finally got her hands on the gold medal.
Eanna Falvey (Irish rugby team doctor): You'd have to say Katie Taylor winning Olympic Gold, I was just delighted for her. Donegal winning the All-Ireland this year was fantastic. I think they came at it this year after being criticised by everyone last year. But they stuck to their guns, played this year and won the All-Ireland. You've got to admire that.
David Breen (Limerick hurler): I'm not going to say Aguero's last-minute goal to help Man City win the league because I'm a Man United fan! But I think really that you'd have to say Katie Taylor living up to the pressure in the Olympics. It was strange to have an Irish athlete going into the Olympics being heavily favoured to win a gold medal. We're used to being the underdog. The whole country was biting their nails watching it but fair play to her.
Be part
of the team
Access exclusive podcasts, interviews and analysis with a monthly or annual membership.
Become a Member
Neil Best (Worcester Warriors and former Ireland rugby player): Watching the Paralympics earlier this year. I would have been of the cynical view that everyone would have switched off after the Olympics but that wasn't the case. It was brilliant; I couldn't pick one performance out though. Some of those competing could run faster and jump higher than most people and they've got the one leg, or in some cases no legs. I followed as much of it as I could.
Kenneth Egan (Boxer): The highlight, out of the boxing ring, for me was Usain Bolt's 100-metre win at London 2012. I love how he distracts himself from the race by having fun. It is a great way of getting rid of nerves. I can't give a highlight without mentioning Katie Taylor. When she beat the English girl, Natasha Jonas, and screamed up at the crowd, that was amazing. That is not her character at all – she is such a quiet girl and a hard worker. She was living the dream and showing the world she meant business. That was the defining moment of the Olympics for me, when she let that big roar up and really embraced the crowd.
Neil McGee (Donegal footballer): The Olympics and Katie Taylor winning the gold would have been the best moment. When Mo Farah won too. I followed all of Katie's bouts. I've a big interest in the boxing too so I followed all that too. It was brilliant for Katie, I was delighted.
Phil Simmons (Cricket): The fact that two Irish teams played in the Heineken Cup final was a big thing. Leinster have been there a few times, Munster have been there a few times, but Ulster came up and two Irish teams in the final was great to see. Olympics-wise, I think you can't but look at what Usain Bolt has done again. There was no way I was going to miss those races; I was glued. He's the best I've ever seen by far. What gets me as well is one of my heroes, Michael Johnson, and to see how excited he got about what happened. That just lights up everything.
New Shamrock Rovers signing, Mark Quigley. Pic:INPHO/Ryan Byrne
Mark Quigley (Footballer): The Men's 100m Final at the Olympics. I didn't watch too much of the Olympics apart from the boxing but this was a massive event. Everyone was talking down Usain Bolt a bit and a lot of people thought the other guy, Yohan Blake, was going to pip him. Bolt was amazing though. It certainly got me off my feet. Katie Taylor, of course, was the other highlight. The national anthem when she got the gold was unbelievable.
John Mooney (Cricket): It's hard to nail down one. Katie Taylor winning gold and the other lads winning their medals at the Olympics were standout moments for me. I did shed a little tear when Katie won her medal, I have to admit. It was just a great day for Irish sport, she's a true champion. I watched it at home with my fiancee and my daughter. A great occasion.
Darren O'Neill (Boxing): Kilkenny beating Galway in the All-Ireland and the thrashing of Tipp too. You never get sick of winning it; when you're a high-performing athlete, the day you get sick of it is the day you can retire. Especially since Galway beat us in Leinster, it was nice to get one back on them.
- reporting Paul Hyland, Patrick McCarry, Fintan O'Toole