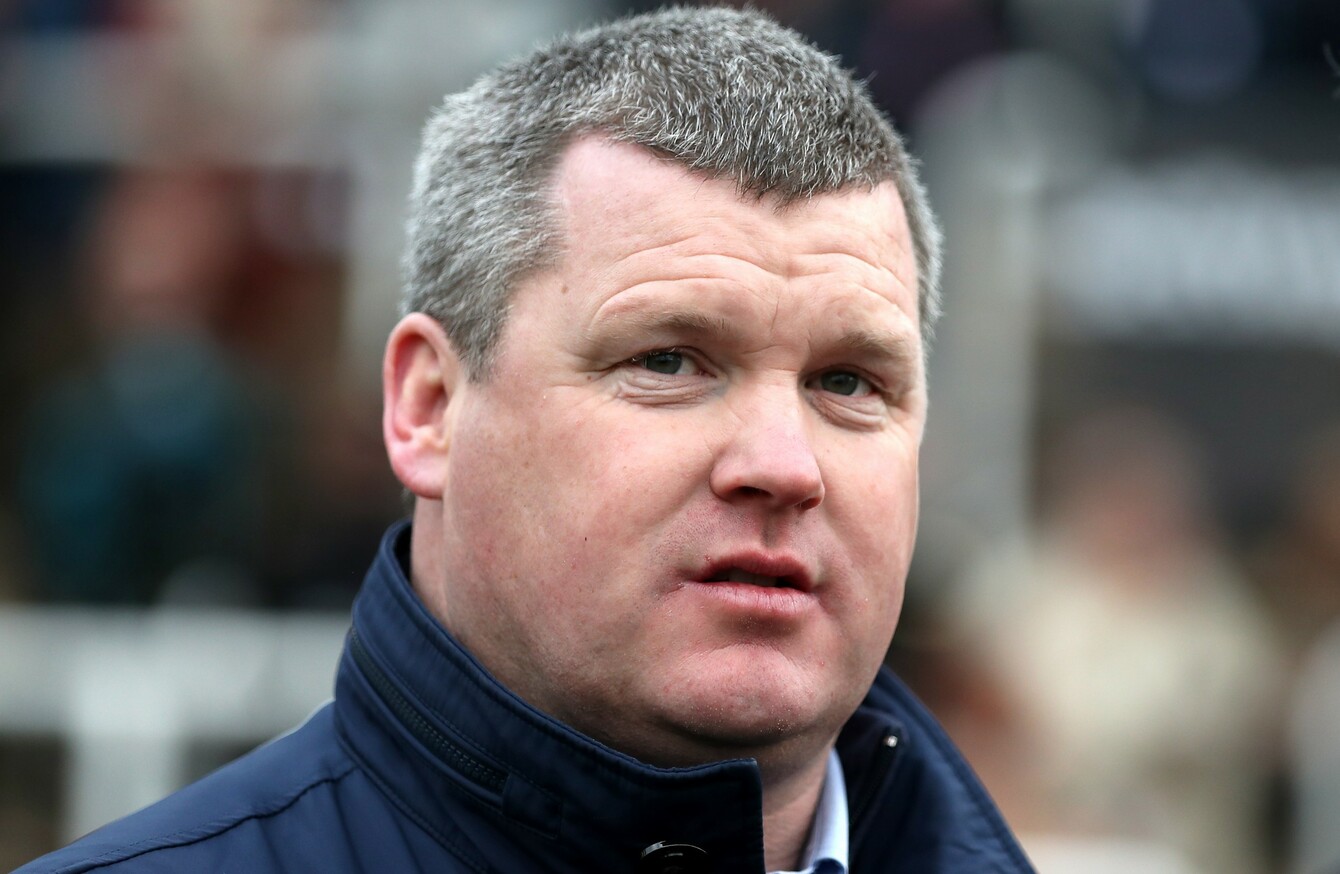 Gordon Elliott.
Image: PA
Gordon Elliott.
Image: PA
Updated Mar 5th 2021, 5:58 PM
THE IRISH HORSERACING Regulatory Board (IHRB) have suspended trainer Gordon Elliott's licence for 12 months – with the final six months of that ban suspended – following an investigation into a photo showing Elliott sitting on a dead horse. 
Elliott must also pay costs totalling €15,000. 
The IHRB referrals committee today met to decide Elliott's punishment for the photo, and deemed Elliott to have acted in a manner prejudicial to the "integrity, proper conduct, and good reputation" of the sport. 
Elliott did not contest the charge and the referral's committee say he shows what they believe to be "genuine remorse". 
"We consider that a suspension of Mr Elliott's training licence is merited," concluded the committee. "In all of the circumstances of this case, to reflect the seriousness of the offence and the damage to the Irish racing industry, to deter other offences of this nature and having taken into account the mitigating factors we have heard we consider the period should be 12 months however the last six months of this will be suspended." 
Elliott told the committee he will not attend a point to point or race meeting for six months, and the suspension begins from Wednesday 9 March and thus includes this year's Cheltenham Festival. 
In a statement, Elliott accepted his punishment and said he will "live with the burden of my transgression for the rest of my career".
"I accept my situation and my sanction and am satisfied with my engagement with the Irish Horseracing Regulatory Board. It is not an easy job to sit on the panel but I was dealt with fairly.  
"I am in this situation by my own action and I am not going to dodge away from this. With my position in the sport I have great privileges and great responsibility. I did not live up to that responsibility. I am no longer the teenage boy who first rode a horse at Tony Martin's 30 years ago. I am an adult with obligations and a position in a sport I have loved since I first saw horses race. 
"I am paying a very heavy price for my error but I have no complaints. It breaks my heart to see the hurt I have caused to my colleagues, family, friends and supporters. I have a long road ahead of me but I will serve my time and then build back better.
"Horses are my life. I love them. No one comes into racing for money – it is a hard way to make a living. We are here because we love the horses. Anyone who has visited my stables at Cullentra will see the meticulous care with which we treat our horses. I was disrespectful to a dead horse, an animal that had been a loyal servant to me and was loved by my staff. I will carry the burden of my transgressions for the rest of my career. I will never again disrespect a horse living or dead and I will not tolerate it in others."
A photo showing Elliott straddling a dead horse while posing for a camera emerged on social media over the weekend, and he issued an apology late on Sunday night, saying he "cannot apologise enough". 
The IHRB launched an investigation, and the British Horseracing Authority condemned the image and barred Elliott from their courses while the investigation took place.
While owner Michael O'Leary also condemned the image, he stood by Elliott in the sense that he did not move his Gigginstown Stud horses to a rival trainer's yard.
Cheveley Park Stud, however, removed all eight of their horses under Elliott's stewardship, including the brilliant Envoi Allen, widely regarded as the most exciting horse in Elliott's yard.
Betfair cut ties with Elliott, and eCOMM Merchant Solutions terminated its sponsorship contract with Elliott's yard. 
What are they
really like?
Rare insights on sport's biggest names from the writers who know them best. Listen to Behind the Lines podcast.
Become a Member
The fallout culminated in today's ruling by the IHRB, which declared the photo as showing "the most appalling bad taste" on Elliott's part, and concluded it brought the sport into disrepute. 
The IHRB said any "reasonable objective interpretation" of the photograph shows Elliott is "treating the dead animal as an object of amusement" and that he "callously participated" in posing for it. 
The IHRB said witness testimony and veterinary evidence suggested the horses under Elliott's care are maintained and looked after to the highest possible standards. 
The Committee also said there is a "sinister aspect" to the case, and said they are "satisfied the publication of the photograph is part of a concerted attack on Mr Elliott". This declaration, they say, is published not to absolve Elliott of his actions, but to explain the publication last week of a photograph that was taken in 2019. 
The Committee ruled the photograph damaged the reputation of the Irish racing industry, and said Elliott's punishment must act as a deterrent. They took into account mitigating factors including Elliott's remorse and the importance of the yard to the local economy. 
They also say this suspension is "but one of a plethora of punishments which he is already suffering and will likely continue to suffer. These include serious damage to his reputation and, anecdotally, substantial economic loss through loss of business contracts and departure of horses from his yard to be trained elsewhere."