GRAEME MCDOWELL ADMITTED he questioned if he was still good enough to compete at the top level before claiming his first win in 16 months this afternoon.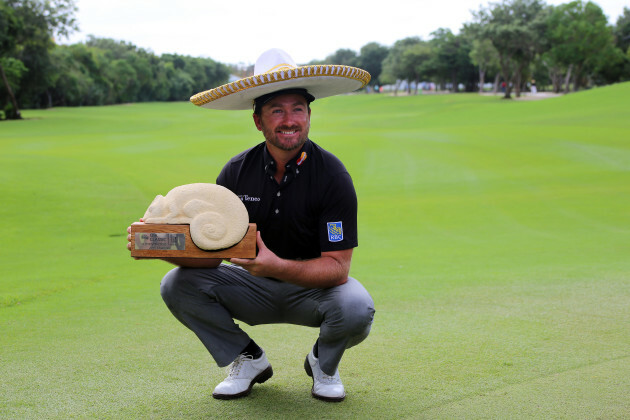 AP / Press Association Images AP / Press Association Images / Press Association Images
The Northern Irishman ended his barren streak with victory at the OHL Classic on Monday after holding his nerve in a sudden death play-off.
McDowell had finished on 18-under par alongside Scotland's Russell Knox, who was coming off his first win last week at the HSBC Champions, and Jason Bohn but birdied the first extra hole to return to the winner's enclosure and end his period in the doldrums.
"It's really gives me something to grab onto," McDowell said afterwards. "You go through a year like this you know you think am I finished, am I good enough?
"You ask yourself all the questions. We've all been there. This is the game of golf, it's very difficult.
"I've been dreaming of this day and I said to myself that I was going to appreciate it when it came and I'm going to appreciate this one let me tell you because this year's been a grind."
Victory in Mexico was McDowell's first PGA Tour win since April 2013 and while it's a step in the right direction, he acknowledges the need to use this week as a springboard to propel himself back up the ladder.
"It's been a tough year for my whole team - caddy, coaches, managers….my wife. So this is special.
"I stuck to my task the last few months. I've kept grinding. Big thanks to everyone who kept believing in me. This is a nice step back to where I want to be. I want to be back up there, win more major championships and win more tournaments."
Not only does McDowell head into the final stretch of 2015 with a renewed level of confidence but a cheque for $1,116,000 and 500 FedEx Cup points to move into seventh place in the standings.
It also secures McDowell his Tour card after his exemption was set to run out at the end of this season. He also assures himself of a place at the Masters in April.
SkySports SkySports
The 2010 US Open winner had fallen down the world rankings during his struggles and was last week sitting in 85th.
But produced when he needed it most with a stunning approach during the play-off to leave himself with a two-and-a-half foot putt for victory.
"I didn't see this hole as a driver," he explained. "It's a perfect 3 wood and I hit as good a five iron as I could hit.
"My caddy decided as I was thinking six iron to be honest. I wanted to smash a six iron but he said this is a five iron shot.
"It was nice to knock a two-and-a-half footer in to win."
Form is temporary, class is permanent.