RYDER CUP VICE-captain Graeme McDowell believes the key to Europe's success against the United States was that the players treated each other as equals and left their "egos at the door".
Oisin Keniry / INPHO The European players celebrate winning the Ryder Cup. Oisin Keniry / INPHO / INPHO
Masters champion Patrick Reed criticised the leadership of the US team following their 17.5 to 10.5 defeat in France at the weekend.
In comments reported by the New York Times on Monday, Reed criticised the decision to split up his previously successful partnership with Jordan Spieth and suggested that "egos" had scuppered the American challenge.
Reed said the Americans had failed to take heed of their own inspirational messages pinned up in the team room.
"Every day, I saw 'Leave your egos at the door,'" Reed said. In a reference to the victorious Europeans, he added: "They do that better than us."
McDowell said the European players had come together as a team.
"It was the difference between bringing your egos with you, which was apparently on the American locker room wall — and I'm not sure what that means," the Northern Irishman said in comments reported in the British press on Tuesday.
"It's not how you build a team, right? You leave your egos at the door. You come together and you play together.
"My objective opinion this week was that's what the guys are great at and they do it naturally."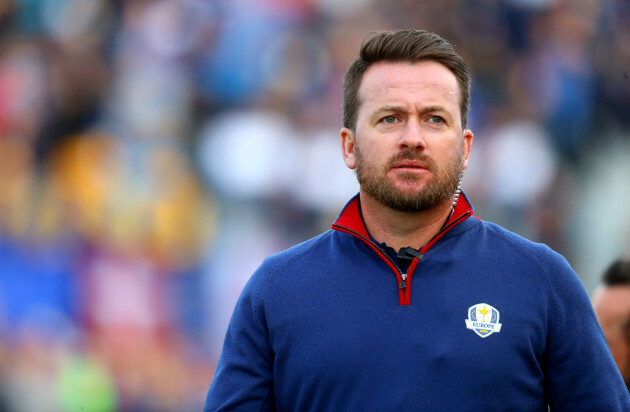 Oisin Keniry / INPHO Graeme McDowell at Le Golf National at the weekend. Oisin Keniry / INPHO / INPHO
Europe had their own stars and major winners — Rory McIlroy, Justin Rose, Henrik Stenson and Francesco Molinari — but McDowell said team spirit was good.
"Just having an opinion on things, seeing the ways these guys come together is my big takeaway from the week," said McDowell.
"It is the adage of 'yeah, the Europeans have camaraderie blah, blah, blah' but I've seen it with my own eyes this week."
The42 is on Instagram! Tap the button below on your phone to follow us!