GORDON D'ARCY'S FAREWELL letter was thoughtful, made to measure and well-crafted. Yet there was a line in the precursor that was just as important as everything from the mouth of the man, his actions.
'Gordon will be making no further statement or media appearance through Leinster Rugby…'
That is typical D'Arcy.
Typical of a player who appeared to actively shun the bright lights and attention when he could have easily clawed the coat-tails of (or, with some PR machinations, surpassed) Irish Rugby's most marketable man.
Instead, the Wexford man kept his voice down, his gaze forward and a firm grip on the task at hand. For colleagues seeking a sound-byte, he could prove to be a nightmare. D'Arcy never felt the need to agree with a proposition, he could be a spiky character if posed something ridiculous and he never went off on a rambling speech when a simple one-word answer could have sufficed.
Perhaps that ultra-professionalism was chastened by his early success. Too early perhaps. His international debut in 1999 stood out because for three years it was his only cap.

By the time Eddie O'Sullivan installed him as a permanent fixture in 2004, D'Arcy's problem child image had well and truly dissolved. And he offered instant returns for the coach's faith.
D'Arcy was a missing link of sorts in that team that, like Portugal's international football team, earned the unwanted 'golden generation' tag. He came in to a side that had shown the potential in Irish rugby by pushing Australia all the way on their own turf. D'Arcy's dancing feet made Ireland believe the next step was just a matter of time.
D'Arcy became something better than a line-breaking x-factor, however. Having began as a flighty fullback, he moulded himself into a solid centre who was an integral part of Ireland's defensive efforts.
After 81 caps, the identity of his replacement is a stark reminder of where rugby is at present. At 5′ 11″, D'Arcy was always well able to hold his own and indeed he made his low centre of gravity into an advantage when jackling at the breakdown. But increasingly, coaches demand that their centres are that little bit taller. Robbie Henshaw may have done his time at fullback too, but the Connacht man lives off the contact zone rather than what he could find in behind it.
The 35-year-old has placed this expiry date on his career knowing full well that it may not have a fairytale ending. Though his sheer experience, tactical nous and defensive skills mean he has plenty to offer his country, as things stand, you suspect D'Arcy needs somebody else to suffer injury or a dramatic loss of form to propel him into Joe Schmidt's post-summer plans.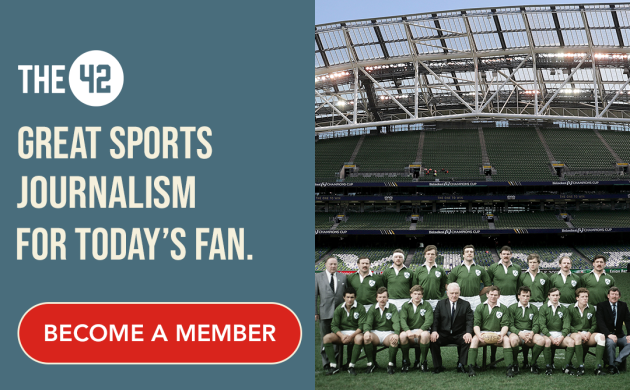 Yet you won't hear Gordon D'Arcy complain.
Like John Hayes four years ago, he will fight tooth and nail to prove himself worthy of a spot in England 2015. And if he's not given the chance to sign off in London or Cardiff, then you'll see him on these shores.
He'll be the ultimate pro helping develop his young provincial team-mates, coaxing Ben Te'o through the rigours of rugby union and doing all he can to keep Leinster ticking over through the first half of a new season, a new era.