PUSHING PLAYERS INTO the professional game is clearly the priority in developing rugby in Ireland, but equally as important is the need to produce full-time, expert coaches.
In that vein, Greg McWilliams' new role as Director of Rugby at Yale University in the US is encouraging, marking a first step into the professional coaching world for the Dublin native.
McWilliams has been attack, backs and skills coach with Ireland Women for the majority of the past four years, combining that position with his full-time job as a Geography and Business teacher in St. Michael's and various other coaching roles.
Having helped the Irish team into a first-ever World Cup semi-final this month, the former centre is enjoying a growing reputation as an energetic, innovative coach and two hours spent in his company is certainly an education.
McWilliams' laptop is filled with analysis and preparation for all eventualities; analytics of opposition teams' kicking, hundreds of slides of attacking systems, detailed counter-attacking structures and much, much more.
"I don't consider what I have been doing in rugby to be work," says McWilliams in explaining how he has managed to double-job for the the last decade.
His coaching journey began while McWilliams was still playing himself.
"I remember Noel Turley was a pretty big mentor of mine. He was the head coach of the Irish Schools, head coach of St. Michael's and the deputy principal of Michael's. I was about 21 years of age, playing rugby and enjoying playing.
Dan Sheridan / INPHO McWilliams at Ireland's Marcoussis camp during the World Cup. Dan Sheridan / INPHO / INPHO
"But I loved the coaching. I went to Noel and I said I want to be a rugby coach. He said, 'Perfect, I'm fully supportive of that but the first thing you have to do is a H. Dip.'"
McWilliams qualified to teach and moved into coaching at St. Michael's, where he had also been a student. Having progressed to head coach of the school's senior team, McWilliams led them to their first-ever Senior Cup success in 2007 and another final in 2010.
Given that the likes of Joe Schmidt, Graham Henry and many other top coaches have come from teaching backgrounds, does McWilliams feel it gives rugby coaches an advantage?
I think it's always great to be in a situation where you're going to be planning and presenting, as you would with a group of players," answers McWilliams. "The more presenting you can do, the better you'll be at it and more comfortable.
"I think as a coach now, communication and man management are actually more important than the technical ability. I think it's so important that you have an environment where the players understand the process."
Having stepped back from his head coaching role at Michael's in 2010 – "I felt a bit institutionalized, like Brooks from Shawshank Redemption!" – McWilliams became involved with the Ireland Women set-up and Leinster U19s.
Previous head coach Kevin West brought him into the Ireland camp, before Philip Doyle took over for a second time and developed a smooth working relationship with McWilliams, the latter controlling the team's attack while Doyle worked on defence.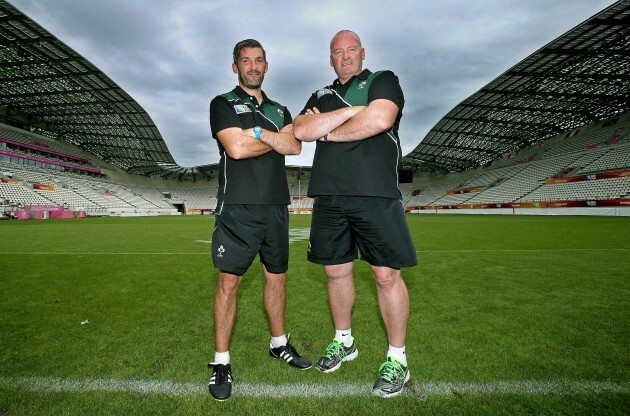 Dan Sheridan / INPHO McWilliams has enjoyed working with and learning from the likes of Philip Doyle in the Ireland set-up. Dan Sheridan / INPHO / INPHO
Along the way, he has leaned on people like Trinity's Tony Smeeth, Leinster's Dan van Zyl and Clontarf's Simon Broughton, fellow coaches with whom he can discuss the game and continually challenge his own way of thinking.
"If I have any new ideas, or they have new ideas, we try to talk to each other," explains McWilliams. "I think it's important not to close yourself in as a coach, to listen to others.
"It might just be a small thing you pick up. Even watching matches with friends who are analytical, something might trigger in your head. There are many different ways of constantly seeing the same thing."
McWilliams flew back to Ireland from France during the just-finished World Cup to spend an hour and a half with Joe Schmidt at Carton House, simply "talking about rugby," an experience he felt was hugely beneficial.
All I can do is try to improve as a coach and learn from as many experiences as I have everyday to get better," says McWilliams. "You have to look, all the time, at what you're doing and improve as a coach.
Exclusive Six
Nations Analysis
Get Murray Kinsella's exclusive analysis of Ireland's Six Nations campaign this spring
Become a Member
"Hopefully someone out there will look at you and say, 'This guy works hard, he gets on well with people and seems to technically know what he is doing; let's give him a chance.'"
That's exactly what has happened with Yale University, where McWilliams begins work next week alongside his wife, Sarah. The Dubliner admits to always having been allured by the Ivy League colleges, but says that, most importantly, this is an exciting rugby project.
"It's a completely blank sheet and they're looking for somebody to come in and put in good structures," outlines McWilliams. "Straight away when I thought of a group that was at base level, who had intelligence, drive and pretty good financial backing, that to me seemed like pretty much the dream job as a coach. There's quite a lot you can do."
[image alt="Greg McWilliams" src="http://cdn.thejournal.ie/media/2014/08/greg-mcwilliams-5-630x416.jpg" width="630" height="416" credit-source="Dan%20Sheridan%2FINPHO" caption="McWilliams%20has%20an%20impressive%20tactical%20and%20technical%20knowledge%20of%20the%20game." class="alignnone" /end]
Smeeth and Justin Fitzpatrick – a former Ireland Women scrum coach and now involved with the US Eagles – helped Yale to hire McWilliams, providing him with positive references during an "intensive" interview process, as well as an idea of what to expect in the US.
McWilliams had worried in his earlier coaching years that the lack of a professional playing background would hinder his progress, but results have spoken for themselves. After almost four years with Ireland Women [he took a break from the set-up after the 2013 Grand Slam], McWilliams moves on thankful to have been part of a special group.
"It's been great because it's really intense. Every day is different and you have to prepare differently. I'm so grateful to have worked with this playing and management group. Each member of the management have the same amount of input into the team, and they all played a big part in my journey.
I treat the squad as rugby players and I like to think I treated them the same as I would male players. I think if you didn't, you wouldn't be giving them the respect they deserve.
"I think whether you're coaching a group of women, men or monkeys, you have to have the same process. It's about creating an environment where they're challenged. If you're any way under-prepared, you cannot bluff. It's been brilliant coaching them for four years now."
McWilliams leaves Irish shores to pursue his American Dream of coaching professionally, but this is unlikely to be the last we hear of this ambitious, intelligent young coach.