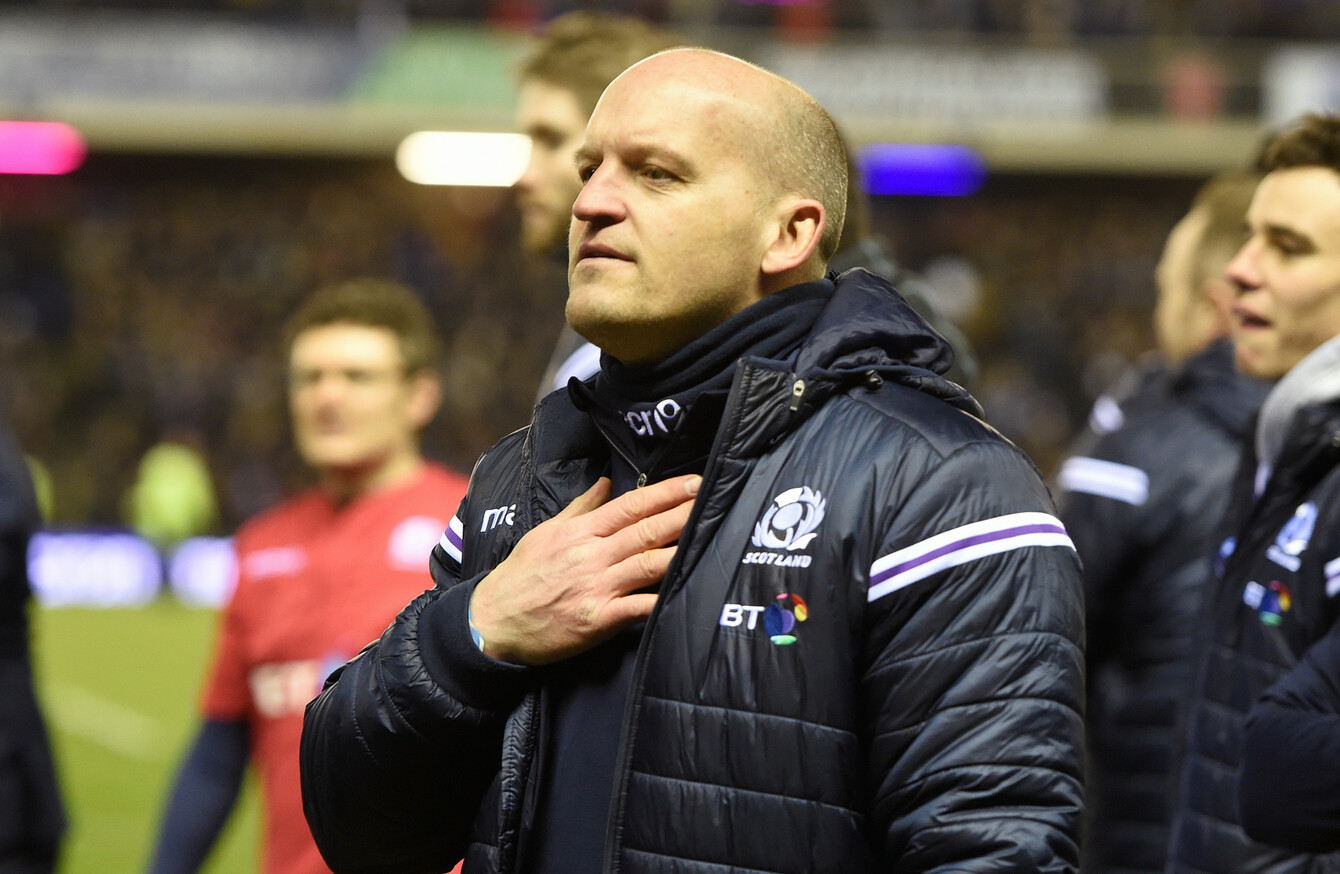 Scotland head coach Gregor Townsend after Saturday's win over England at Murrayfield.
Image: PA Wire/PA Images
Scotland head coach Gregor Townsend after Saturday's win over England at Murrayfield.
Image: PA Wire/PA Images
NO SOONER HAD Gregor Townsend seen Scotland end one unwanted record by beating England for the first time in a decade, he was turning his attention to ending their woeful away record in the Six Nations.
Townsend's first Calcutta Cup match as Scotland coach yielded a thrilling 25-13 win over arch-rivals England at Murrayfield on Saturday. An eighth victory in nine Tests at Murrayfield saw Scotland run in three tries during a memorable first half, including two from Huw Jones.
But with a trip to leaders Ireland — the only side who can complete a Grand Slam this season after a 37-27 win over Wales — on the horizon, Townsend knows Scotland must improve away from Edinburgh if they want to be regarded as serious contenders for the Six Nations title.
It is eight years since Scotland last beat Ireland in Dublin. Since the Six Nations era started in 2000, the Scots have won just six matches away from home — and four of those were against perennial strugglers Italy.
Poor form on the road was an issue when Townsend himself was a Scotland international and the problem was all too evident again when Scotland's Six Nations campaign this season started with an emphatic 34-7 loss away to Wales.
"There is a twin challenge — we have to look at Ireland and what we need to do to beat them, and get our game in place, but also do much better away from home," Townsend said. "It has been an issue for Scotland since the Six Nations began and we've got to make sure that we play close to our potential."
He added: "If that means we win the game then brilliant, but if it means we just put in a very improved performance from the likes of Cardiff and Twickenham (where Scotland were hammered 61-21 by England last season) then that's a big step forward. For the development of where we are now, both on the mental side and the belief it creates, (this win is) really important."
Away victories are a precious commodity for all Six Nations teams, with Ireland's last-ditch win in France — courtesy of a Jonathan Sexton drop-goal — the only success for a visiting side this season, excluding matches in Rome.
"You guys (the media) know our record in the Six Nations, it is tough to play away from home," said Townsend. "England obviously found that out here (Murrayfield). But we have to make sure that we've got our focus right and we're ready for what we're facing in Dublin, and we're able to play accurate rugby. We didn't do that two or three weeks ago in Cardiff."