"I'D ALWAYS LOOKED at Leinster as being the role model of how I'd want to run a team on the field and off the field."
Now in his second season as head coach of the Glasgow Warriors, and preparing for his season consecutive Pro12 semi-final, Gregor Townsend says that Joe Schmidt's era at Leinster has been an influence on his own approach.
There are many other strands that make up the 82-times capped Scot's coaching philosophy, but the New Zealander is a man Townsend holds in high esteem.
"Joe is great. When I took over, I had a really long chat with him and we have kept in touch since then. He was excellent to go up against last year, a really friendly coach and one who welcomes you to the ground, spends time with you before and after the game, but is also obviously hugely competitive and wants to beat your team.
We had some really good battles with Leinster last year, especially in the semi-final. It's great to see him doing so well with Ireland."
Despite the Glasgow job being his first head coaching position, Townsend has made quite the impression. The last two seasons have seen the Warriors playing intelligent, incisive and hard-working rugby, with a clear sense of energy and buy-in surrounding the entire club.
The 41-year-old's journey to this point has been extremely valuable. Townsend was never so arrogant as to assume that the knowledge he amassed during his superb playing career would translate directly into coaching expertise.
"As a player, and even as a stand-off, you think you know a fair bit about the game, but it's nothing compared to what you need to know as a coach, and what works," admits Townsend.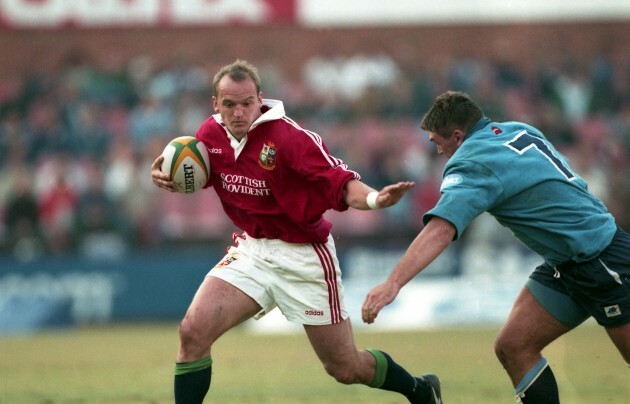 Billy Stickland / INPHO Townsend was a creative, skillful player with a wonderful range of passing, and toured with the Lions in 1997. Billy Stickland / INPHO / INPHO
Having hung up his boots in 2007, the Galashiels native became involved with the Winning Scotland Foundation, "a sports charity that has close links with business."
Through that organisation, Townsend spent time with a diverse range of characters associated with sport, including Yehuda Shinar – the Israeli coaching consultant who helped Clive Woodward's World Cup-winning England side – and Carol Dweck – a Professor of Psychology at Stanford University with deep knowledge in the fields of motivation and development.
Learning about education in sport from such individuals was crucial, while Townsend was also grateful for the gradual process by which he was "allowed to develop as a coach in that time."
That began at the Scottish Institute of Sport, coaching just one day a week, before being brought into the fold at Edinburgh as an assistant to Andy Robinson. Progress into the national set-up in 2008 in a similar role under Frank Hadden followed, with Robinson coming in as head coach a year later.
In between and around that curve, Townsend managed to do some important travelling, picking up lessons and learnings that have moulded his own thinking.
"I visited the Queensland Reds on a couple of occasions. I had two separate visits to them, the second time was when they were on the way to winning their 2011 Super Rugby title, so it was great learning.
"Probably the most crucial learning I had was just when I got announced as head coach for Glasgow [in 2012]. I went to spend a couple of weeks with the Chiefs. Being in their environment was great, that was the first year they won Super Rugby.
Tertius Pickard New Zealander Wayne Smith has been an influence. Tertius Pickard
"I'd already had a good relationship with Wayne Smith, so I got to spend time with him. He also came over for a week with us last season, which was great."
Smith is one of the most respected coaches in the world, having been so integral to improving players in almost every environment he has worked in. What did Townsend learn from him during that visit to Waikato?
"There's obviously the specifics on his areas; he's defence coach now, but he's also great on counter-attack and making sure that defence can be a means of you getting the ball back in a better position.
Culturally too, he was a big driver of that with the All Blacks and the Chiefs. Dave Rennie was excellent and Andrew Strawbridge on the skills and Tom Coventry with the forwards. Seeing all of that at the Chiefs was great."
Mention of the culture that drives the All Blacks and the Chiefs is of particular interest, given the evident enthusiasm for improvement within the Glasgow squad over the last two seasons.
Townsend says he was lucky to take over a squad that already had an existing attitude of togetherness, but stresses that constant work is required to maintain that.
"That was there long before I got here. That's our main driver of how we play well, the culture that had been built up over years in a very close-knit group. We've got a lot of people that want to get better and want to do well for the club, who put the team first.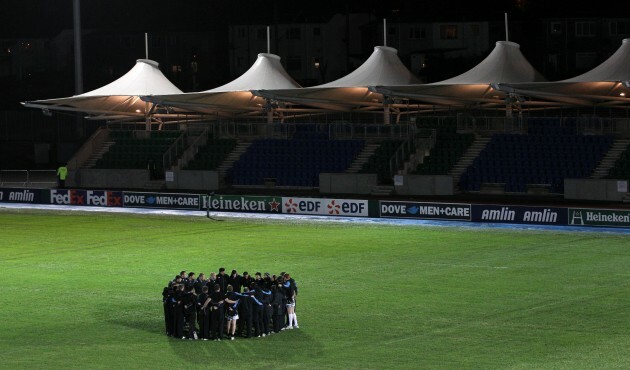 PA Archive / Press Association Images A strong team culture drives everything for Townsend's Glasgow. PA Archive / Press Association Images / Press Association Images
"That gets transferred into your performances. We had a really good defensive record before Matt [Taylor, one of three assistant coaches to Townsend] and myself got here. I think they were one of the best defensive sides and we've carried that on.
"If you're a really good defensive side, that's because you've got a strong culture and you're able to put the bodies on the line. It's something that we've got to keep working on the whole time.
We can never take that culture for granted. It's in the people you select, it's in the people you recruit, but also highlighting the effort that goes in. Also, making sure that if anything happens to disrupt that strong culture, that you deal with it very quickly and strongly."
Competition for places has been a crucial element in Glasgow's progress too, and Townsend mentions Leinster again in that regard: "Any team that wore that blue jersey over the last five years, you'd know you were getting a certain type of performance out of them."
The motivated Warriors have been extremely effective and excellent to watch over the last two seasons as a result. Their style allows for flourishes of individual magic from the likes of Niko Matawalu, but the foundation of Townsend's approach lies in getting the basics of set-piece, tackling, rucking, support play and passing nailed down.
"As long as players are working hard to get better, show effort when they play, and put the team first, we're in a good place. We've got lots of players with ability and maybe people see the sleight of hand or the great step as being the key skill, whereas we see the ability to put the tackle in and then repeat the effort."
Townsend's philosophy and theory in playing style has developed as he has learned more and more about coaching, but he underlines that the basis is "making sure we do the things that produce wins."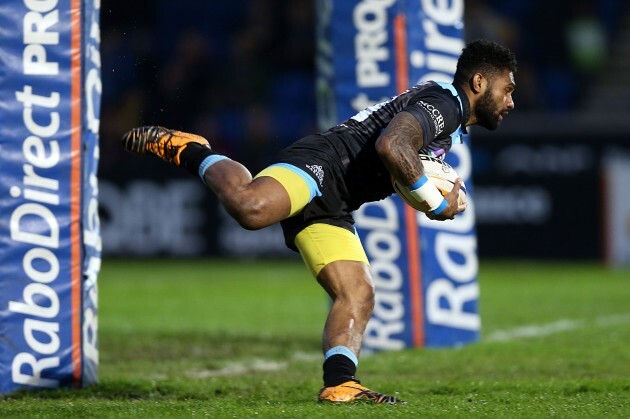 Ian MacNicol Niko Matawalu's flair has found a home in Glasgow. Ian MacNicol
Statistical evidence has played a contributory role in building the system that Townsend has faith in, one that sees Glasgow continue to grow as a force on the pitch.
"We have a winning template that has set which fundamentals we have to get right. That should lead us to winning and we base ourselves around that. If we get those elements right, we have a good chance of winning.
We believe that those things will win you rugby games no matter who you are up against. You do plan for each opponent and the conditions, but there are fundamentals to our game with and without the ball that we believe work for us."
The stands at Scotstoun are filling regularly, and Townsend admits that the club is "buzzing" with anticipation ahead of tomorrow night's semi-final against Munster, with fans even queuing for tickets in the rain earlier this week.
There is an ever-growing "connection" between the Warriors and their support, while the gym, training, office and recovery facilities at Scotstoun are "fantastic," according to Townsend. All is good for Glasgow at present, but is a trophy required to top it off?
"That's the goal. Every team that enters the Rabo, and in Europe, you're doing that for a reason. That's to be there at the end. As long as the arrow keeps pointing upwards for us and we're showing improvement and give it everything we can in the games that we play.
"I would be delighted with how we did last season and especially that semi-final [against Leinster]. It was heartbreaking for the players to lose it, but probably our best game of the season. We know that we have to play the best game of our season in these fixtures."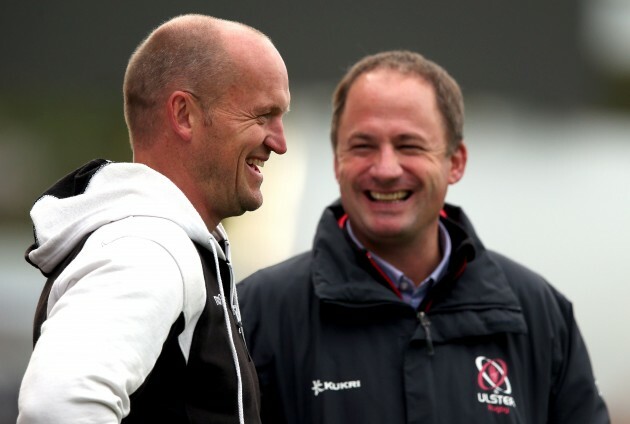 Dan Sheridan / INPHO Townsend shares a joke with Ulster's David Humphreys. Dan Sheridan / INPHO / INPHO
Glasgow were defeated 17-15 by Leinster at this stage last time around, with Stuart Hogg missing a late conversion after the Warriors gave a superb display. Irish opponents stand in the way of a spot in the final for the second year running.
Rob Penney's Canterbury-infused approach with Munster has been much-discussed in the last two years, and it is perhaps unsurprising that Townsend has his own links to the New Zealand province. Has he been impressed with Penney's interpretation?
"Very much so and I knew a lot about the Canterbury way. A friend of mine became head coach of Canterbury [in 2012], and he's now with the Crusaders [as an assistant], Tabai Matson. I knew a lot about what they were doing; we've got a really close relationship with Canterbury.
We send players and coaches to the Canterbury academy. So we know not just about the rugby that they play, but also the cultural side. They've been world leaders, both Canterbury and the Crusaders, for a number of years.
"Munster have a different style of rugby to any team that you'll play with the amount of passing that they do in their wide-to-wide rugby. Then they mix that with the traditional Munster way of working you really hard through the forwards.
"It's been very effective and obviously they were the best team in the league for months this season and they were the only team from our league to make it into the last four in Europe. They've got some fantastic players."
That is undeniable, but Glasgow's upward curve suggests that the next stop on Townsend's coaching journey may well be a first Pro12 final.