GROWTH MINDSET IS a powerful thing, and not just for the children around whom much of Carol Dweck's research has revolved.
Gregor Townsend's Glasgow Warriors have worked hard to base their approach to rugby around the idea that their talent and intelligence are not fixed traits. Hard work, enthusiasm, persistence and strong teaching can improve any player in any skill – so goes the Glaswegians' thinking.
Camerasport / Ian Cook/INPHO Townsend's Glasgow face Leinster in the Guinness Pro12 today at 3pm on Sky Sports. Camerasport / Ian Cook/INPHO / Ian Cook/INPHO
Research by Dweck, a professor at Stanford University in the US and a hugely respected figure in the world of psychology, has proven that those who believe success comes from consistent learning, hard work, and practice – rather than an innate, 'fixed' ability – achieve more positive results.
Townsend first came into contact with Dweck when he began working with the Winning Scotland Foundation – a Scottish sports charity – soon after his retirement from playing, as he prepared to take his first steps into coaching.
Instantly, Townsend saw how Dweck's ideas could be transferred into the sporting sphere, and when he worked his way into the head coaching job with Glasgow in 2012 after a spell as Scotland assistant coach, growth mindset became a part of club life.
Dweck has visited the Warriors on a number of occasions, while Townsend showed his players a presentation of Dweck's ideas last summer as a refresher for some and an introduction for new players.
As coaches we would talk about a player being coachable, and to me that is having a growth mindset," says Townsend.
"Someone that will take on challenges even though they risk making mistakes, someone who seeks out feedback, someone that wants to improve and puts in the work to improve.
"From a coaching perspective, I believe you have to praise effort, you have to focus on the process and the outcome will take care of itself."
The presentation on growth mindset during the pre-season before the current campaign involved every player and member of staff at the Warriors setting themselves a specific challenge, one that would truly test their ability to learn and improve.
Townsend was last season's Pro12 coach of the year.
"Everyone had to set a challenge, something that they either weren't comfortable doing or was going to involve mistakes or learning," says Townsend. "Most of the challenges were away from rugby, which was great, and we want to have that same mindset when they come to rugby.
"It's up to us to provide the environment for the players to feel safe in making mistakes, learning, encouraging them to seek out feedback and stay out longer to work on their games."
The former Scotland out-half smiles and shakes his head when asked what his challenge involved, saying that it was a "physical one" that might help him resist the temptation to ceaselessly sit in front of a laptop watching rugby games.
Bench 200kg? A laugh and another shake of the head. Confidential information.
As a player, Townsend had stints in England, France, South Africa and his native Scotland, and in a sense he always had this growth mindset. That perhaps explains why Dweck's articulation of the idea had such a resonance with him.
"In my playing career, I went out there to learn as much as I could," says Townsend. "The trigger was playing at club level in Australia (he played with Warringah, near Sydney) when I was 20 years old and realising that the fastest I improve is when I'm out of my comfort zone, learning from different coaches, putting yourself in challenging positions.
"That's probably why I ended up playing in different countries. I knew starting out as a coach that I had so much to learn.
"Most of what I do as a coach is what I've learned since being a player, learning from other coaches, learning from people like Carol – how to organise your thoughts, how to focus on the things that will count, rather than just the rugby knowledge. It's how to put the plan together."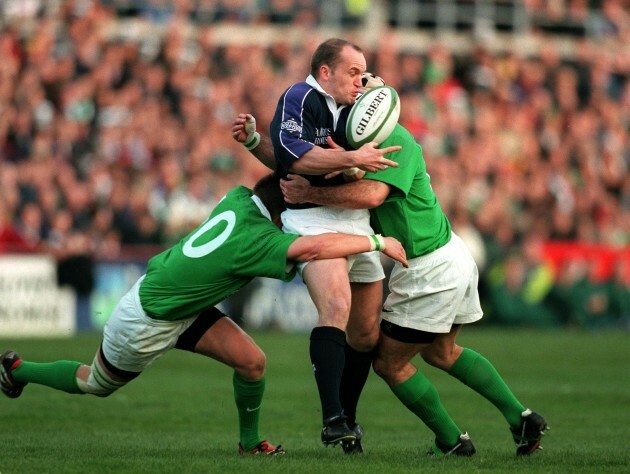 Patrick Bolger / INPHO Townsend won 82 Scotland caps, as well as playing for the Barbarians and the Lions. Patrick Bolger / INPHO / INPHO
The 42-year-old's commitment to growth mindset means he feels he is some distance away from being the coach he believes he can be, that he must continue to learn from his mistakes, as well as from any other resource he can draw upon.
The process of getting better is never-ending but constantly exciting. Townsend sees opportunities to garner new knowledge everywhere, even in the limitless space of the internet.
"There's so much good, relevant stuff out there with social media," says Townsend. "What you tend to find is people you coach with or like-minded thinkers, they will have an article or a story from another sport that they'll pass onto you. People on Twitter will tend to produce things that you're looking for that will help your learning.
I follow people on Twitter from all sorts of sports – American sports, basketball, ice hockey – then on to rugby coaches who are keen to learn and share what they've learned."
Even more important and stimulating are Townsend's interactions with other coaches and sports teams in real life. His staff of Dan McFarland (Connacht forwards coach until last summer), Matt Taylor and Kenny Murray at Glasgow are similarly open to ideas from elsewhere, meaning the Warriors have had some fascinating link-ups.
They trained with Top 14 side Clermont during the pre-season before this campaign, while in 2013 Glasgow spent two days on the training paddock with leading rugby league outfit Wigan Warriors.
"Obviously the games are different, but we had young guys going up against Sam Tomkins, and with Clermont we had academy players running against (Aurélien) Rougerie," says Townsend.
"There's a buzz about it, variety, then the specific rugby learning. The running lines from rugby league players, the depth to which they pass from the French backs."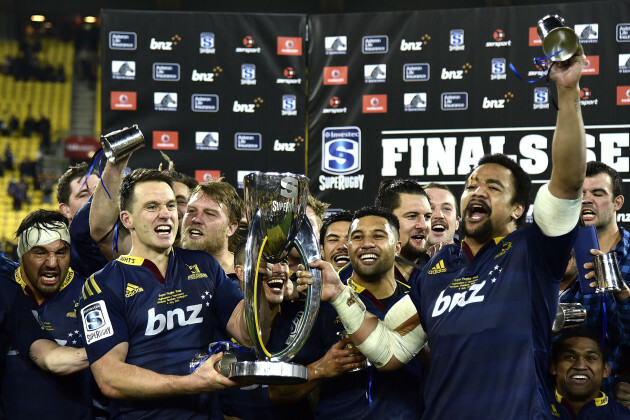 Photosport / Marty Melville/INPHO Townsend admires the Highlanders. Photosport / Marty Melville/INPHO / Marty Melville/INPHO
During the summer, Townsend welcomed Super Rugby-winning Highlanders coaches Jamie Joseph, Tony Brown and Scott McLeod to Glasgow to "share what worked for them and what worked for us. It was fascinating."
Three football managers from the Scottish Premier League have visited Glasgow's training to observe and share. Townsend says that his family "didn't see me every now and again" on their holiday in Australia last year as he ducked out to visit the Brumbies, the Waratahs and the NRL's South Sydney Rabbitohs.
These learning expeditions aren't always about taking specifics back to the Warriors set-up immediately, or transferring ideas directly into his own coaching, but Townsend says his bank of knowledge can only increase by seeing how others work.
"In the back of my mind I always think it would be great to have two or three months off to collate all the stuff I've picked up," says Townsend.
You pick up a lot of things. You're never going to put all of it into your coaching, it's about having it there at the back of your mind when problems need to be solved.
"You might think, 'I remember the Rabbitohs had something similar and they did this.' It's shaping your own beliefs, but if you do see something different, you go, 'Wow, I wonder why that worked.'
"You're thinking around how can you improve the squad all the time. It's great to share and talk about rugby, it gets you stimulated, but not it's necessarily always that you'll use it the following day."
The openness within rugby coaching circles is a growing phenomenon, whereas previous thinking might have been to hoard information and ideas. Townsend does say "I don't see us and Munster going to share each other's ideas, obviously we're competing against them," but stresses that sharing is generally a good thing.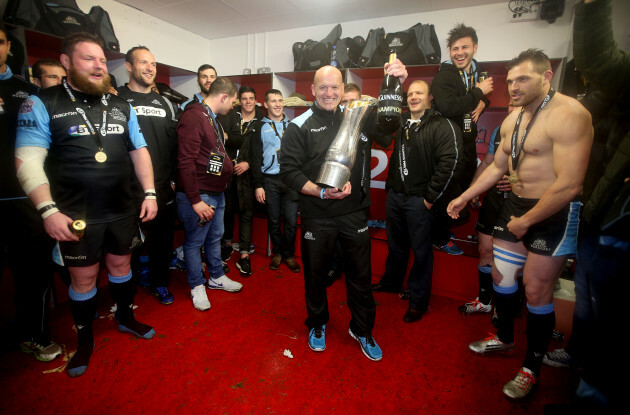 Dan Sheridan / INPHO The Warriors are the reigning Pro12 champions. Dan Sheridan / INPHO / INPHO
Working with Wayne Smith, assistant coach with the All Blacks for their consecutive World Cup successes and one of the world's great rugby minds, hammered that point home to Townsend when he visited the Chiefs in New Zealand.
"He shares everything he does because he knows he'll get things back," says Townsend. "The game and your coaching is constantly evolving, it has to or teams are going to work you out pretty quickly. Between sports it's very open, between rugby teams it's ok."
Another obvious way for any coach at any level in any sport to learn is by actually watching games, studying what other teams do on the pitch and questioning their tactics and techniques. Townsend is voracious in his appetite to observe other world-leading sides.
Being the head coach of the reigning Pro12 champions means he is extremely busy day-to-day, however, and he says it was his time as Scotland assistant coach from 2009 until 2012 that allowed him to become fully immersed in studying others.
When I was with Scotland, one of the benefits is that you get much more time to collate plays, shapes, techniques," says Townsend. "Those were very useful years for me, though I didn't get to do as much hands-on coaching at that time.
"But I was building up banks of plays – why the Crusaders play like this, why Leinster play a different way. There's less time to do that now because you're preparing for a game every week and you've got to build on what you're doing well.
"I loved watching the Highlanders and the Hurricanes in Super Rugby this year. The set-piece plays from the Highlanders, the counter-attack and the running lines of the Hurricanes, the final was outstanding.
"There's certain traits you can see in the winning teams that you know you have to nail as a team if you want to be in the semi-finals and finals. We'll do other things differently, but those things we have to do right."