PUTTING GREGOR TOWNSEND in charge of the Scotland national team was always likely to bring exciting results, although some didn't expect the former Glasgow Warriors head coach to make such a swift impact.
Vern Cotter had done fine work in charge, no doubt, but Townsend has notably accelerated the progress and Scotland's performances in last year's November Tests add greatly to the anticipation ahead of the upcoming Six Nations.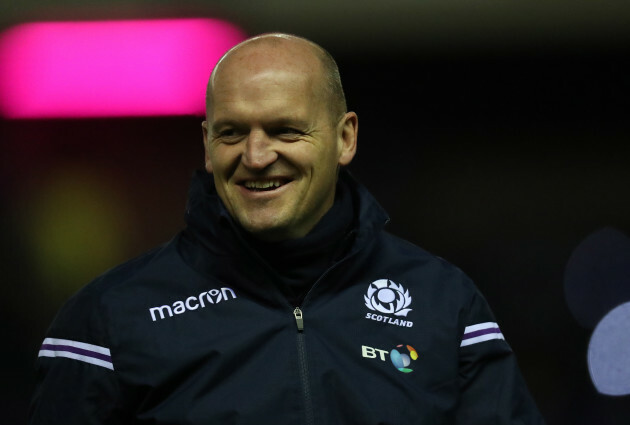 Billy Stickland / INPHO Townsend has made an impressive impact as Scotland boss. Billy Stickland / INPHO / INPHO
Scotland travel to Wales on the opening weekend and, despite a serious injury list in the front row, will go with a degree of expectation behind them.
Hammering the Wallabies and almost beating the All Blacks for the first time will do that.
Scotland also won against Samoa in the autumn series, as well as beating Australia and Italy in Sydney last summer, and there is real optimism around their Six Nations prospects. Now ranked fifth in the world, they look like possible contenders.
Townsend has always been an impressive figure. Positive, open and affable in his dealings with the media, the Scotland boss seems comfortable in his skin but is equally quick to stress that he is still learning.
He has always pushed 'growth mindset' as a cornerstone of his coaching, while he has also long been an advocate of the value of visiting other sporting organisations and coaches – anywhere he can pick up little nuggets of wisdom and knowledge.
Townsend's latest visit last month allowed him to spend time with Man City boss Pep Guardiola, the Barcelona legend who is guiding the Premier League club's sensational season.
"I had two days there," says Townsend. "I had a day for the match experience and then a day for the training experience, and got to speak to Pep. It was inspiring to hear from a coach that's so passionate about the coaching. He's probably the most successful coach in the game just now, so it was great to have those moments and get that connection.
"You always pick up things you could use specifically when you visit a sporting organisation and particularly one that's very successful.
"It could be the flow of the facility, what they're doing in training, and there are definitely transferable messages that he likes to give to his players about off-the-ball effort which are very important for us as a rugby team.
"I think the biggest thing from meeting Pep was seeing a coach passionate about the details of coaching, how to bring the best out of players, not talking the bigger picture and the state of the game and tactics or signing players – it was more that detail of how he gets his game over to the players.
"He was so excited about it and he talked a lot about rugby as well, how he loves rugby, how we have to look forward because we pass the ball back and that's a great philosophy that he thinks applies to football."
Townsend laughs when recounting that Guardiola was delighted to receive a signed Scotland jersey, but the meeting underlines his thirst to learn and improve.
The Scotland boss has an excellent relationship with the influential Wayne Smith – who will work with Italy after departing the All Blacks set-up – and understands that more experienced rugby coaches than himself can provide valuable guidance.
"As a coaching group, we encourage each other to learn from different sources. I've been fortunate that I've managed to get to meet people like Pep and get to some great organisations," says Townsend.
"Another one that was very relevant for me going into an international coaching job was meeting former international coaches like Stuart Lancaster, Frank Hadden, Ian McGeechan, Jim Telfer, people that I look up to – getting their thoughts on the game in general and when they were coaching at international level."
Anyone who has been watching Scotland will have noted the fierce tempo of their attacking game under Townsend, while their ability in the 'transitions' between defending, kicking and attacking is also a clear strength.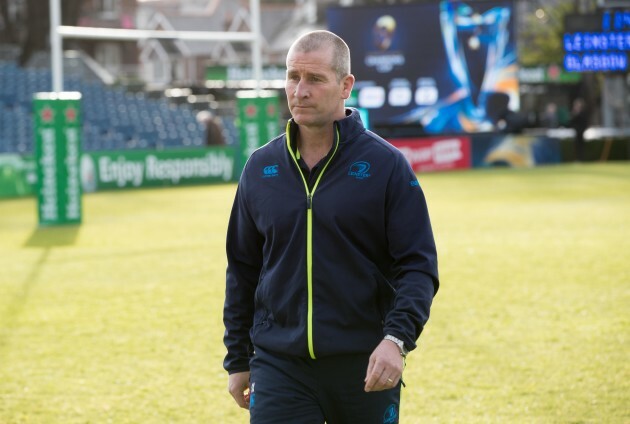 Morgan Treacy / INPHO Townsend also spoke to Stuart Lancaster about international coaching. Morgan Treacy / INPHO / INPHO
Those traits are very much as a direct result of how Townsend is coaching his team, with training sessions now undertaken at a blistering pace and with constantly changing pictures for the players.
"It's different and it's stressful," says Scotland captain John Barclay. "For me, it was a difference that maybe took me a couple of weeks to get used to when Gregor first took over – maybe the Glasgow guys were a bit more used to it.
"It's just that dynamic of constantly changing scenarios, lots of different drills to ask different questions, so it's never mundane and it's never the same thing – which I love. I think sometimes if you've played a while it can become quite repetitive, so it's great to do different things and especially if it transfers to games.
"That's the most exciting thing as a player, you can see the transfer onto the pitch what we're doing in training. That's extremely rewarding."
Can Barclay think of any specific examples when he felt that out on the pitch?
"Probably against New Zealand, the chaos we caused them," says the Scarlets back row. "Probably that last two minutes where we didn't actually score in the end, but we had two minutes left on the clock and we've run them the length of the pitch with some guys who were playing their second caps or whoever.
"We were playing against the best defence in the world and it wasn't necessarily structured play, but everyone was comfortable. That's how we practice."
Townsend is already getting these pulsating results from his Scotland players, and the scary thing is that they will only continue to get better.
They will be a danger to everyone in the Six Nations and beyond. With Ireland occupying the same pool as Townsend's men at the 2019 World Cup, the growing rivalry looks set to continue for some years to come.
The42 has just published its first book, Behind The Lines, a collection of some of the year's best sports stories. Pick up your copy in Eason's, or order it here today (€10):