THE BEAMING SMILE on Greta Streimikyte's face says it all. It's the day after she smashed her own personal best on the track at Santry and virtually assured herself of a seat on the plane to Rio.
Everything has happened pretty quickly for the 20-year-old. It's just five years since she and her family left Lithuania for a new life in Ireland.
Last December, she officially became an Irish citizen, collecting her passport at a ceremony in Dublin.
Now, fresh from competing on the international stage for the first time, the DCU student is just months away from representing Ireland at the Paralympic Games
"Oh Jesus, it would mean a lot," the 1500m runner admits.
"Representing Ireland means a lot to me. I say to people who ask me that question, it would be like saying thank you for accepting me, for being so helpful, for opening your arms and wanting me to represent Ireland.
"I would try my best to compete as best as I can and get the best place I can. That would be my dream come true like for every athlete but it would be even extra for me because it would be an opportunity to say thank you to this country and the Irish people and Paralympics Ireland and everyone."
Pulling on the green bib in September would be the culmination of a whirlwind journey, which began in June 2010.
Four years after her father had initially moved to Dublin for work, the rest of the Streimikyte family followed and made Swords their home.
Leaving behind friends and family and settling into a new city is never easy but the decision was made easier by the greater opportunities available to Greta here.
"I have a condition called retinopathy," she explains. "I was born premature and it [visual impairment] was caused by an incubator. Thankfully it's not a disease and I have some vision in my left eye. It's going to stay the same, no worse no better, so I can't complain. It's all good."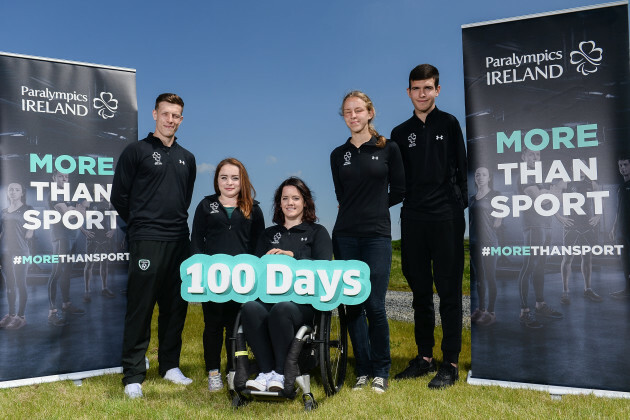 Sam Barnes / SPORTSFILE Streimikyte was speaking at the launch of Paralympic Ireland's new Rio 2016 Mobile App yesterday. Sam Barnes / SPORTSFILE / SPORTSFILE
Her father noticed a positive attitude towards disability in Ireland, particularly in schools. He believed moving his family to Dublin would give all three of his children a brighter future.
After attending a school for visually impaired students in Lithuania, Streimikyte was thrown in at the deep end, starting in Rosmini Community School in Drumcondra along with her brother and sister [they are triplets].
It was there where her running talent was first spotted. Remarkably, she hadn't even contemplated taking it seriously before arriving in Ireland.
"I didn't join athletics as soon as I came here, it took time to figure everything out," she said. "So when I met this wonderful person, Eimear O'Brien, and she told me and my PE teacher that I should join the club, Clonliffe Harriers.
"I met all these great athletes and learned more and more from the great coaches. It was a really good stepping stone for me. Sport connects you together, it doesn't matter which country you're from."
From there, athletics played an integral role in helping Streimikyte find her feet in new surroundings. Sport helped her break down the barriers of fitting into a new society.
"My parents love sport and in my family I was always driven to do some sort of sport. In Lithuania, I was younger, maybe it wasn't that I wanted to do it [running] at that time but when I came here, I really got into sport.
"I got into the gym and loved running and bit by bit, it takes time when you come to a new place and it takes time to put everything together. By the time I joined a club and everyone introduced me and I learned how everything works here then I kind of started running properly."
And run properly she does. On Sunday last, Streimikyte catapulted herself into top two in the world in her classification – T13 – with an incredible performance at the AAI Games at Morton Stadium.
A time of 4.50;58 shaved six seconds of her previous best and cemented her place in the Irish squad for next month's European Championships in Italy and, all going well, Rio.
"It's brilliant, I still can't believe it, it's amazing," she says of the weekend. "I still can't believe it but I have to work harder now to get even faster times.
"I really wanted to get it because I wasn't really happy with my previous race, it was good but it wasn't good enough for me. But at the weekend I finished it and I asked my time and they told me so I had to ask the person three times because I couldn't believe it.
"They told me 'yes, yes' and I thought 'Jesus, finally' because I was working so hard for it and I'm still so, so happy and now I'm excited about another race to come and make it even better."
With her second year of International Relations completed in DCU, Streimikyte's focus is now firmly on training and preparing for the big summer which lies ahead.
While many of her classmates will be jetting off on J1s or working holidays around the world, the hard work is only now beginning. For Streimikyte, practice makes perfect.
"I'm a T13 visually impaired," she adds. "At first I was categorised as T12 but then we went to Italy a month ago and they decided that I have quite a good vision to run in T13.
"T13 means that you run on your own and that's what I need to do now. It's all good, it's all about experience, practice, training, running – you need to do things to be good at it."
The42 is on Snapchat! Tap the button below on your phone to add!