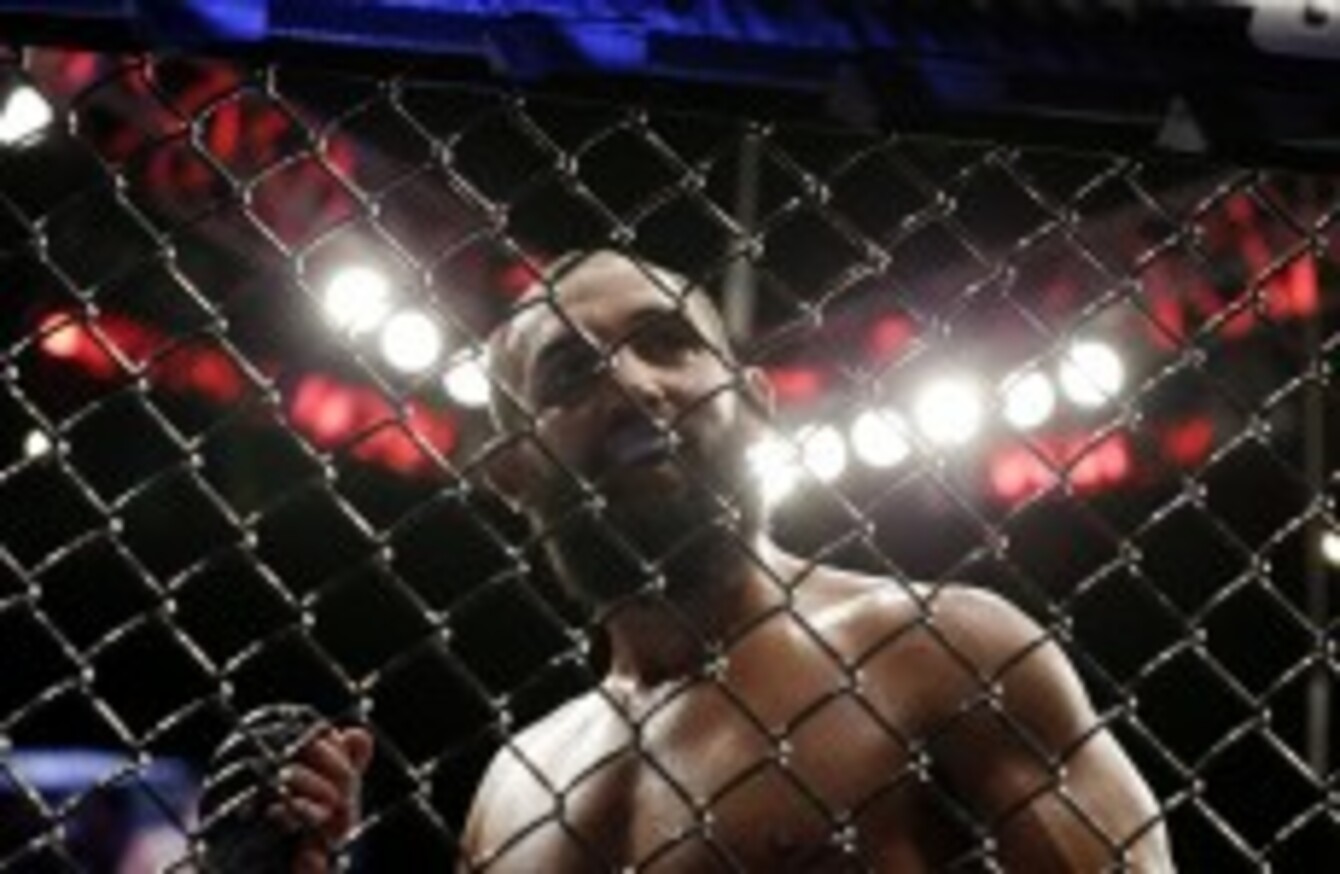 Johny Hendricks walks to his corner during a UFC 167 mixed martial arts championship against welterweight bout against Georges St. Pierre.
Image: Isaac Brekken/AP/Press Association Images
Johny Hendricks walks to his corner during a UFC 167 mixed martial arts championship against welterweight bout against Georges St. Pierre.
Image: Isaac Brekken/AP/Press Association Images
IT'S BEEN A week since Georges St Pierre overcame Johny Hendricks and the biggest threat to his career to date but controversy still reigns.
On the face of it, literally on GSP's face anyway, it looked as though "Bigg Rigg" had done enough to punch, knee and eventually wrestle the welterweight belt off the Canadian but the people who matter most, the Nevada State Athletic Commission judges, ruled differently.
Dana White fumed in the post-fight presser, the almost monthly calls for a new scoring system re-emerged, an immediate re-match seemed to be quelled by an apparent retirement in the cage from StPierre robbing Hendricks of a chance at redemption. But after all was said and done it was Georges who remained champion.
So how did GSP get a decision that the majority of fans, including the president of the organisation, thought had clearly gone the other way? Here's how.
Round breakdown
In round 1, as expected, St Pierre came out looking to establish his trademark jab that has worked so effectively in many of his previous fights, most notably against Josh Koscheck. He was able to score a takedown and managed to attempt a few chokes that Hendricks fended off.
As Hendricks got back to his feet he began to find some rhythm and caught GSP with some heavy shots before scoring a takedown of his own and hit St. Pierre with a knee when he eventually got back to his feet.
This is the only round the judges failed to agree on with one scoring it for Hendricks and the other two for GSP. In the second round the Canadian began to look a bit more comfortable before being wobbled by a series of right hooks and uppercuts before recovering well to land a head kick near the round closure. It was no real surprise that all three judges scored this for the American.
The momentum stalled for Hendricks a little in the third round as it looked as if he had perhaps gassed a bit as his punches didn't seem to carry as much power. St Pierre battled back with some nice combinations and despite a takedown for Hendricks neither fighter seemed to do enough to win the round.
Despite the fact that he was taken down, GSP landed a higher volume of significant strikes which seemed to convince all three judges that the round was his.
The next round proved to be another fruitful one for the challenger who capitalised on a slip from the champ to inflict some serious damage which was plain for all to see as GSP's was well and truly battered and bruised. Hendricks clearly won the round and all three judges agreed.
St Pierre was a bloody mess entering the final round but composed himself enough to score a couple of takedowns but took some damaged while attempting them. Hendricks attempted but failed to pull off a kimura and even managed to reverse position before GSP attempted a half-hearted kimura of his own right until the final bell.
Surprisingly all three judges scored this very close final round for the champ which therefore gave him the split decision victory.
Image taken from @FightMetric's twitter feed
The decision was met by boos and jeers from those in attendance and shock and disbelief by the many fans across the world watching live in their own living rooms. GSP looked a beaten man in more ways than one come the final bell and Dana White even stated that he believed his whole team thought they were beat when he entered the cage at the final bell.
When you break down the decision it is clear to see that the fight was a lot closer than it looked. Looking at the statistics GSP landed the more significant strikes 101-85 and landed more takedowns 3-2 but Hendricks landed more total strikes 142-125 which included more to the head 80-60 and to the legs 40-28 than his opponent.
But overall damaged inflicted must play a part in this scoring system meaning it was clear to see looking at the two men's faces who should have won this fight.
It's a shame for Hendricks that he may not get another crack at St. Pierre, whose future remains up in the air, as all he can take home from his performance is the knowledge that he perhaps should have won.
Unless something can be done about the scoring system and judge's decisions soon, the fear is that UFC and MMA could go the way of boxing. Dana White's mantra of "never leave it in the hands of the judges" shouldn't mean that fighters are afraid of what their decision may be regardless of their performance but should instead be taken at its initial meaning, make the fight exciting by trying to finish as soon as possible.
Focussing on the fighting, here are some pretty cool phantom-cam highlights of UFC 167.
All statistics taken from www.fightmetric.com the official statistics provider for the UFC.