WHO'D BE A visionary genius?
Isambard Kingdom Brunel would know how Pep Guardiola is feeling. Things named after the celebrated British engineer, born 209 years ago this month, include a university, countless monuments and a shopping centre in Milton Keynes. In 2002, he was named at number two in the BBC's 100 Greatest Britons poll and, best of all, was played by Kenneth Branagh in a massive hat at the opening ceremony of the London Olympics.
But it wasn't all statues and shopping centres. Take the building of the Great Western Railway, one of his many masterpieces of civil engineering. Nothing wrong with the railway itself (well, actually there was, but sadly we don't have time to go into the controversy over Brunel's ground-breaking 7ft track gauge as opposed to the standard George Stephenson 4ft 8in gauge, a disagreement which became known as the The Gauge Wars. Damn!).
It was his actual trains that were the problem. Essentially, they were crap. They didn't go very fast and broke down a lot. The GWR investors weren't happy, particularly a northern faction more familiar with Stephenson's no-nonsense approach. Ultimately Brunel narrowly survived a shareholders vote, a specialist locomotive engineer called Daniel Gooch was brought in to come up with some better trains, and the rest is Danny Boyle-choreographed history.
The point is that, mishaps aside, Brunel is still the guy getting streets named after him in places like Exeter. History judges genius generously, as it will with Guardiola, while characters like the feuding physician Hans-Wilhelm Müller-Wohlfahrt will be the Daniel Gooch-style footnote of his tale.
Is Guardiola a genius? Right now, there are plenty arguing the point. Perhaps he might even do so himself, if it's true he wanted to prove at Bayern that he could 'do it' somewhere other than Barcelona.
Indeed, he himself often credited Messi, Iniesta, Xavi et al for what happened at the Camp Nou between 2008 and 2012. "A coach depends on the players," he told the post-match press conference at the 2011 Champions League final. "My future will be very tough as I'll be at another club with other players, thinking 'where are these kinds of players?'" he added, referring to his Barca stars when asked about the notion of managing elsewhere.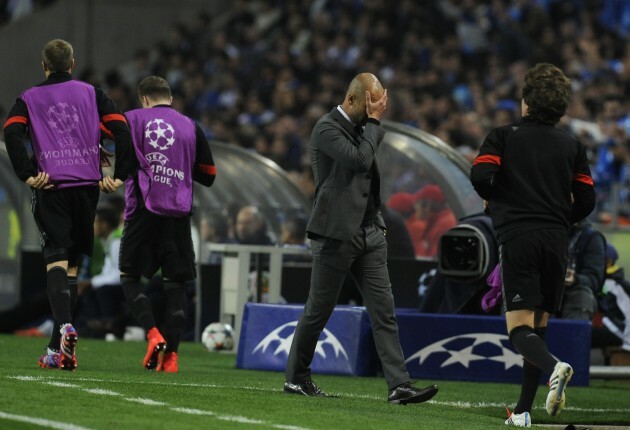 Paulo Duarte Paulo Duarte
Many share that view. "Overrated" was one word the Twittersphere, in its normal measured way, used about Guardiola after Porto. These are the people who consider Guardiola too clever by half. In the classic anti-intellectual standpoint of football in these islands, the smartarse had been found out. The fact that his former club were, at that very moment, doing to PSG what they did to Manchester United at Wembley four years previously provided damning evidence, particularly with the perception at large that current coach Luis Enrique is merely on jacket-holding duty for Messi, Suarez and Neymar.
But this Barcelona is not Pep's Barcelona. It's different in the way the Beatles 'Revolver' is different from 'The White Album'. Pep's team was intuitive, tight, co-ordinate; mop-tops and polo-necks. This one is individual, starry, loose; beards and flared trousers. One has the imprint of a coaching philosophy, the other the stub of a chequebook.
There were no doubters in evidence among the greybeards of Bayern Munich when they appointed Guardiola in 2013. "I am delighted to have signed someone like Guardiola. It is a privilege for Bayern," said chairman Karl Heinz Rumenigge. A pre-incarceration Uli Hoeness sounded quite the giddy schoolgirl: "When Pep said he could imagine himself coaching here one day, we couldn't believe it!" squealed the then-president. They may have been newly-crowned European champions, a huge, rich club that played aggressive, winning football, but Bayern wanted more: they wanted to be sexy.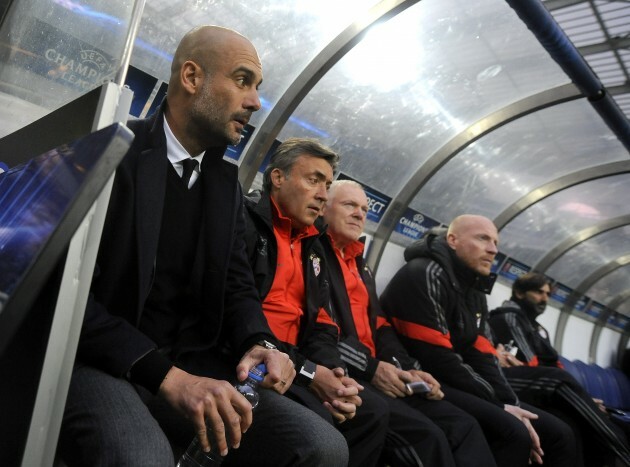 AP / Press Association Images AP / Press Association Images / Press Association Images
It didn't take long for the Bayern elders to regain their patrician poise. "In the end, we will be unwatchable like Barcelona. They'll be passing it backwards on the goal-line," parped honorary president Franz Beckenbauer after the 1-1 draw with Arsenal in March 2014. In fairness, Beckenbauer has been plenty supportive on other occasions and Rummenigge has been a public champion.
But the grumblings persist. "It is not yet understood in Germany how Pep thinks," said sporting director Matthias Sammer last December defending Guardiola's possession game from criticism by Bayern stalwarts Dietmar Hamann and Lothar Matthaus.
The decision to sell Toni Kroos last summer was a case in point. Guardiola wanted to keep him, a central pillar in his ball-hogging edifice. But the board wouldn't give in to his salary demands, so off Kroos went. "Pep is a wonderful coach…We're really happy with him," said Rummenigge last May. But not at any cost.
It feels like Bayern aren't quite sure about Guardiola. Appointing him kind of feels like a bad western, where a new sheriff turns up in a town with no bad guys and spends his time implementing a worthwhile but not entirely necessary traffic-management system.
Guardiola's clash with the Bayern medical staff was the latest manifestation of the club's unwillingness to entirely give itself over to his methods. The elaborate display of sarcasm directed at 'Healing Hans' against Leverkusen was Guardiola at his most genius-arsehole, an unpleasantness born of an inability to deal with those unable to see his vision.
Exclusive Six
Nations Analysis
Get Murray Kinsella's exclusive analysis of Ireland's Six Nations campaign this spring
Become a Member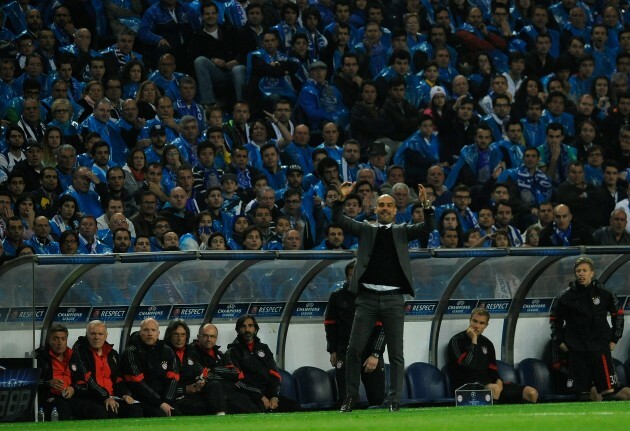 Paulo Duarte Paulo Duarte
As Brunel strived and sweated to meet the hugely optimistic opening date for his London to Bristol railway, working through the night on improvements and all under the greedy gaze of impatient investors, he wrote to a friend: "If I ever go mad, I shall have the ghost of the opening of the railway walking before me…and a little swarm of devils…[will] lift up the ghost and put him a little further off than before."
Guardiola might take solace from those words as he prepares for the second leg against Porto. If he ever moves to England, he might even take the train over Brunel's bridges and viaducts which still stand.
And who knows, someday they might even name a shopping centre in Milton Keynes after him.
Tommy Martin presents Champions League football on Tuesday nights for TV3.
– First published 00.10