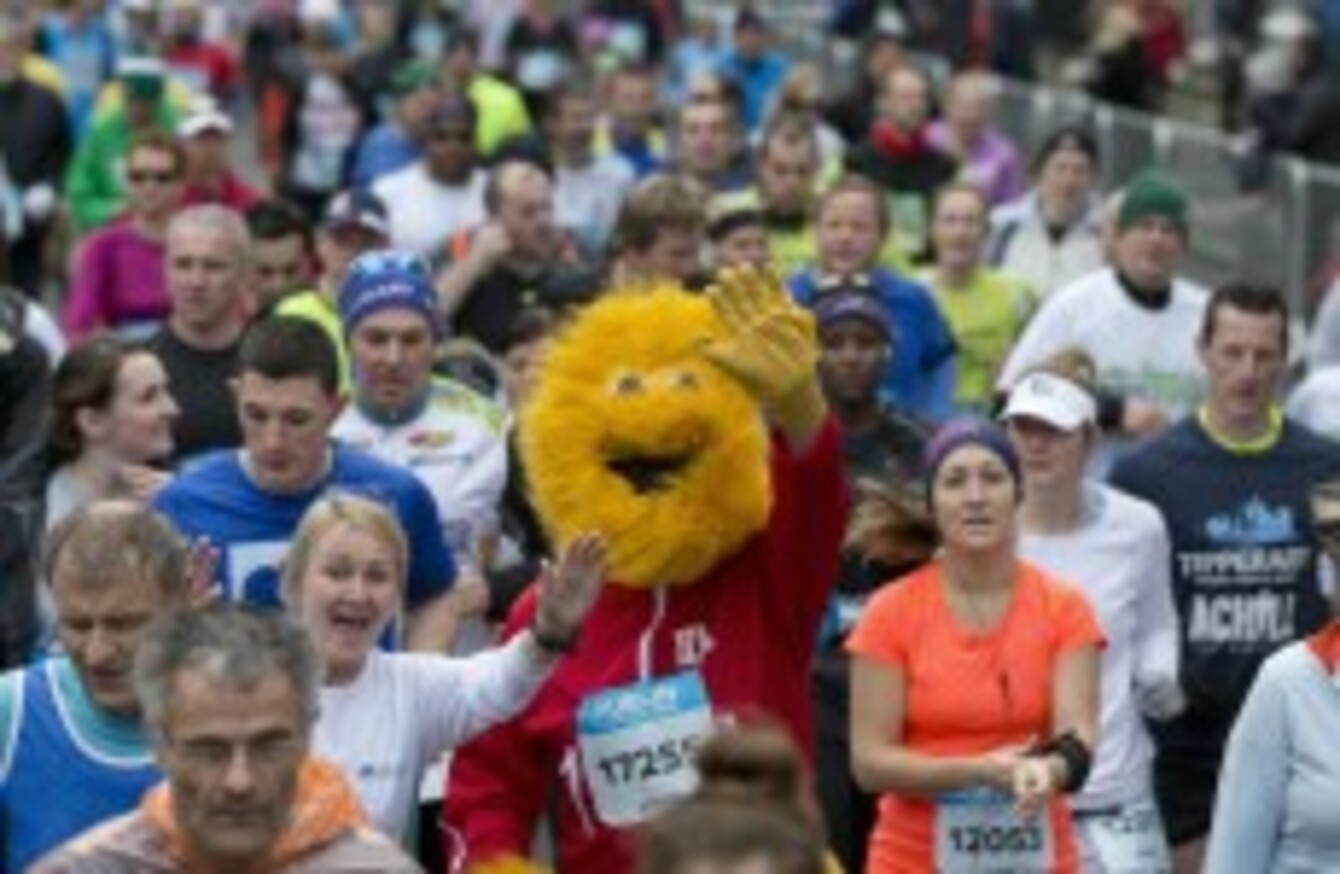 Runners of every ability will take to the start line in Dublin today.
Image: INPHO/Morgan Treacy
Runners of every ability will take to the start line in Dublin today.
Image: INPHO/Morgan Treacy
YOU'VE TRAINED FOR months and the big day is finally here. Hopefully you had a good sleep last night and you're all set. However, whether it's your first race or your 15th, it's important to remember some key things as you face into today's adventure.
1. Don't forget breakfast
It's easy to skip breakfast at the best of times and even more so when you've got race day nerves. However, if you don't have a simple, high-carb breakfast — think bagels, bananas or energy bars — you're going to be in trouble as your glycogen levels will drop dramatically around the 20-mile mark.
2. Protect your body
You just can't have enough vaseline with you today. Vaseline your feet to stop blisters, vaseline your nipples to stop them bleeding, vaseline your eyebrows so the sweat doesn't get into your eye. You don't really want to have trained all this time to have your race ruined by bloody chafed nipples.
3. Don't overdress
The likelihood is it'll be cold and wet by the time you reach the start line today but if you overdress you'll sweat more and risk increasing your body temperature which can lead to dehydration. A gilet or something similar that protects against the rain but allows heat to escape gives you the best of both worlds.
4. Don't do anything new
Today is not the day for new shoes, socks, watch or anything that's going to be key to you getting around the course in the time you want. It's difficult with the bunch start, but try go through the same routine you used before your long training runs and it should set you up nicely.
5. Drink lots early, top up later
Running long distances slows absorption of fluids from your stomach so it's important to get as much water as you can early. This might mean a trip to the toilet during the race but there are plenty of them along the route so don't worry. Water near the end will also help you through those tough final steps.
6. Know the course

For a larger map, click here.
Whether it's the hill at Chapelizod or the three torturous miles from Milltown Road to Foster's avenue, the Dublin City Marathon is not without its challenges. However, those climbs are only scary if you don't know they're coming. By this stage, you should know the route inside out.
7. Run an even pace
It doesn't matter if you're aiming for three hours or five, the key to hitting your goal is pacing. With nerves and excitement running high at the start line it's incredibly easy to go off too fast only to pay for it later on. Remember, it's much better to run slightly slower early on than it is to set off too fast.
8. Make adjustments quickly
Shoelace open? Tie it now. Need to use the toilet? Go now. Hungry? Eat now. While a stone in your runner or a craving for sugar might be minor nuisances on a short run, on  a 26.2 mile effort you'll find that the sooner you fix them, the better.
9. Listen to your body
The sad truth is that not everybody who starts today's marathon will finish it because of injury or illness. If you feel anything wrong, slow down. If it doesn't improve, seek medical assistance. If you've looked at your map you'll know exactly where all the first aid facilities are but don't be afraid to ask for help at any stage, there are lots of volunteers along the route who can call for the assistance you need.
10. Enjoy every step
This might be the only time you ever run a marathon so enjoy it. If you're running with other people, this is easy but, if you're on your own find someone running your pace — there'll always be one — and make them your best friend. Their support, along with the crowd's, will get you to the finish line. You've trained for months for this, why not savour it.