ONE OF THE most discussed topics from this year's World Cup was Lionel Messi's performance over the course of the tournament and particularly in the final.
The Barcelona star had an extremely promising opening few games, scoring four times, as he guided Argentina through the group stages.
However, many were left underwhelmed by his performances thereafter, particularly in the semi-final and final, where he failed to make the type of decisive impact on games that he so frequently does at club level. Although Messi was never conspicuously poor over the course of the tournament, by his high standards, he was undoubtedly somewhat disappointing towards its latter stages.
So what went wrong? Was it tiredness? Did the pressure get to him? Was he simply not able to cope playing in a side that are markedly inferior to Barcelona, at least in an attacking sense?
Someone who knows the 27-year-old superstar better than most is the journalist Guillem Balague. The Sky Sports football expert last year published a biography of the star, gaining access to his family, among other special privileges. Therefore, his intimate knowledge of Barcelona's main man is virtually unparalleled in the world of sports journalism.
So with that in mind, where did it all go wrong for Messi against Germany?
"You have to understand his physique to understand what happened to him," Balague tells TheScore.ie.
"[Argentina manager] Alejandro Sabella decided to get the team to defend deep and leave Messi 50 metres away from goal.
"Messi is a guy who has been coached all his life physically to have explosive sprints, near the box, short distances, and then as you are a number 9 or second forward, you have time to recover from that. And then he has to do another one and another one.
"Instead, with Argentina, he was being asked to play 50 metres from the box and do those sprints but from 50 metres and do it more often, because when you are out so deep, you need to do that more often, and he hasn't got the necessary physique.
"So there was a decision to be made. He thought: 'If I do that after 45 minutes, I'll be dead, so I will just walk and make sure I'm okay for the last 10 minutes to see if I can break defences when they are more tired.'"
Hence, Balague believes Messi's inability to significantly influence the game was more of a collective problem than an individual one.
"In the eyes of people, the verdict was that he wasn't at his best, but the team didn't complement his characteristics.
"He took Argentina to the World Cup final. He was the best player of the game for four games, he scored four goals, they were seven minutes away from penalties. All in all, it wasn't a bad World Cup for Messi. It's just that, as Sabella decided to create a team that counter-attacked, it just didn't benefit him.
"He was aware of it, and he tried to make the best out of it by making sure that he didn't use his energy for 90 minutes, but only in moments.
"So he's had his World Cup, he almost won it, and now there's new targets, which is how he feeds himself."
Exclusive Six
Nations Analysis
Get Murray Kinsella's exclusive analysis of Ireland's Six Nations campaign this spring
Become a Member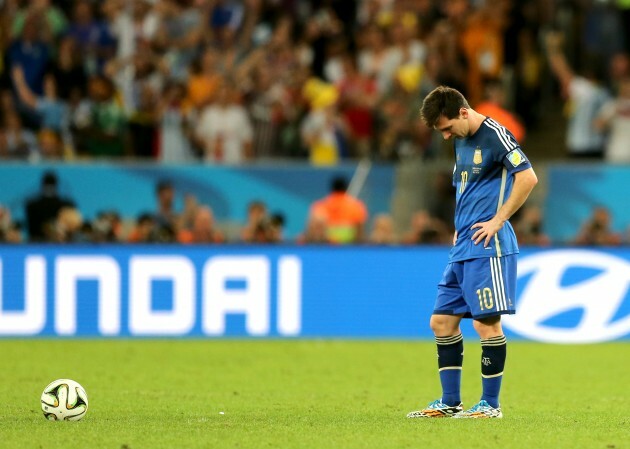 Nick Potts Nick Potts
(Argentina's Lionel Messi during the World Cup final game against Germany)
And finally, does Balague feel he deserved to win the Golden Ball?
"You can say it was fair enough because he won man-of-the-match four times, which nobody else did. He scored four goals, he was in the final…
"But could you have have given it to Manuel Neuer? Yes. Could you have given it to Toni Kroos? Perhaps. James Rodriguez? James didn't get to the semi-finals. Mats Hummels in the final was poor, Jerome Boateng had to help him a few times, so there was nobody who was perfect.
"The thing that was particularly against him was having to give him an individual trophy in a collective game [after the final], which was unfortunate, but all in all, you can argue yes and no about the Golden Ball decision."
Former Spanish International footballer, Gaizka Mendieta and his fellow La Liga pundit Guillem Balague, visited Dublin with thanks to the Guinness Plus app for a special preview of the Guinness International Champions Cup pre-season tournament, which takes place in the United States until August 4th and is live on Sky Sports featuring eight of the world's top clubs including Manchester United, Liverpool and Real Madrid. More extraordinary rewards including unrivalled access to other Guinness events and festivals throughout 2014 will be announced in the coming weeks.  The Guinness Plus App is available to download for iPhone and Android Smartphones from the iTunes App Store and Google Play Store now.