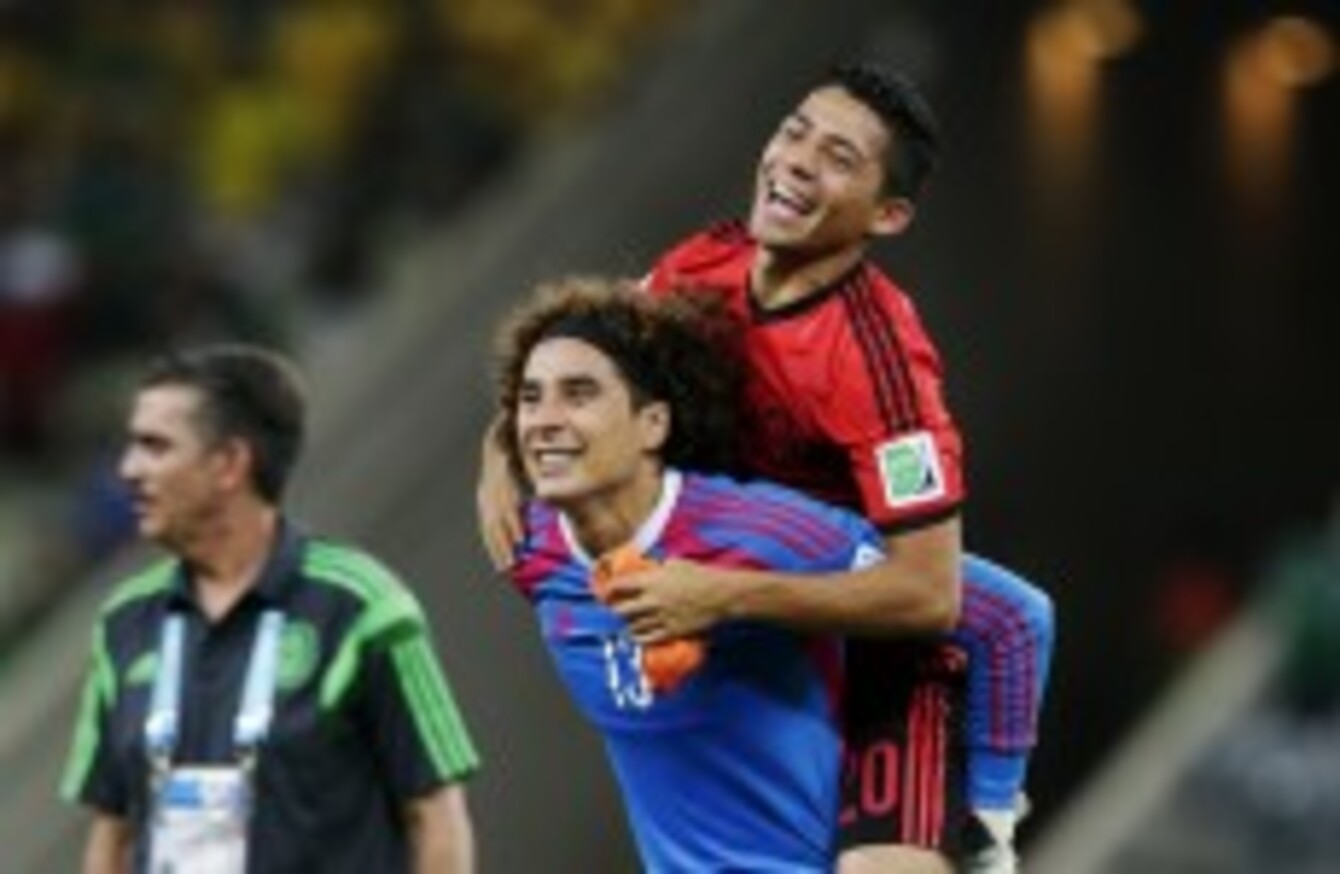 Ochoa gives Mexico teammates Javier Aquino a piggyback after the 0-0 draw with Brazil.
Image: Marcio Jose Sanchez
Ochoa gives Mexico teammates Javier Aquino a piggyback after the 0-0 draw with Brazil.
Image: Marcio Jose Sanchez
Mikey Stafford reports for TheScore.ie from Fortaleza
THE FIRST THING that strikes you about Guillermo Ochoa is his height, or relative lack of it.
The Mexican colossus who repelled Brazil time and again in Fortaleza is not a big man — even in conversation with journalists after the game of his life the goalkeeper struck an unassuming figure.
Having made four crucial stops, including one superb reaction save save to deny Neymar in the first half, the 28-year-old had every right to walk tall and proud when leaving the dressing room yesterday.
He was the man of the moment, the hero of Mexico who everyone wanted to talk to. By the time he stopped to speak with French journalists, his more famous team-mates like Javier Hernandez and Hector Herrera had already been waiting on the bus for 15 minutes.
Reserve goalkeepers are never the last man on the bus and up until this World Cup that had been Ochoa's lot. In the squad for both the 2006 and 2010 tournaments, Ochoa first saw finals action in Mexico's opening win over Cameroon last week.
Even as they vainly battled against relegation from Ligue 1, his performances for Corsican outfit Ajaccio last season had him linked with Milan and Marseille. His contract with Ajaccio expires next month but he is unlikely to be short of suitors.
His club form also saw him edge out long-term rival Jesus Corona for the starting spot and on Tuesday he repaid Miguel Herrera's faith in spades.
With a backpack strung over both shoulders, his eyes smiling as he nodded enthusiastically to every question, Ochoa had the look of a man who had found not one but two winning lottery tickets in his pockets as he discussed his performance, which he described as "the most important of my career".
"I never dreamt of playing a game like this. It's incredible. Keeping a clean sheet is always important for a goalkeeper. And to do it playing against Brazil in Brazil, it's not easy. We earned a good point," he said, before trying to inject a little modesty where none was required.
There are nights when you get out there and the ball seems to hit you even if you close your eyes. There are games like that."
Both Ramires and Thiago Silva were guilty of shooting straight at Ochoa with the goal at their mercy but that was a testament to his positioning and does not explain his remarkable first-half save from Neymar.
The Barcelona forward leapt above the significantly taller Mexican captain Rafael Marquez to send a powerful header downwards, to Ochoa's right-hand corner. However with an acrobatic leap the goalkeeper drew comparisons to Gordon Banks' famous save from another Brazil No. 10.
The English keeper dived further to deny the Brazil legend in 1970 but Ochoa, while again well placed, had to show a firm right hand to claw the ball around the post.
Ochoa's new-found fame will mean there is extra focus on him for Mexico's final game against Croatia in Recife on Monday. A third clean sheet in-a-row could guarantee that the Central Americans extend their streak to six straight World Cups where they have reached the second round.
"For us, it's a good point, because we come out of it very strong mentally. It gives us the mental strength to keep going," said Ochoa.
"It's not easy. You have to be very concentrated from the moment the referee blows his whistle right to the end. The Brazilian forwards are so strong. They play Neymar, they play Oscar," he added.
They always have quality up front. It's Brazil, the team to beat at this World Cup."
Marquez paid tribute to his goalkeeper, describing him as "the hero of the team" and crediting his decision to leave Mexico in 2011 as the reason for his ascension to status as the country's first-choice goalkeeper.
"Right now he might have more experience. He left Mexico to play in France and right now maybe his experience is the best in Mexico," said the team captain, who said the key to their gameplan was to play aggressively, with the midfield trio of Hector Herrera, Jose Juan Vasquez and Andres Guardado particularly effective in pressurising the Brazilian midfield.
"We knew if we were aggressive we could put some danger in their defence. Maybe that was important today," he said. "Before we had some games against Brazil and always we tried to play very aggressive against them and today we did the same thing."
Hernandez troubled the Brazil defence when he replaced Oribe Peralta for the final 20 minutes but the Manchester United striker rejected the suggestion Mexico would have to adopt a more attacking gameplan against Croatia if "El Tri" are to record the big win that could guarantee them top place in the Group A above Brazil.
"The most important thing is to get through. We don't want to ask for extra things, like being in first place. To reach the final we need to play against the best national teams in the world.
Obviously if you are in a group you want to get first place but if you qualify in second place as well it is going to be important," added Hernandez, who could not explain Mexico's improved performance after half-time.
"That's football, football is not predictable. You need to play, sometimes you are going to have more possession, sometimes you are going to have a lot of chances. Some games, like today, your goalkeeper is going to be the man of the match."