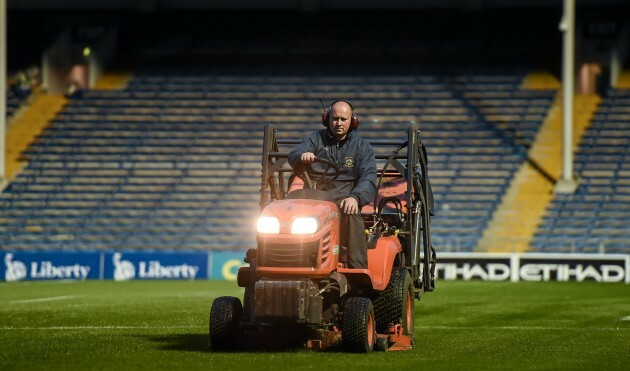 Stephen McCarthy / SPORTSFILE Dave Hanley working his magic in Semple Stadium. Stephen McCarthy / SPORTSFILE / SPORTSFILE
THERE'S A LINE in Leo Tolstoy's Anna Karenina where one of the characters says "if you look for perfection, you'll never be content."
It's meant as a warning, but for Dave Hanley, groundsman at Semple Stadium, it's what keeps him so keen to produce the best pitch in the country.
"(Getting the stadium ready) is a massive operation and, on Sunday, we've three games so that means I've to get two dressing rooms ready and they have to be turned around, the referees' room has to be turned around, so you have to have a team around you for that," Hanley says.
"You don't just pick up people off the street who can do that. You have to develop a team and I have a super team here with me and I've one guy on the pitch with me and he's a super, super gentleman.
"I've a core of myself and three others but, next Monday for the clean-up, that might increase to 12. Pa Bourke (the ex-Tipperary hurler) would be my right-hand man, he works the pitch with me, a great young fella. And then Mary and Anna. That's the structure and your team is everything.
"Obviously you need the knowledge and skill but they're the people who do the work with me and maybe there's not enough credit given to them.
"I suppose most people wouldn't even consider the amount of work that goes into preparing a stadium and, before I was involved at this level, I probably gave no thought to it either. It's just not in your mindset.
"This weekend will be our biggest of the year. But it's the same for any big match. For me there's much preparation goes into getting the pitch ready for this weekend as there would be for a club quarter-final, everything has to be perfect.
"The pitch has to be right and, I know I can be my own worst enemy at times, but there's no such thing as okay in my world, that's just not good enough."
Though he's always had an interest in land of varying varieties, Hanley took a circuitous route to his job as groundsman at the traditional home of the Munster hurling final.
"I come from a farming background and I've always had an interest in land. I know Semple Stadium isn't quite land, it's a pitch, but some people would tell you it's the most precious piece of land in the country and I'd have to agree to that.
"I live in Templemore so I'm a Tipp man through and through and I would have spent a lot of years coming to Semple for matches, before ever even thinking about working here.
"I can't remember the very first match I watched here, I was only a young fella with my dad but there was no New Stand, it was just a bank of grass so that'll tell you now how long ago it was."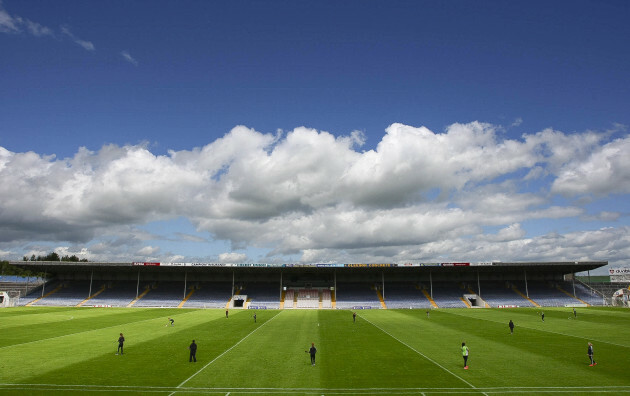 Ken Sutton / INPHO Semple Stadium in the sunshine. Ken Sutton / INPHO / INPHO
Things have not always run smoothly of course, but Hanley insists that doesn't mean the effort is not being put in behind the scenes. In fact, when conditions are tougher, the team usually have much more work to do.
"As you'd know, we ran into a lot of problems earlier this year with weather conditions. Look, matches come, they have to be played, what do you do? You play them and you try to struggle on as best you can.
"Sometimes you do the best you can and that's all that you can do but, this year when we were criticised for the pitch being 'the worst it ever was' or 'we never saw a pitch like it', I took it personally. But we had something like 600ml of rain from November to February and people don't see that.
"For me, it was personal that the pitch that I have such pride in was criticised."
When things are going well weather wise, what would typical preparation involve for Hanley and his team?
"During a typical match week I'm watching the weather every single day. With the grass the way it is at this time of year I'm having to cut it every day, and this week I'm cutting it twice a day in both directions to have everything looking as good as I can.
"I'll line the pitch on Thursday as a base for Saturday. For me, I like to be able to say on a Thursday evening that, if they threw a game at me tomorrow at 2pm, the pitch would be ready and we'll be ready as a team.
"That gives us a little bit of room if the weather turns on us. I'd rather be ahead of myself that crying wondering if I'm going to get it right."
Morgan Treacy / INPHO The carpet-like nature of Semple Stadium's pitch is down to Hanley and his team. Morgan Treacy / INPHO / INPHO
Hanley has seen a lot of games take place in Semple Stadium and, despite being a fan of the small ball game, it's actually a football match that is his favourite memory from his time as groundsman.
"For me, usually it's everything to do with Tipperary hurling. I remember being a young lad watching the Munster finals from the terraces and it's just incredible.
"But since I've come in, you look at other sports differently and the most thrilling game I've been at — and I love hurling more than anything — was this year beating Cork in the football.
"When a game finishes, it's my job to pick up the flags and I'm standing there on the sideline ready to grab the flags and run and but for that match it was just incredible.
"It was just the most exciting finish to a game.
"Now, obviously Munster hurling finals are great occasions too and, last year, we turned the stadium around from 25,000 people the day before — with three qualifiers on the Saturday — so days like that stand out too."
As for working at Semple Stadium, does Hanley ever get bored of his job?
"We take on young fellas every summer and the sense of pride they have in doing the job and all their dads want to know is what the stadium is really like and what's it like here and I remember when I came in here first I used to catch myself stopping and just looking around and staring at the place.
"It's still an incredible place to be, even when you come in every day, it's a fantastic place to work. They're easy people to work with here and that makes the job easier too."
- Guinness are a proud partner of the GAA and want to put you at the heart of the action with local stories that are made of more. Visit drinkaware.ie.