GUNNAR NELSON BELIEVES former foe Demian Maia can count himself unlucky not to have been handed a welterweight title shot on the back of his impressive recent run of form.
Nelson, a black belt in Brazilian jiu-jitsu and one of the most competent grapplers in mixed martial arts, was comprehensively defeated at UFC 194 last December when he faced Maia, who's widely regarded as the finest BJJ practitioner in the UFC.
Maia, who turns 39 later this year, lost to Anderson Silva in a UFC middleweight title bout back in 2010. However, despite currently being on the longest winning run of his nine-year spell in the UFC, Maia (24-6) — who dropped down to welterweight in 2012 — has yet to earn a title shot in the 170lbs division.
The Brazilian veteran has won his last six fights, with his four most recent victories coming at the expense of Neil Magny, Gunnar Nelson Matt Brown and Carlos Condit — all of whom are ranked in the top 15. Maia doesn't have a fight lined up at present, but the welterweight title is set to be on the line in November when Tyron Woodley makes his inaugural defence against Stephen 'Wonderboy' Thompson at UFC 205 in New York.
Nelson, who was in Dublin yesterday to promote his UFC Belfast headliner against Dong Hyun Kim on 19 November, believes the fact that Maia has yet to be handed a title shot is further proof that it's more difficult for fighters who rely on grappling to earn title shots when compared to fighters who come from a striking background.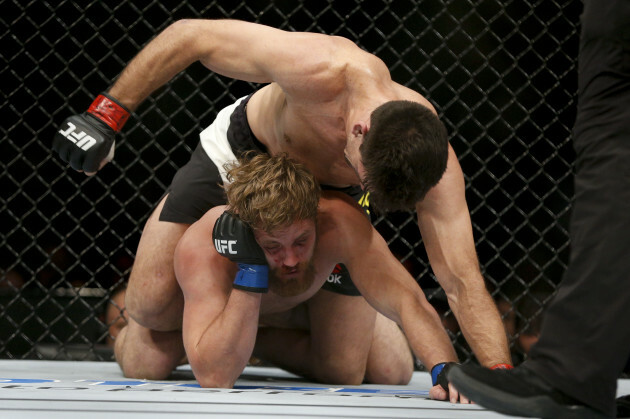 John Locher Demian Maia got the better of Gunnar Nelson at UFC 194 in Las Vegas. John Locher
"I definitely think so. I think we all know that. People want to see big bombs, people getting knocked out, people swinging — that seems to be what most people want to see," said Nelson (15-2-1), who has taken 11 of his 15 professional wins via submission.
"There's less people who appreciate great groundwork. I think it's just harder to understand. It's easier to understand when you swing a fucking fist at somebody's face. The groundwork, it's hard to see what's going on. If you don't know it they're just kind of there hugging, but for those who know and appreciate good groundwork, it's pure art.
"A lot of times when I'm watching MMA fights and I see great transitions on the ground, that's the highlight of the fight for me, like a big bomb will be for most. I appreciate big bombs as well, sure. But yeah, definitely, it's harder to climb [the rankings] when you're a grappler. And it's understandable."
Nelson bounced back from his defeat to Maia in May when he nullified the striking of Albert Tumenov en route to a second-round submission victory, which leaves the Icelandic 28-year-old in 12th place in the welterweight rankings going into November's clash with Dong Hyun Kim, who's ranked 10th.
A member of the Straight Blast Gym camp in Dublin, Nelson will hope that his reputation as a grappler won't have a detrimental impact on his hopes of dragging himself into title contention in 2017. But the quality of his striking has often been underestimated, as he also displayed when he dropped Brandon Thatch after just 90 seconds of their bout at UFC 189.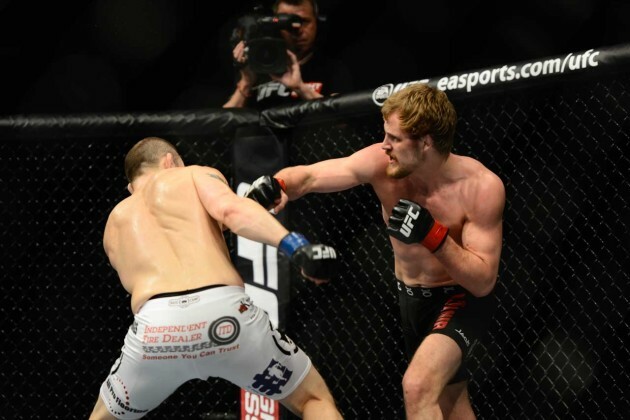 Rodrigo Romos / INPHO Gunnar Nelson on his way to victory against Zak Cummings in Dublin in July 2014. Rodrigo Romos / INPHO / INPHO
"I haven't spent that much time on the feet — not recently anyway — so maybe people have to see some more to realise. But I know myself and I never see myself as a grappler or a striker, even though I might have finished most of my fights on the ground," said Nelson.
"But striking definitely is a huge part of me and it always has been. It was the first thing I ever did — karate — before I did grappling. A lot of times I feel like a striker as well when I'm in a certain mood."
Tickets to UFC Fight Night®: Kim vs. Nelson will be available to the general public on Friday, 23 September from 10am via the SSE Arena box office and Ticketmaster.