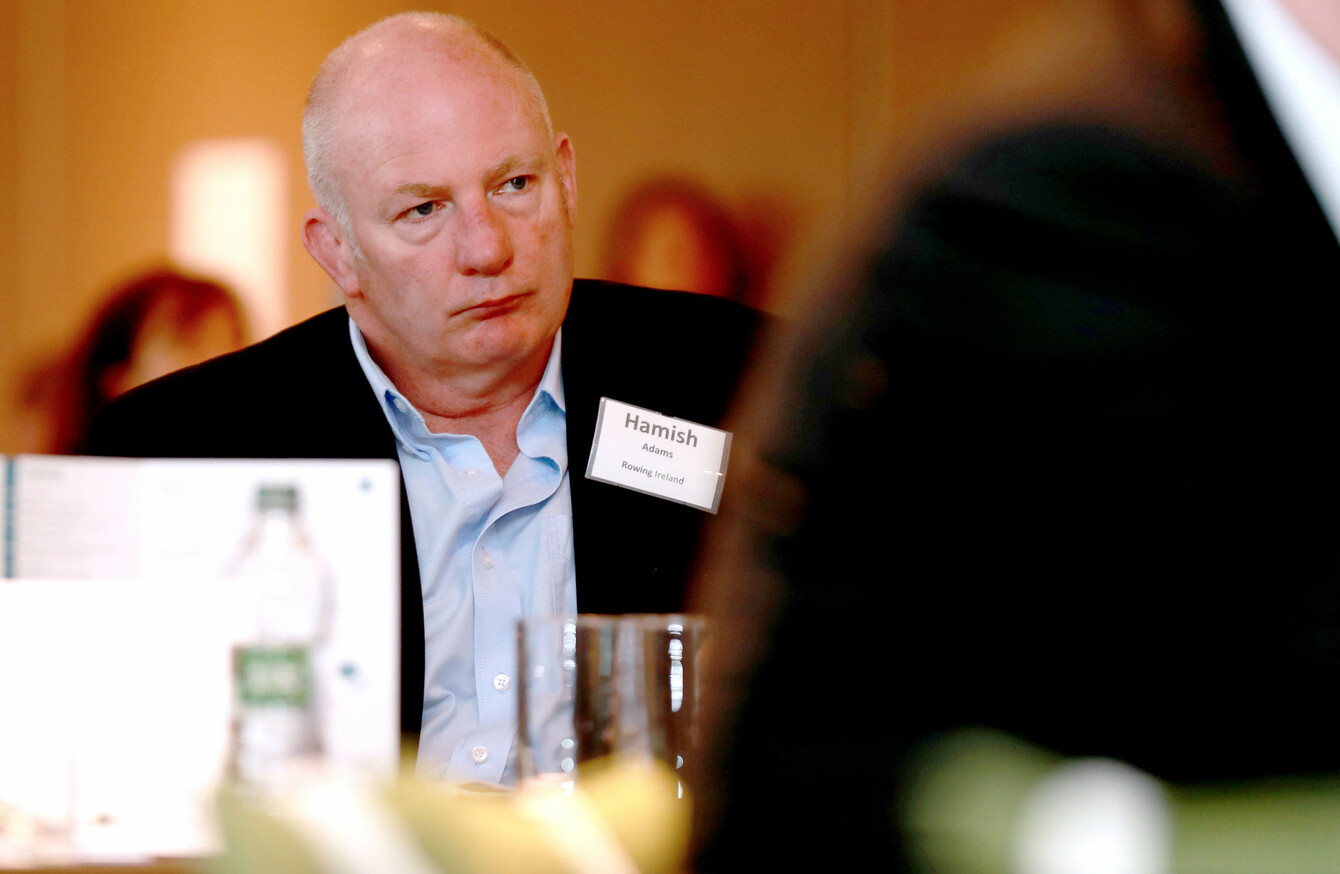 Hamish Adams is the new CEO of Athletics Ireland.
Image: James Crombie/INPHO
Hamish Adams is the new CEO of Athletics Ireland.
Image: James Crombie/INPHO
THE MAN WHO helped guide Ireland to an Olympic medal in rowing has been charged with the task of bringing success to track and field in this country.
Hamish Adams was this week announced as the new CEO of Athletics Ireland after five years at the helm of Rowing Ireland.
Adams' time with Rowing Ireland saw the sport enjoy considerable success on the global stage, including the silver medal won by Paul and Gary O'Donovan at the 2016 Olympic Games.
Born in New Zealand, Adams has been living and working in Ireland for 18 years, working mostly in rugby with Munster and the Irish Rugby Union Players Association before taking up his Rowing Ireland role.
Having experienced top-level sport in both Ireland and New Zealand, he is perfectly placed to comment on the comparison that's often made between the two countries, particularly with the latter achieving more sporting success on the world stage.
"The Irish public have very high expectations, and rightly so," Adams told The42 this week.
"But I don't think that expectation is matched with investment. Sport here, relative to Denmark and New Zealand, well we're the poor relations really.
New Zealand for example is investing, per capita, five times as much as the Irish government is in sport, so I think that's a big challenge for us.
"Sporting investment needs to ramp up significantly to be much more competitive internationally."
He's aware though, from what Ireland has achieved in rowing, that medals and success certainly help promote an interest in sports.
"I agree success bring coverage. Everyone loves winners and, certainly, the Olympic medal success of Paul and Gary put us into a different league after Rio.
"That was a huge boost to rowing and they've been great ambassadors as well," he says.
Having only taken on the role this week, and with his time in Rowing Ireland not yet finished, Adams has understandably not had time to put together a strategic plan just yet.
However, one area he is certain he will focus on is ensuring that athletics continues to grow in terms of participation. And not just at elite level.
"A lot of the funding [Athletics Ireland will receive €887,000 in core grant funding from Sport Ireland in 2018 as well as €790,000 in high-performance funding] Athletics Ireland receives is targeted around participation, and athletics has a really big part to play in the health of the nation and providing opportunities for people to participate in events.
There are a multitude of running events out there, recreational type events to competitive events and that's where a lot of the funding goes because it's such a big part of athletics.
"You look at all the research around participation in sport, it all points to a decline in team-based sports and a move towards individual activities and that's something that excites me in terms of athletics.
"There's definitely the potential to work in that area even more."
And is there any part of his time with Rowing Ireland that Adams feels he can bring to Athletics Ireland straight away?
"I'd be a very process driven individual and I think that if you get the process right then the results are delivered.
"My philosophy, therefore, is built around putting that process in place and working towards the achievement of a goal at the end of it."
The 42 is on Instagram! Tap the button below on your phone to follow us!