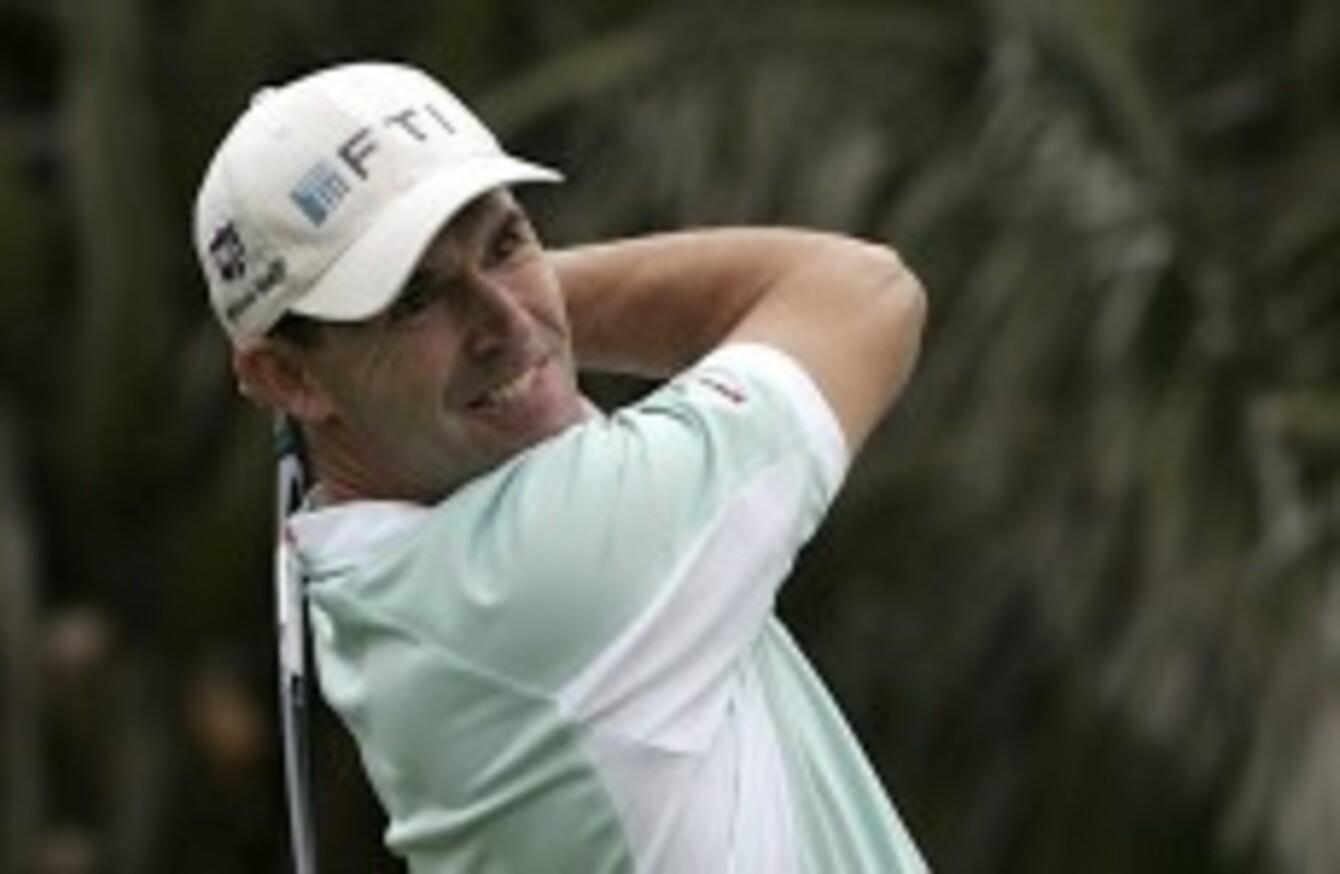 FOR THE SECOND time in his long and successful career Padraig Harrington has been disqualified from an event he had a good chance of winning.
The Dubliner was one off the lead overnight at the Abu Dhabi HSBC Championship but did not tee off in the second round after being called to review an incident in his opening 65.
On the seventh green Harrington's hand brushed the back of his ball as he replaced it in front of his marker. The ball rocked forward and although the Dubliner thought at the time that it then returned to his original position, television slow-motion showed that it did not go all the way back.
A viewer brought the matter to the attention of the European Tour after Harrington had signed his scorecard and because of that the punishment was disqualification rather than a two-shot penalty.
Harrington took the set-back with his usual dignity. He said: "I was aware I hit the ball picking up my coin. I looked down at the time and was pretty sure it had just oscillated and had not moved, so I continued on.
In slow motion it's pretty clear the ball has moved three dimples forward and it's come back maybe a dimple and a half.
"At the end of the day that's good enough, but I wouldn't have done anything differently – there was nothing I could do about it at that moment in time.
"If I'd called a referee over it would have been pointless because if he'd asked me where my ball was I'd have said it was there. As far as I was concerned it didn't move."
While Harrington's fate was being decided, the South African Charl Schwartzel went three shots clear with four birdies and two bogeys in his first 11 holes.
Schwartzel was 10-under par with Graeme McDowell, and Harrington on seven under. McDowell, who finished his initial 66 with five successive birdies, resumed with back-to-back bogeys, but birdied the first two and then matched Schwartzel's four on the long 18th to turn in 35.
Compatriot Rory McIlroy eagled the 582-yard 10th for a perfect start to his second round and after a bogey on the 14th finished the back nine with two birdies to be four under.
Watch Harrington react to the decision in a Sky Sports interview and keep track of the live scores.
Of course, 11 years ago he was five ahead with a round to go in the Benson and Hedges International at the Belfry, but it was then discovered that he had not signed his first day scorecard. It was the same referee that disqualified then as it was this morning, Andy McFee.
McFee explained the chain of events that led to the decision to disqualify Harrington today.
I got an e-mail from the Tour feedback site just before six o'clock last night.
"I managed to get a look and knew immediately we had an issue. I got all members of the rules committee to look at the tape.
"Because everything was closing down I decided to sleep on it and speak to Padraig first thing this morning.
"It's a minute movement, but it's a movement and he never replaced it, so he should have included a two-stroke penalty. The fact that he is unaware he moved the ball unfortunately does not help him. Because he signed for a score lower than actually taken the penalty is disqualification."
Harrington has enjoyed the support of his peers – who  all seem to believe he was treated extremely harshly today. The always-colourful Ian Poulter articulated the discord most succinctly:
So which one of you sent the email, lads? Was it you, G-Mac?