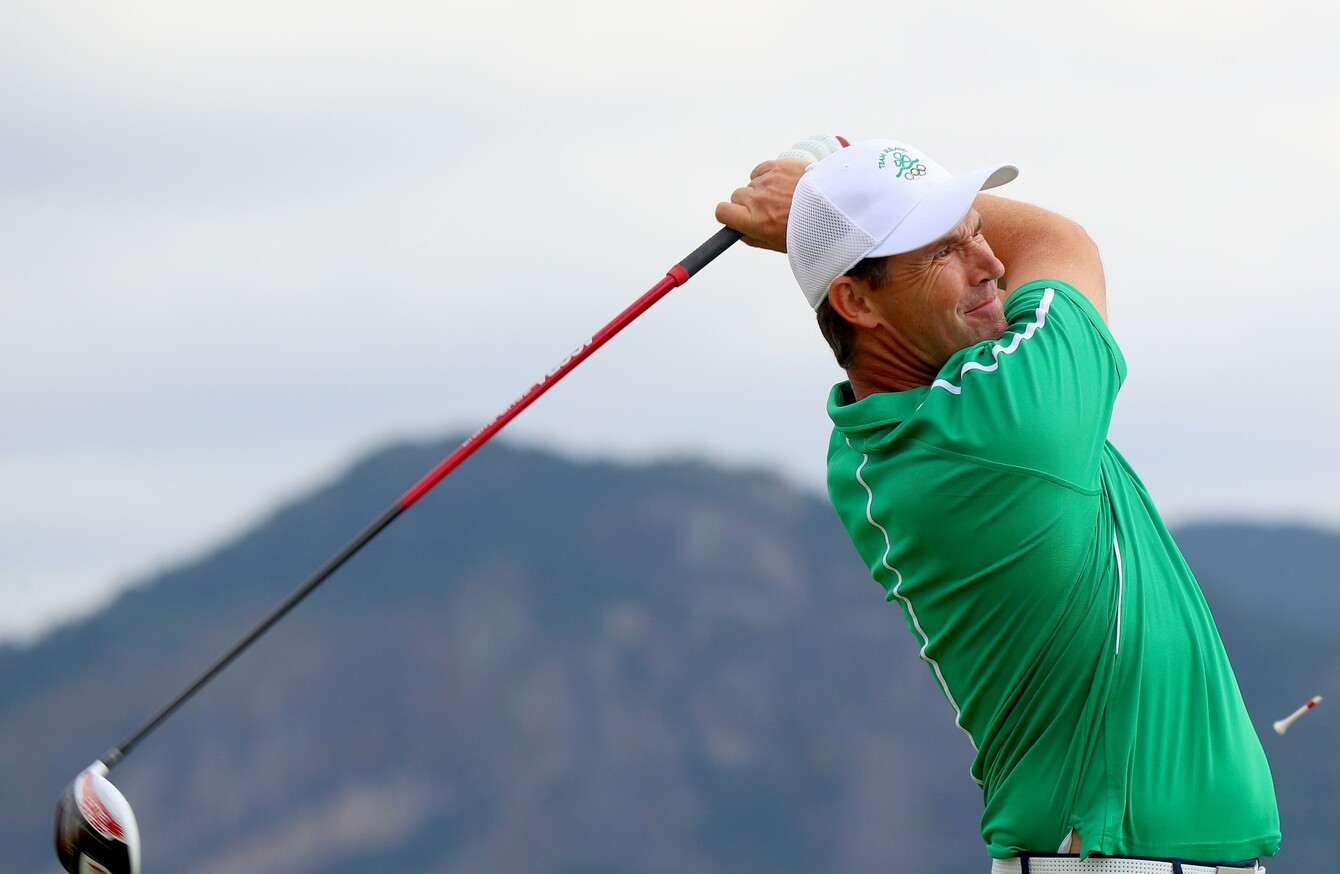 Image: James Crombie/INPHO
Image: James Crombie/INPHO
–Sinéad O'Carroll reports from Rio de Janeiro
"YOU KNOW WHAT? I haven't seen a mosquito. I'll tell the truth – I saw one in my room and he did not come to a good end," Padraig Harrington said to much laughter after coming off the Olympic golf course in Barra de Tijuca this afternoon.
Heading into the clubhouse one under par, the three-time major champion was unimpressed by those colleagues who opted out of the 2016 Games – the first time in which golf is being played since 1904.
"I think completely, yeah," he said when asked if those who are not competing – including top names Rory McIlroy, Shane Lowry, Adam Scott and Jason Day – misread the situation.
"There's a few contentious objectors who just don't see why professional golf is in the Olympics – if that's your opinion, that's fine," the Dubliner added.
I would have say there was a lot of sheep in this decision… they kept just following each other out the door.
"It's hard to believe. It's a perfect time in the schedule. The four majors are over… what else is there to play for this year?
"I just don't understand what anyone else thinks they're playing for, there are four majors and you have got the Olympics. There is no point in saving yourself for anything else.
"The Ryder Cup is two months away… surely this is not affecting it. If you want to rest, there are another eight weeks to rest. You can rest between the Open and the PGA if you want to rest.
"You don't have to rest the week of the Olympics."
Games excitement
Harrington's annoyance at his absent competitors (albeit good-natured in delivery) is matched by his awe for the tournament he is partaking.
"I tee it up in four majors every year and if I was injured and didn't play well. I'd always say there's another major coming up in a few weeks. Sixteen every four years but with this event, there's a genuine feeling of 'this maybe my only chance'. Who knows in four years time where I will stand in the world of golf?
I realise how quick it changes. Yeah there was a feeling of trepidation, a feeling of joy after hitting the first shot. I'm an Olympic athlete forever.
A man with tickets to 10 different sports booked next week, he is soaking in the atmosphere slowly but surely taking over the Brazilian city.
"It's incredibly different. There's a real buzz around the players' locker room. There's a lot more interaction with the players," he says, after earlier noting that he felt for those who weren't here because they were 'definitely missing out'.
"This week, it's 60 guys playing and we're all winners. 
"Standing on the first tee was as daunting as it would have been when I played my first major. I said it to the guys walking off, 'Now we're Olympians and no-one can take that away from us'."
Following Harrington around the course today – as he shot a solid opening round of 70 – were his wife Caroline and their two sons (one of whom was in his Dad's Olympic kit), as well as a healthy crowd dotted with tricolours.
The atmosphere, the golfer noted, was different.
"Basically it was all little groups of people who were supporting their own country.
What are they
really like?
Rare insights on sport's biggest names from the writers who know them best. Listen to Behind the Lines podcast.
Become a Member
"It was very odd. Literally, you could see it around the golf course, you could have a crowd following a player from their own country whereas normally those following the group are reasonably neutral and cheer for everyone in the group.
"It was interesting, the cheers were going up and you could tell what country they were."
His countryman, Seamus Power, finished his own opening round level par this afternoon.
The Irishmen are tied for 17th and 27th positions, respectively, going into round two of the four-day competition. They trailer overnight leader Marcus Fraser of Australia whose round of 63 leave him on -8, three shots clear of Canada's Graham Delaet and Swede Henrik Stenson.
Harrington is not keen to talk about medals of any colour yet but he did reveal that text messages from Irish gold medallist (1956 in the 1,500m) Ronnie Delaney continue to arrive. 
"It would be nice to win the gold medal, silver medal, bronze medal but everybody is walking away with something which is a lot different to our regular weeks of golf," he told reporters. 
I haven't got my phone but… the second text is from Ronnie Delaney, I got one last night from him.
"This is man I would have seen at sports awards for 20 years and I'd go, 'I want to be like that.' I mightn't have gold medal but at least I'm an Olympic athlete."
More from The42′s team in Rio: