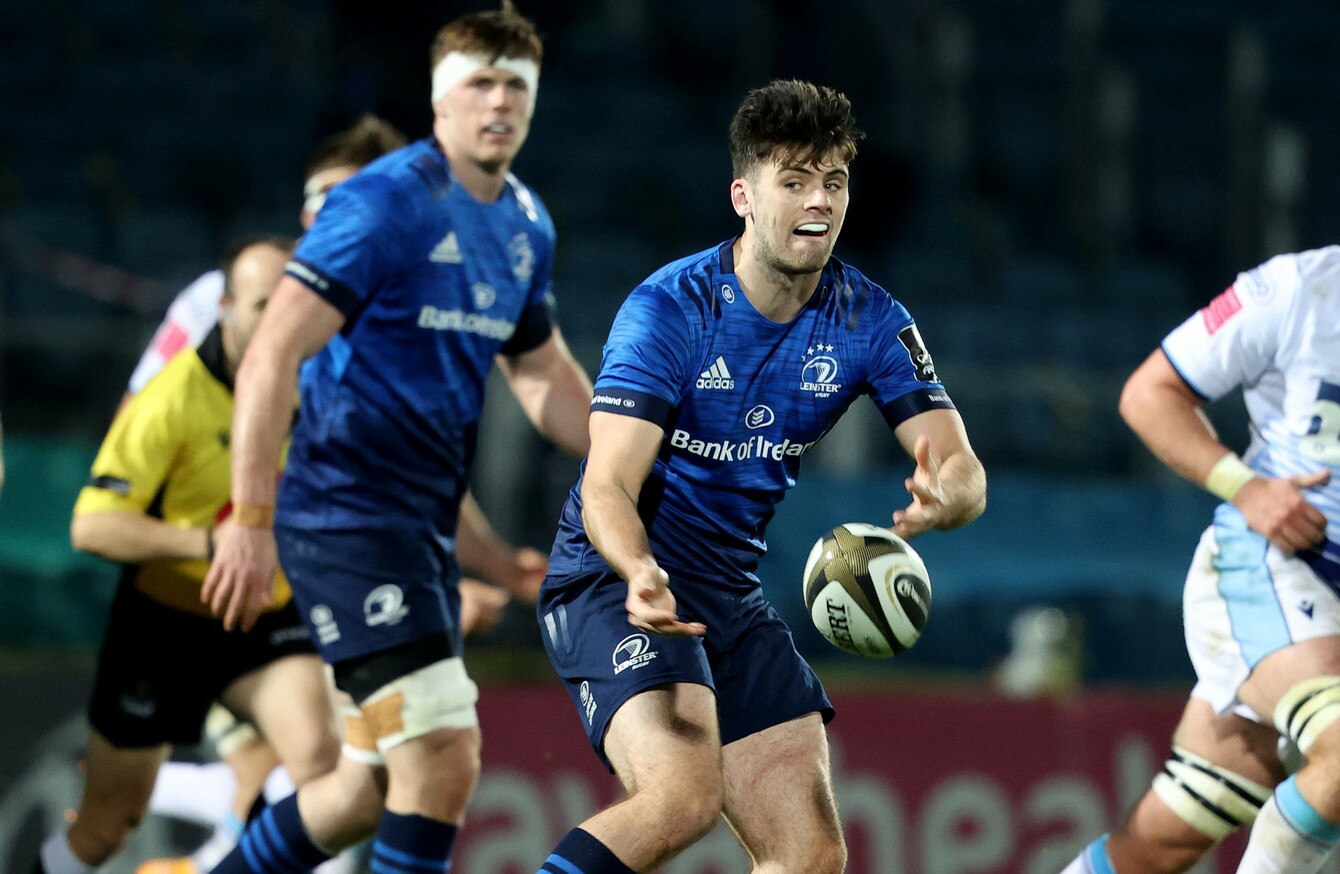 Harry Byrne missed out on the Ireland squad.
Image: Dan Sheridan/INPHO
Harry Byrne missed out on the Ireland squad.
Image: Dan Sheridan/INPHO
Updated Feb 21st 2021, 5:34 PM
IT'S ALMOST AS if Andy Farrell had a gun to his head. Play Harry Byrne or else. And while you're at it, if you don't give Craig Casey and Ryan Baird their shot, then you will be the one hoping to dodge a bullet.
That's the way it is these days. Lose two games in a row and your suitability for the job is called into question. Lose three, well good luck surviving that.
Hence why there was this sudden clamour for Byrne. The kid has it, the X-Factor, the skills, the moves, the pass, the running game. Once it was older brother Ross who was regarded as the most promising out-half in the country; now many don't even consider him the best in his family.
The last time there was this much noise about an up-and-coming No10 was in 2013. Johnny Sexton was hurt, Ronan O'Gara was old. So 21-year-old Paddy Jackson got the nod in Murrayfield. He was out of his depth.
That's the thing about international rugby. There's no hiding place. And Jackson, remember, had a Heineken Cup final appearance on his CV by the time Declan Kidney had given him the access code to the control centre.
Harry Byrne has just 18 minutes of Champions Cup rugby in his memory bank.
Sexton had more when he made his debut. Three more years on this earth; a Heineken Cup final win on his resume. O'Gara was 23 when he made the step-up, six weeks after kicking the winning conversion for Munster away to Saracens in the decisive pool fixture in the Heineken Cup.
In contrast to all that, the only thing Byrne has to fall back on if things go wrong are 19 appearances and 10 starts in a Leinster shirt. This season his experience – aside from that cameo against Montpellier – has been exclusively in the Pro14, against Dragons, Scarlets, Cardiff, Edinburgh, Ospreys, Glasgow, Zebre and Benetton. Leinster won those matches by an aggregate total of 335 points to 128.
Just twice had they questions to answer, Friday in Newport, earlier this season in Treviso. For the latter game, a 37-25 win, Byrne only got onto the field for the last minute.
On Friday, with the focus largely if not solely on him, he got a longer stint. Suddenly he discovered what pressure tasted like; that dry mouth, sweaty palm feeling. Yet an audience on TG4 is dwarfed by the eyes of a nation when it's a Six Nations weekend.
Mistakes are magnified. Kick a restart out on the full – as he did on Friday – and you'll sense that.
In boxing, there's a saying about up-and-coming prospects. "Give him more home cooking," which more or less means avoid rushing them along to a title shot until they are ready for the hits. Now of course, rugby isn't boxing but big-time sport is big-time sport. And delivering a so-so display against Dragons at Rodney Parade is no preparation for a game Farrell needs to win in Rome this Saturday.
One day soon, he'll be ready. For now, he just needs a bit more home cooking.
Who is to blame for Ireland's results – the Pro14 or the coaching team?
Great win for Connacht last night. And for Munster. Let's not forget Leinster's success on Friday. While we are at it, a tip of the hat to Ulster. By all accounts there are no easy games left in professional rugby.
Well, actually there are.
In the 36 Pro14 matches this season between Ireland's four provinces and the league's remaining participants from Wales, Scotland and Italy – only three have ended in an Irish defeat. To be more specific, if you take Connacht out of the conversation, the statistics are even starker: Ulster, Leinster and Munster have won 27 out of 27 against Italian, Welsh and Scottish opposition.
We keep hearing whispers about how the Welsh regions are keen to swap the drudgery of Pro14 life for a much more glamorous Anglo/Welsh league, as if this is something the rest of us should be worried about.
If that's what they want, let them off. While Ospreys and Scarlets have produced brilliant champion sides in the past, their current set-up is a pale imitation of what went before. Leinster have beaten Dragons by 30 points this season, Ospreys by 19, Cardiff by 35, Scarlets by 27.
SEE SPORT
DIFFERENTLY
Get closer to the stories that matter with exclusive analysis, insight and debate in The42 Membership.
Become a Member
With the South African quartet on their way and the Argentinean Jaguares also keen to join the Pro14, the next reinvention of this competition has the potential to be both exciting and exacting. It's needed too. Isn't the Pro14 – by virtue of the fact it fails to give players a proper test – the reason why Ireland have started this Six Nations campaign with two defeats from two?
Well, it's a nice excuse if you can get away with it. The trouble is that the same argument then has to apply to Wales and Scotland. The former are one win away from a Triple Crown; the latter beat England away for the first time since 1983. Ireland have played twice, lost twice. So who is to blame for that? The players? The Pro14?
Or, heaven forbid, the Irish coaching staff?
Never mind Casey and Coombes – raise a glass to Billy Holland
Craig Casey and Gavin Coombes are the coming men, no question. Brilliant against Edinburgh last night, it's only a matter of time before we see them wearing green shirts as well as red ones.
Their progression in tandem with the steps made by other graduates from the Munster academy – Healy, Daly and Wycherley X2 – have provided depth and class to Johann van Graan's squad, so much so that when the internationals are away, it's no longer panic stations at Thomond Park.
You saw that on Saturday, a game the Munster of 2018 or 2019 might have lost. "We need more consistency," Johann van Graan said ahead of the 2018/19 season, "so that when it comes to the play-offs, we will have a home semi-final. That can make a difference."
This season we've seen that difference. Everything about Munster looks impressive, their set-piece, their defence, their ability to never give up – Scarlets, Edinburgh, Treviso and Clermont especially is evidence of that.
You can see how and why it is happening. The new kids on the block have helped as has the superb form of Jack O'Donoghue and understated consistency of James Cronin. But there's another reason, too.
When November, February and March come, and the internationals go, Billy Holland stays and minds the shop. Then when the A-Listers return, Holland often has to park his ego and stand aside. You can't put a price on that sort of selfless leadership. Actually you can. It's called a renewed, improved contract. It's the best money they could spend.
Ulster and Connacht are better off if their players don't get Ireland's call
What would you rather lose, pride or matches? While it may hurt Connacht fans to see only three players in Andy Farrell's squad, the reality is that if they are going to pull off a miracle and reach this year's Pro14 final then they'd rather see Munster players get called up instead of their own men.
Four games remain in this regular season. To bridge a nine-point gap on the rivals from across the fence, Connacht need four wins from four, with bonus points attached. That's a big ask.
Bigger yet is the favour they have to ask from Cardiff, Scarlets and Treviso. For Connacht to make the final, they need one of those three to defeat Munster. Only Cardiff seem capable of doing it. Ulster, similarly, could do with a helping hand from Leinster's forthcoming opponents. The trouble is that Zebre and Glasgow are two of those. Each side has won just three games this season.
"All we can do is think about ourselves, that's all we can control," said Andy Friend after Connacht's win over Cardiff last night. They may not admit it publicly but Friend and Dan McFarland will know that fewer international call-ups equate to greater squad depth and with such an intense run-in, that's what Connacht and Ulster need right now.