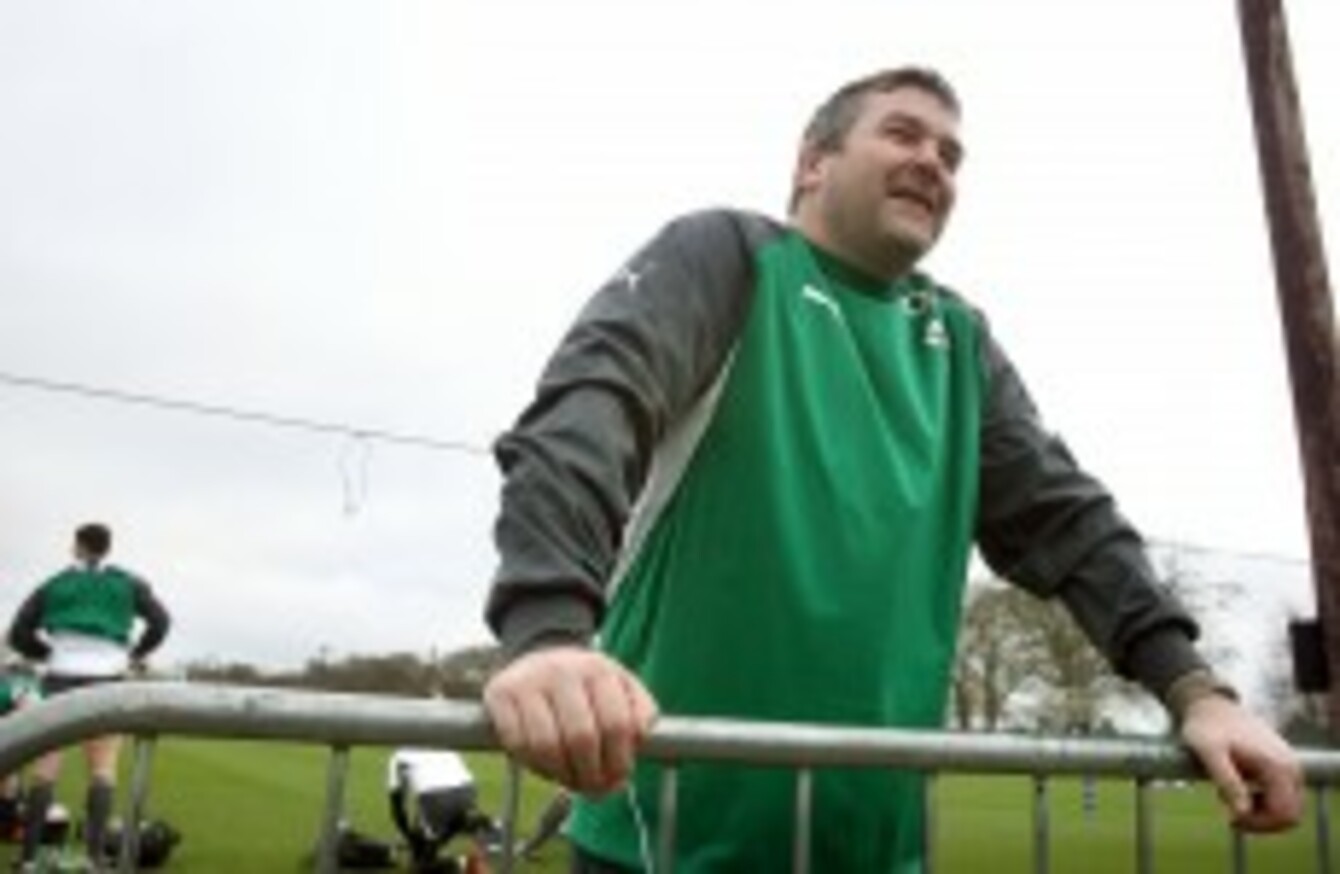 Stand-in forwards coach Anthony Foley at Carton House.
Image: INPHO/Dan Sheridan
Stand-in forwards coach Anthony Foley at Carton House.
Image: INPHO/Dan Sheridan
Reproduced with permission from Whiff of Cordite
BEFORE THE START of the Six Nations, we did a litle bit of exploring into Ireland's coaching structure v2.0.
We weren't too impressed with the notion that divvying up attack duties between the defence, video and kicking coaches was a good idea.
We described it as a patched-up coaching team, but also acknowledged how important this aspect of the team was for Ireland, and thought it would be the difference between a good and bad championship.
Additionally, Gert Smal cried off injured with a mystery eye problem (we're unsure if it's the same one Dave Pearson has) and Axel Foley was borrowed from Munster to take over the forwards. Of the 2009 Dream Team, only Deccie and Les Kiss remained, and yet Ireland look invigorated by the new approach.
Attack: in the committee we trust
Amazingly, a Holy Trinity of videos, tees and defence is a better attack coach than Gaffney.  It didn't look too hot on paper, and took 120 minutes of rugby to start to come together, but Ireland's attack is much improved.  The Randwick Loop and lateral shovelling that characterised 2010 and 2011 have been replaced by a much sleaker animal.
It's not that complicated. Ireland have a pod of forwards in front of a bank of backs who are coming onto the ball from deep, and at pace.  What makes the whole thing work is nothing so mysterious as accurate passing.  Johnny Sexton's distribution has been excellent, and those around him have been up to task, and not all of them have two numbers on their back.
It was Stephen Ferris who put Trimble away for his try against Scotland, and Peter O'Mahony went scrum half at one stage in the second half and spun a wristy, accurate pass out in front of Sexton who was at least 15m away.  Some skillset.
Defence: something had to give
Yes, we have conceded more tries, but have much of that is down to the absence of "himself " (Copyright Gerry Thornley) and how much to the defence coach double-jobbing? We'll never know, but JJV Davies second try would surely not have happened with Drico at 13 (and with two good shoulders).
It's somewhat inevitible that defence would suffer a little with Kiss that little bit stretched.  Hopefully he will have enough time in his busy schedule to give the otherwise outstanding Rob Kearney a few lessons in cover tackling.
Forwards: Axel's stock on the rise
Naturally, it's hard to know exactly how much to credit Foley with, but it's pretty plain that Ireland's set piece and breakdown work have improved noticeably from the opening game against Wales.
We were legitimately concerned about Ireland's lineout going into the Scotland game, and according to Keith Wood, Donnacha Ryan was very nervous early in the week over the added burden of lineout calling.  That the set piece worked so well is a feather in the cap for Axel (as well as credit to Ryan himself).  Similarly, Ireland's scrum was dominant for much of the match.  Scotland are no heavyweight scrummagers, but it continued a decent campaign for the front row.
L'icing sur la cake was the tidy set-piece try from Best – precisely the sort of set piece move that brings a smile to the coach's face when executed so efficiently (though Muddy Wulliams says it's an old Ulster trick).
Among the many ills of the Welsh game was a lack of aggression at the ruck. This, too, has been successfully banished in the last three games, with the most visible improvement being in Paris, when Ireland looked almost feral at the breakdown – a little too feral for Dave Pearson's liking perhaps, but still.
It all augurs well for Foley himself.  Nobody's actually sure whether or not Smal is returning to the fold, and it's pretty obvious the IRFU see Foley performing this role at some stage in the future.  His credentials as head coach of Munster next season have been given a timely shot in the arm.
What are they
really like?
Rare insights on sport's biggest names from the writers who know them best. Listen to Behind the Lines podcast.
Become a Member
Ireland's Donnacha Ryan wins a line out against Scotland last Saturday in Dublin. Pic: INPHO/James Crombie
On to Twickers…
All in all then, a pretty good report card. Ireland look to be going places for the first time in three years. The performance graph is positive, with each performance being better than the last for four games in a row now (starting from a low base, admittedly); in stark contrast to the long swathes of dire-ness followed by one stand-out performance.
What we would like to see in Twickers is simple: the same aggressive up-and-in defence that will force England's boshers into contact (not that they would look for space anyway), but crucially, lets Ireland dictate the first tackle. England's carriers run pretty straight (Oooooooooooohhh!) and Farrell's primary option seems to be the inside pass – it should be pretty readable stuff.  If Ireland can repeat the ferocity of our rucking against France, they have a good chance. We have piles more invention in attack than England, but, as always, need to match them up front to earn the right to show it.
There's a lot at stake in Twickenham.  If Ireland pull off a win, it's a decent championship and a proper upward curve heading into the series in New Zealand. But lose and it's Ireland's worst campaign since the one where Eddie walked – seems harsh to say it, but losing to Wales has left us in that position.
It will still take a monumental effort to get a win on the summer tour, especially at the end of a long, tough season. Last time we went over there, we were forced to play Ed O'Donoghue – let's hope the big players stay fit.
Oh, and if Deccie would pick our best XV for once that would be nice too.