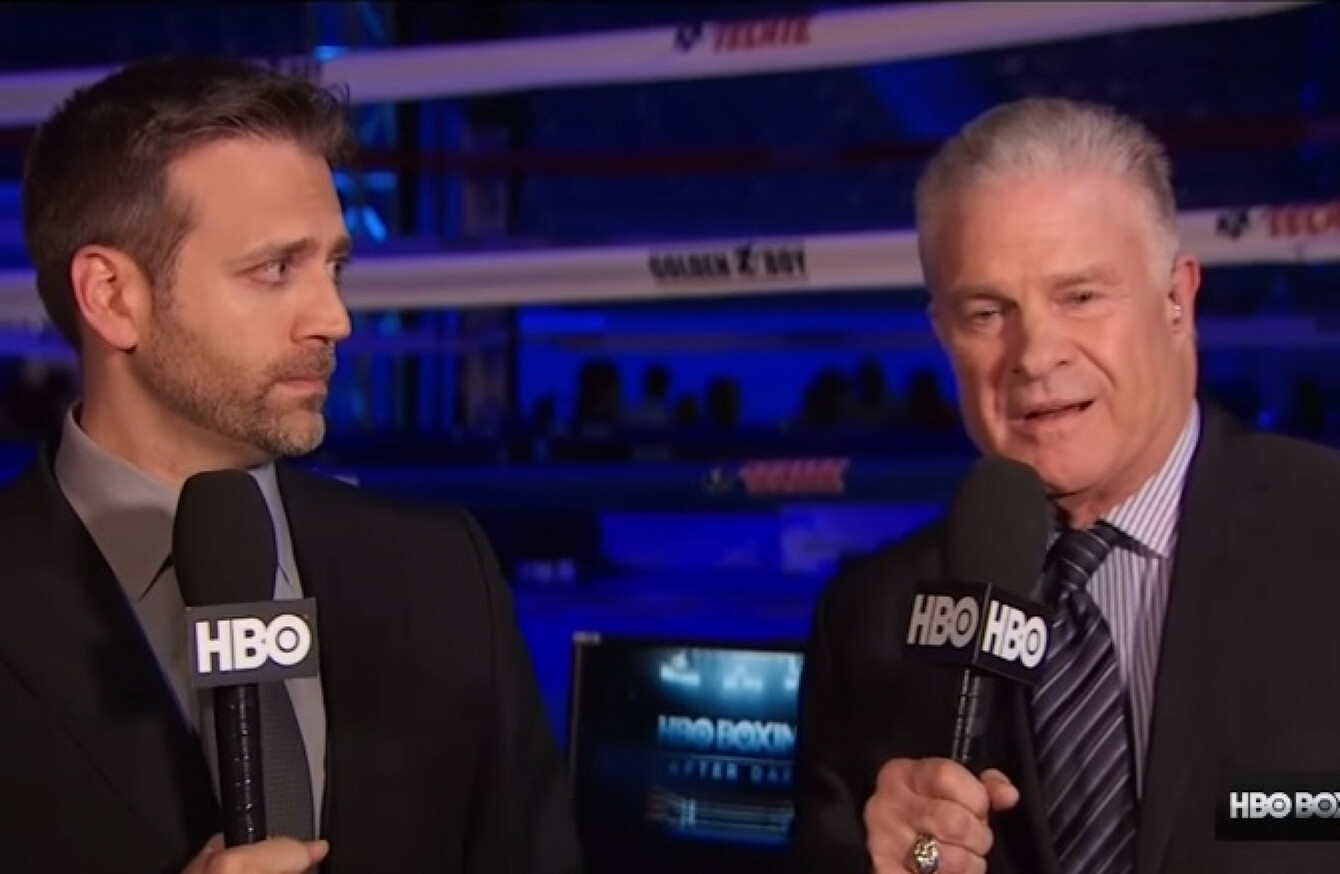 AMERICAN BROADCASTING GOLIATH HBO has announced that it is to pull out of the sport of boxing effective from 2019.
After 1,111 fights and 45 years, the network's final bout will be a middleweight clash between Danny Jacobs and Sergiy Derevyanchenko for the vacant IBF world title at Madison Square Garden Theater on 27 October.
The New York Times reports that HBO Sports' executive vice president Peter Nelson broke the news to the company's boxing production staff — including Jim Lampley, Max Kellerman and ringside scorer Harold Lederman — during a meeting on Thursday morning.
Lampley is expected to remain with HBO, while Kellerman will likely take a co-commentary role with his joint-employers ESPN, who recently inked a lucrative seven-year contract with Bob Arum's Top Rank to broadcast the sport on both its television and streaming platforms.
Indeed, it could be deduced that the Worldwide Leader's massive recent investment in the sweet science — including its commitment to show 54 live shows over that seven years — is a driving factor in HBO's decision to throw in the towel.
Add to the mix Eddie Hearn's billion-dollar boxing streaming deal with newcomers DAZN, Premier Boxing Champions' four-year deal with Fox Sports, and Showtime's regular fight broadcasts, and HBO's quandary becomes more clear: with the sport itself thriving worldwide following years of rot, there now exists too many healthy competitors for HBO to maintain a grip on marquee fights as it did for nearly five decades previously.
While boxing viewership is steadily on the rise on either side of the Atlantic, HBO's own figures have shown a steady decline in recent years to the extent that showing boxing is no longer profitable.
Per Wallace Matthews' Times report, April's acclaimed Andre The Giant documentary drew seven million viewers at a cost of $1.5m to make; boxing matches on the network cost twice as much but attract a fraction of the audience.
Another reason stated by Nelson for HBO's decision to axe the sport altogether was that boxing was no longer a primary cause for people to subscribe to the network.
"This is not a subjective decision," he's quoted as saying by the New York Times. "Our audience research informs us that boxing is no longer a determinant factor for subscribing to HBO."
Flagship programmes such as Game of Thrones have instead become consumers' predominant reason for signing up to the Home Box Office, with Nelson adding: "Because of our association with boxing, people forget that we're not a sports network. We're a storytelling platform."
This wasn't always the case: during the Tyson era, up to a third of HBO's then-15 million customers would watch a significant fight.
In 2018, however, HBO has 40 million subscribers, give or take, but their boxing broadcasts attracted on average just 820,000 viewers per Nielsen — the highest being 1.3m for Gennady Golovkin's non-pay-per-view win over Vanes Martirosyan in May.
And so a journey which began with George Foreman's shock destruction of heavyweight champion Joe Frazier in 1973 will end at the end of 2018, although Nelson hasn't ruled out a return to the ring on a one-off basis should the right fight ever find itself without a home.
"I'm still a fan of boxing," he said. "If there is a destination event, absolutely we're in that conversation."
A HBO statement released this evening, Irish time, read:
"Our mission at HBO Sports is to elevate the brand. We look for television projects that are high-profile, high-access, and highly ambitious in the stories they seek to tell and the quality of production in telling them.
Boxing has been part of our heritage for decades. During that time, the sport has undergone a transformation. It is now widely available on a host of networks and streaming services. There is more boxing than ever being televised and distributed. In some cases, this programming is very good. But from an entertainment point of view, it's not unique.
"Going forward in 2019, we will be pivoting away from programming live boxing on HBO. As always, we will remain open to looking at events that fit our programming mix. This could include boxing, just not for the foreseeable future.
We're deeply indebted to the many courageous fighters whose careers we were privileged to cover.
"There have been hundreds of dedicated and remarkably creative men and women who have delivered the best in television production for HBO's coverage of boxing and we are so grateful for their contributions. It has been a wonderful journey chronicling the careers and backstories of so many spectacularly talented prizefighters."
The42 is on Instagram! Tap the button below on your phone to follow us!