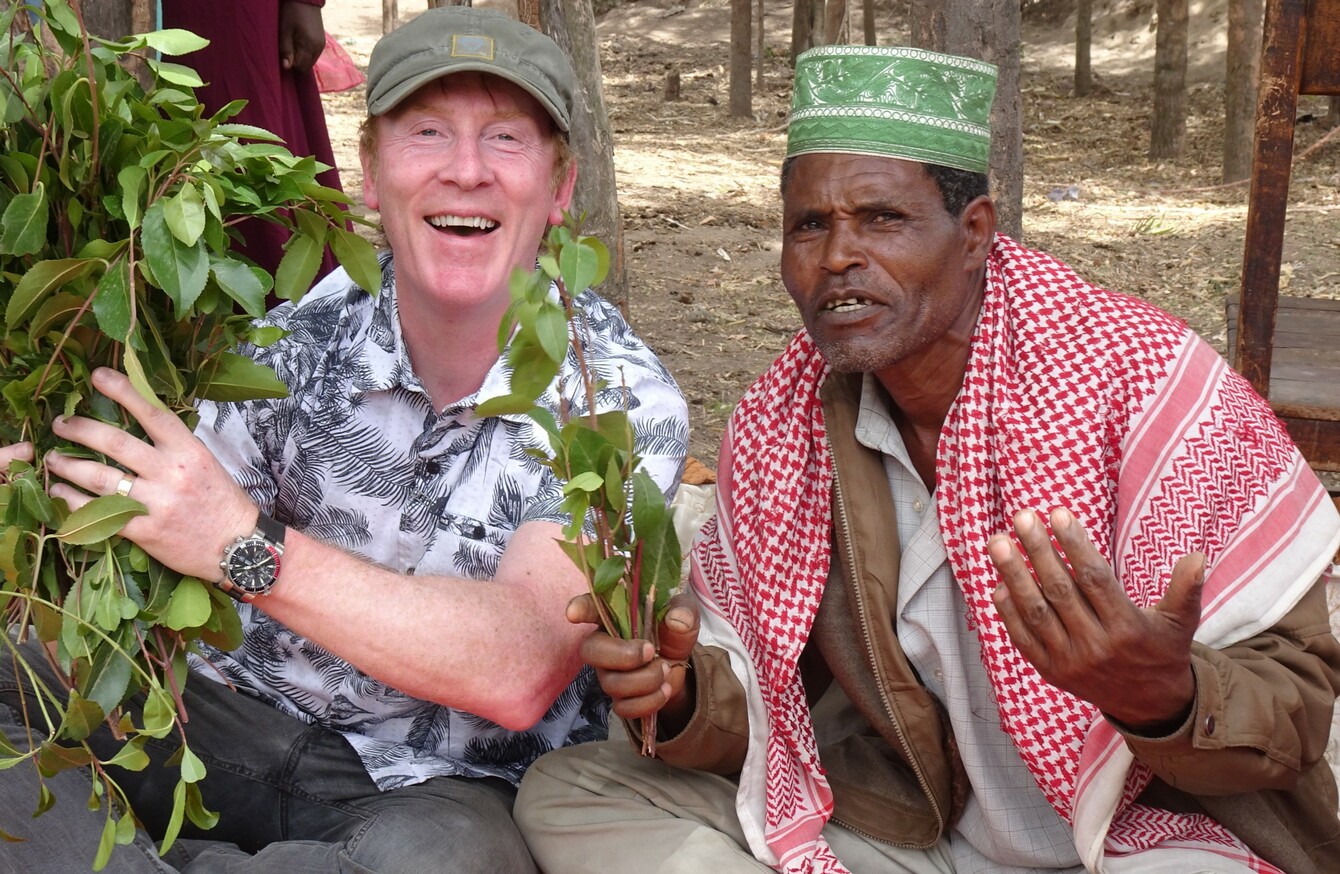 Hector samples some khat in Ethiopia.
Image: TG4
Hector samples some khat in Ethiopia.
Image: TG4
FROM CHINA TO Costa Rica, there are very few places around the globe that Hector Ó hEochagáin hasn't visited. Next on his list is the vast continent of Africa, with a 6000km road trip taking him from Ethiopia down to Zimbabwe.
"I have no idea what lies ahead, but I do know one thing – the bag is packed and the passport is stamped," says Hector of his latest adventure.
Hector Africa – A go Z starts tonight, Thursday October 8, at 9.30pm on TG4. The broadcaster's itinerary kicks off in the buzzing Ethiopian capital of Addis Ababa, a city that is changing at "lightning speed".
Join him as he gets some fitness tips from gold medal-winning distance runner Haile Gebrselassie, samples the local coffee, and discovers that, due to the country's "completely different" method of counting dates and times, he's actually arrived to Ethiopia in 2012.
Outside of the city, he heads south, swapping coffee for khat (a green plant known for its amphetamine-like qualities), and joining the Hamar Tribe in the Omo Valley. 
Source: TG4/YouTube
Next week, Hector travels north to Sudan, a country he says "would have been a no-go for me and the cameras" up to very recently. In 2019, a pro-democracy revolution saw dictator Omar al-Bashir fall from power after 30 years, changing the country forever.
Hector's visit is suitably celebratory, taking in soccer games, a Sudanese girlband who take inspiration from Westlife, and even a camel market. From there, it's south to Kenya in week three, to explore the slums of Nairobi and visit the land of the Samburu tribe.
The remaining legs of Hector's African journey – to Uganda, Rwanda, Tanzania and Zimbabwe – are on hold until 2021 due to Covid-19 travel restrictions, but episodes one to three still present the chance to explore some of the most exciting countries on this vast continent.
Hector Africa – A go Z starts on Thursday October 8 at 9.30pm on TG4. Watch it live, or catch up online with the TG4 Player from anywhere in the world. Check out all of Hector's previous travel shows at tg4.ie/hector.