THIS IS THE week, rugby fans. These are the games when it all gets real.
The opening two rounds of the Heineken Cup have set all the teams up, taken their temperature and pushed the unworthy to the side. Squeezing rounds three and four into the space of seven or eight days is rugby's equivalent of a major Saturday in golf – time to make a move before all hell breaks loose on the Sunday,
It's a rather unusual, almost unique, scenario. Since the Parker Pen Challenge Cup vanished and took two-legged play-offs with them, this is the closest we have to a true home and away contest.
So, before we get sucked into the stress and emotional strain that comes with the turning point of the European season, take time to look back on some of the modern classics the competition structure has given us.
2012: Connacht 22 Biarritz 14 — Biarritz 17 Connacht 0
A second season in the Heineken Cup once again brought vaunted opposition from the south of France to Galway. While the previous campaign was characterised by near misses and the winning of a January dogfight against Harlequins, this time, Eric Elwood's men had that a winning feel about them.
Biarritz arrived out west in horrible domestic form and the hosts duly set about dismantling them with Dan Parks in imperious form with two drop-goals included in his 17 points. The remaining five came courtesy of Fetu'u Vainikolo, who stunned the Basques with a brilliant first-half try.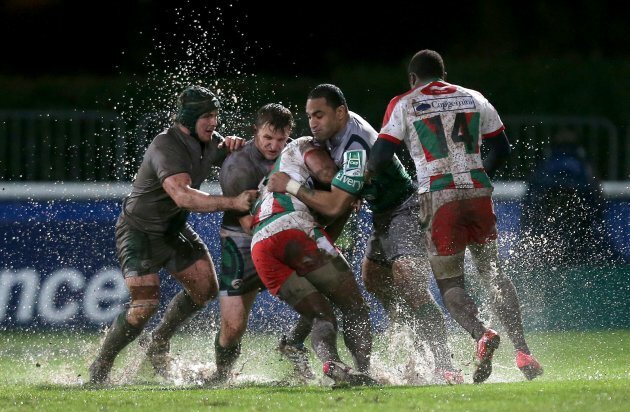 ©INPHO/James Crombie
Elwood's great legacy to Connacht was to dispel the myth that they revelled in swamp-like conditions rather than hard ground, but he'd have settled for a little more submariner skills in his side once the odd decision to call the return game 'on' was made with the field more bath than mud.
2010: Clermont Auvergne 20 Leinster 13 — Leinster 24 Clermont Auvergne 8
Frankly, we could have included any (or all) of Leinster's brawls with Clermont here, but in 2010 Joe Schmidt took on his old buddy Vern Cotter for the first time.
Shane Horgan scrambled in the opening score in Stade Michelin. And although his direct opponent Julien Malzieu struck back almost instantly, the visitors were set up to dig in their heels and take a point back to Dublin.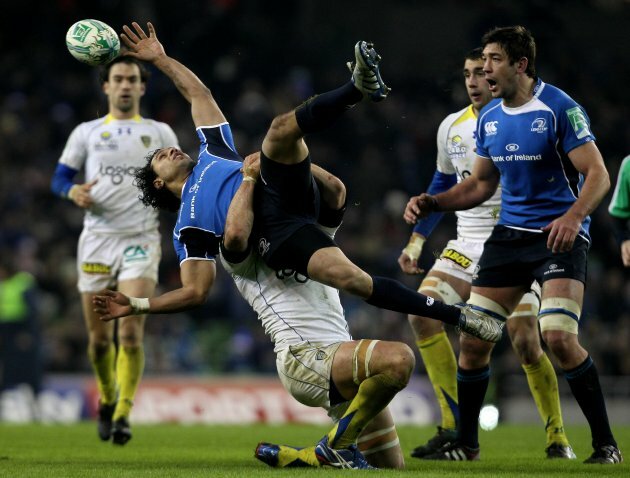 ©INPHO/James Crombie
Since its redevelopment, Leinster have made the Aviva Stadium their European winter retreat and this was one of those rare occasions when the ground hummed a little like it used to do as Lansdowne Road. The blue mood was helped no end by Cian Healy bullocking over the line early in each half and Sean O'Brien had made it three tries to nil, before Naipollioni Nalaga claimed ASM's second and final score.
2009: Munster 24 Perpignan 23 — Munster 37 Perpignan 14
While Thomond Park was made to sweat with Munster leaking three tries, Ronan O'Gara was keeping his cool; dropping a goal and a 73rd minute penalty among the 24 points off that right boot to give the reigning champions the win.
©INPHO/Billy Stickland
Down in Catalonia, Ireland's southern province moved to right all the wrongs of the previous week (we've looked back in a little more detail here) and second half tries from Jean de Villiers and Doug Howlett gave them all five points.
2009: Ulster 23 Stade Francais 13 --- Stade Francais 26 Ulster 16
Ulster's rise to Europe's top table was still a few big steps away, but 2009 witnessed a classic Ravenhill display as the red hands dug deep with Stephen Ferris often matching up on Mathieu Bastareraud in midfield and generally popping up everywhere and anywhere Ulster could find him space.
The hosts never looked back after Nigel Brady's opening score and the scoring was completed by the 50th minute when man-of-the-match Ian Humphreys converted Simon Danielli's try.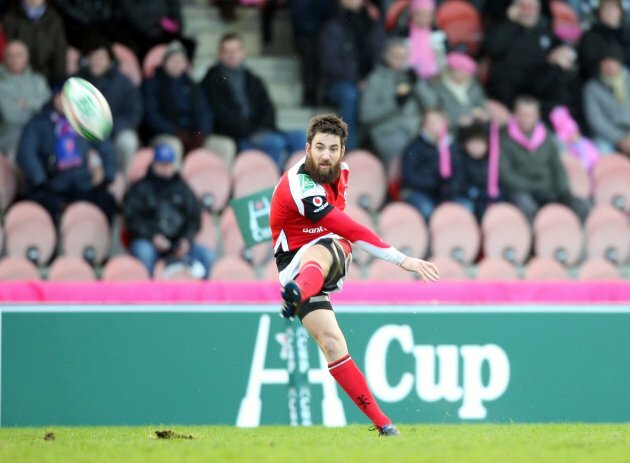 ©INPHO/Presseye/Darren Kidd
With the planned fixture in Brussels called off due to thick snow covering the pitch -December, in northern Europe, who knew? -the teams and fans were rerouted back to Paris. There, Ulster's unhappy history of France was extended with Lionel Beauxis kicking 14 points on top of Dimitri Szarzewski's early try in the first half to give the hosts a 19 - 9 lead at the break.
In the second half Benjamin Kayser would score in between two more Beauxis penalties before Ulster created a breakthrough for Andrew Trimble. The bonus point was within reach, but it never came and Ulster were forced to wait another year before making the quarter-finals.
2011: Connacht 10 Gloucester 14 --- Connacht 23 Gloucester 19
The sheer anguish of it. Connacht and Elwood's quest for a Heineken Cup win went on, despite two brave displays against the Premiership side.
First up the Sportsground, where the cherry and whites found the difference in out-half Freddie Burns. Burns' two penalties helped Gloucester into a 7 - 11 lead at half-time. Gavin Duffy's try helped ease the second half workload, coming when the score had reached 0 - 11.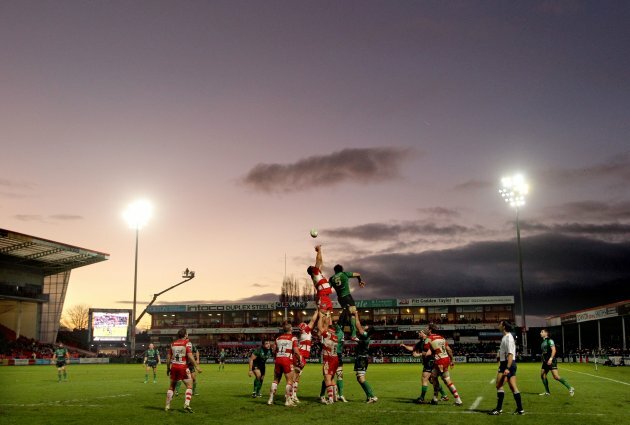 ©INPHO/James Crombie
Niall O'Connor converted that score and added another penalty just after half-time to make it a one-point game. From there, it was dogged stalemate for almost 30 minutes.
Agonisingly, just as Connacht wing Mark McCrea thought he had collected an intercept try, but the play was called back for offside and Burns pushed the visitors into a four-point lead with scores almost impossible to come by.
Over in Kingsholm, Connacht again laid it all on the line and this time their intercept counter-attack worked, creating a try for Tiernan O'Halloran to make it 3 - 7. O'Connor was in fine kicking form and pushed the western province into a 10 -13 lead at half time with out-half Tom Taylor hitting back for Gloucester.
This was it, it seemed. Connacht would win and win away. O'Connor and Taylor traded penalties and the visitors held the lead and their opponents at arm's length with five minutes to go. Then, disaster. Replacement Johnny May embarked on a solo run from deep and the green shirts just couldn't get a solid hand on him.
An epic contest over 160 minutes, but two defeats.
2010: Ulster 22 Bath 18 --- Bath 22 Ulster 26
A rare day when Ulster were forced onto the back foot early on in Ravenhill and Bath were 15 - 3 to the good after just 23 minutes thanks to tries from Jack Cuthbert and Lewis Moody. But by this point Brian McLaughlin had reinforced the northern province with some South African steel and Pedrie Wannenburg scored before the break to get Ulster back in the game.
Ian Humphreys would go on to strike five penalties, but Olly Barkley's sole response was enough for Bath to take point back to The Rec.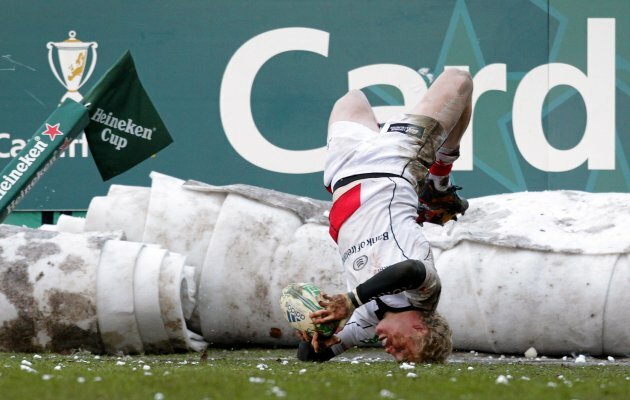 ©INPHO/Presseye/Matt Mackey
The game that gave us that iconic image of the late Nevin Spence, contorting his body any way that would allow him score while he clattered and spun out of play.
Spence's try came 10 minutes after half-time with Ulster trailing 14 -13. Humphreys and Barkely would trade scores to keep the scoreboard nudging on, but Bath's winning chance came with Matt Banahan's try to make it 22 -23 with 12 minutes on the clock. Barkley missed the conversion, Humphreys slotted a penalty soon after an Ulster were headed to their first quarter-final since 1999.
2008: Clermont 25 Munster 19 --- Munster 23  Clermont 18
Just one of those days down at the Stade Marcel Michelin. When every outside force seems to try and push against the visitors. This was a day for hard graft, and few typified that more than Doug Howlett, who took one contact and decided he'd become a flanker for the day.
Marcus Horan's try helped Munster into a 9 -16 lead at the break. At the time though, it felt like poking the bear. Brock James scored all 25 of ASM's points including a try that looked set to turn the tide early in the second half.
By 55 minutes, Clermont had done enough to win the game, but they didn't kill Munster off. The next score in the contest proved a crucial one in the competition; Ronan O'Gara kicked his side back to within seven and they had a point to build on back in Thomond Park.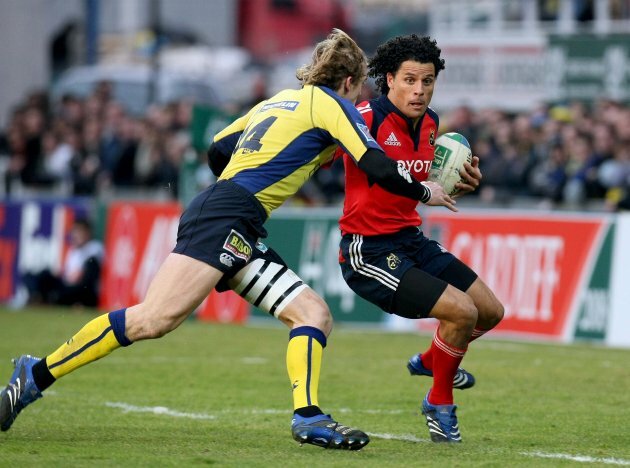 ©INPHO/Billy Stickland
Build they did, but only late in each half. David Wallace crossed the whitewash on 39 minutes to give Thomond an 11 - 3 lead to cheer about. However, the crowd was silenced for the third quarter of the contest which ended in with a converted Malzieu try which gave Clermont a narrow lead.
With the clock ticking down, it looked like they'd hold onto it too, but cometh the hour, cometh Marcus Horan.
The prop sent relief gushing around the Limerick stands as he claimed the 78th minute try to edge Munster back in front and he popped up again with the clock red to deny the French giants a bonus point, leaving them on course for a quarter-final date in the RDS.
We've only looked back as far as 2008, but what was your favourite back-to-back fixture or rivalry in the history of Heineken Cup rugby?