AFTER A SEEMINGLY never-ending summer, the Heineken Cup finally got going again last night with two late, great home wins.
We can't promise a plethora of away victories today either, but here are some other aspects which are worth looking out for.
So set your Sky box, or the direction or your bar-stool, accordingly.
Paul O'Connell
"Paulie will make his call when he's ready to go," said backs coach Simon Mannix before the team was announced this week.
Well, the big man picked up the phone on Wednesday and bellowed, 'Put me in, Rob.'
O'Connell is arguably the most important player to both Munster and Ireland. He is irreplaceable.
Having been out of action since injuring his knee against Ulster at the tail end of last season it will be incredible if the lock can wrestle his way through a full 80 minutes of an attritional trip to France, but with Donncha O'Callaghan and Wian du Preez injured; the two-time champions of Europe's pack will be vulnerable every second O'Connell is off the pitch.
But there is a balance, how sturdy is his knee? Is every second he spends on the field doing a little more long-term damage? This afternoon's events in Paris could tell us an awful lot about an injury shrouded in mystery.
Two provinces, four out-halves
Leinster's unchanged backline means they can continue with the experiment of running Ian Madigan from fullback. It worked to great effect last week, but expect Dungannon's Gareth Steenson to hoist up more high balls for his Chiefs to chase than Ronan O'Gara was willing to do at Lansdowne.
It's the third time this season Leinster have picked both Jonathan Sexton and Madigan in the starting XV and Munster are at it aswell with Ian Keatley's selection at fullback allowing O'Gara do his thing at 10.
Of course, the attacking benefits of having an extra 'number 10′ were spied long ago by Munster who had become very comfortable with the routine when Paul Warwick was the man imposing himself on game after game.
If Keatley and Madigan are to be a success in this role rather than merely offering a back-up to the current superstar in the pivot role, they could do worse than watching back on footage of how Warwick's timely interventions kept the pressure off O'Gara.
This is doubly important for Keatley, all the signs point to Penney backing ROG for the rest of the season. Fullback has become a very competitive area for the southern province and when everyone is fit, the former Leinster man will have to contend with Keith Earls, Felix Jones and Denis Hurley for the role.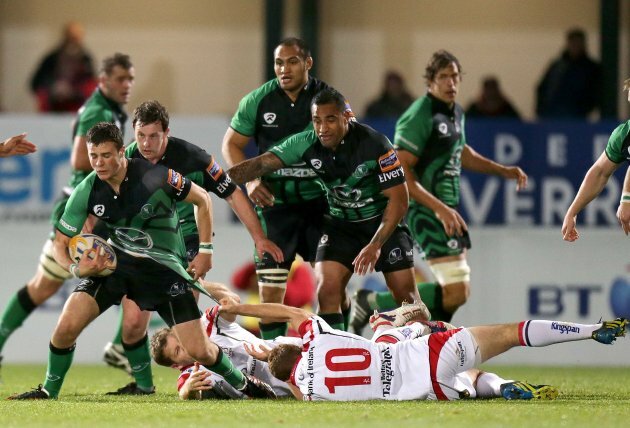 ©INPHO/Morgan Treacy
Can the West reawaken?
15 short days ago, we had nothing but optimism for Connacht. They had won half of their Pro12 fixtures, one away from home, one against Leinster. Both victories were comprehensive.
Now, perhaps Eric Elwood had informed his players of his decision to leave before they put five tries on Leinster, but ever since he left the Heineken Cup launch in Dublin there has been a different mood around the western province.
Ravenhill has rarely been a happy hunting ground for Connacht, but to come up completely empty handed was startling.
The silver lining is that they could not have been handed a better chance to record their first ever away win in the Heineken Cup. Zebre are a brand new club and so far this season they have yet to fool anybody into thinking otherwise.
Connacht managed three tries on their visit to Parma last month, but the Heineken Cup can do strange things a  home team. Remember, this is Zebre's best chance of a win in the pool stage. We expect them to throw everything at Connacht this time. How Elwood's men respond will tell us a lot about their prospects this season.
Debutantes
Along with Zebre, the Exeter Chiefs will take to a Heineken Cup field for the first time today. They take three Irish men into battle at the RDS and they won't be there to make up the numbers. They will mean business.
As a club from the south-west of England, Exeter have an in-built underdog spirit. They are the outsiders to the traditional powerhouses and will relish every contact with the reigning champions. None more-so than Tom Hayes (brother of an Irish tight-head legend) who will lead the charge from the second row.
We mentioned Steenson above and how he can put a dent in Madigan's confidence, the Chiefs have another Ulster man in the backline with winger Ian Whitten (who sat down to speak with us this week).
Unlike Zebre, the Chiefs are a proper club with a proper 130-year history. The close-knit family ethos is what drives them forward.
That goes double in the case of back row workhorse Richie Baxter. Not only has the number eight been with the club ever since making his 1997 debut, but he follows in the footsteps of his brother and head coach Rob who played 14 years in the Chiefs pack.
48 consecutive wins. 48!
Europe no longer whispers the name Thomond Park as by-word for a fortress. The Stade Marcel Michelin is now unopposed as the most impressive aid to a team. Granted, Clermont Auvergne players are a pretty impressive lot themselves, but the ground (we can't decide whether it's literal or not) shakes when Clermont need a win.
For 47 games in a row they have found a way, but the last of those wins came via a last gasp drop goal from Brock James. The Llanelli Scarlets are certainly good enough to pose a threat, but they will have to play out of their skin to even get a single point today.
If they can notch up win number 48 today, then it will set up an unholy war with Toulon who will come looking to prevent them getting number 50 in a few weeks' time.