COLIN FENNELLY MAY still be soldiering on the hurling fields with Henry Shefflin as the season draws to a close but even he is none the wiser as to what the future holds for the Kilkenny great.
There's been a recent exodus from the Kilkenny panel with Tommy Walsh, David Herity, Brian Hogan and Aidan Fogarty all calling it a day. But Fennelly hasn't gained any insight into Shefflin's thinking despite sharing a dressing-room as they gear up for Ballyhale Shamrocks AIB Leinster club hurling final next Sunday.
"A lot of lads would be asking us because with the club, they'd be thinking we'd be talking to him. We thought after the county final 'Henry will have a few drinks now. He'll ease off and let us know.'
"But he wouldn't tell us a thing. He's not saying a word about it at all. After the county final, he said nothing and laughed it off. I'm sure there's enough people annoying him about it so we'll say nothing."
Is Fennelly's gut instinct telling him anything about Shefflin's plans?
"I think he'll stay on. As long as we push hard with Ballyhale, he'll stay on. He finds it very hard to leave it, with the club, when he was on crutches, he was halfway out on the field.
"You can't look past Kilcormac. But for Henry, if he gets to March, if we went the whole way, that's nearly the whole league gone. And for Henry, there's only three or four months (left in the Championship) and if he's playing at the top of his form, there's no reason for him to go.
"It could be a massive thing for him to think about. Why not finish off the year with a bang?"
David Maher / SPORTSFILE Ballyhale Shamrocks player Colin Fennelly David Maher / SPORTSFILE / SPORTSFILE
Shefflin proved in the recent Leinster club semi-final against Kilmacud Crokes that he can still exert a major influence on proceedings as he bagged 1-3.
"That goal he got in the first couple of minutes, I remember sitting in the stand when I was a kid years ago watching him against Waterford, it was the exact same thing," recalled Fennelly.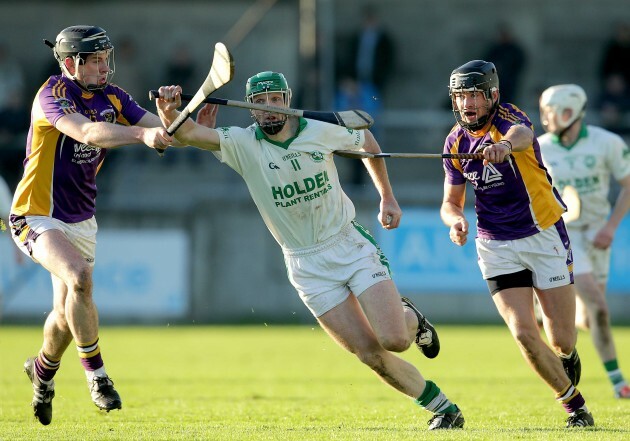 Morgan Treacy / INPHO Henry Shefflin in action against Kilmacud Crokes. Morgan Treacy / INPHO / INPHO
"I think it was 10 years ago that happened. He's still doing that, last week. It was unbelievable. The movement he has. The hooking and blocking maybe that I do, that I've seen him do all my life.
"That's the reason I'm doing it now because I'm seeing him do it for so long. He doesn't look at it like he has ten All-Ireland or All Stars or however many he has. He just wants more. He just keeps on wanting more."