YOU'D BE SURPRISED at how many questions one man can face about his foot.
Then again, when that foot belongs to Henry Shefflin and Kilkenny's Leinster Championship opener is just over three weeks away, maybe it's not that surprising at all.
"Groundhog Day, is it?" he smiles. "This time last year it was the same interview – just play it back there and ye have it all!"
It is said in jest but he's not far off. A recurrence of a troublesome stress fracture in his left foot looks set to rule Shefflin out of the meeting with Offaly on 7 June, delaying his pursuit of a historic 10th All-Ireland winners' medal. 
The only major difference this time, and one which could be crucial, is that he caught it early — a couple of days after clinching the Cats' latest piece of silverware against Tipperary.
"It felt fine, not a bother in the league final," he recalls.
"After the match I remember saying to one of the lads in the dressing room that I felt a bit of ache in my foot. That was the first time I would have said that since last year.
"It was a bit sore after the match on the Monday but that is part and parcel. I didn't think any more of it. I went training with the club on Tuesday night and I felt fine, not a bother with it.
"I got up on Wednesday morning, went to bring my daughter to the bus and to walk with her on the road, and I felt that aching pain.
Morgan Treacy / INPHO Shefflin was joined by Cork's Patrick Horgan and Tipperary's Padraic Maher at the Centra hurling launch yesterday. Morgan Treacy / INPHO / INPHO
"Obviously I had the experience of last year so I knew straight away there was something going on there. That was it.
"I was going for lunch that day and I had to walk a little bit, felt that again — aching pain in the base of your foot — so I rang the surgeon that night."
Until he meets the specialist again in a week's time to remove the protective boot that he was sporting in Croke Park yesterday at Centra's Championship launch, he won't definitively rule himself out of the Offaly game.
He knows it's unlikely though.
I'm not saying I am definitely gone… more than likely. It's going to be very hard to see me back for the first round to be truthful about it — but I'm not ruling myself out.
Shefflin is first to admit that last summer didn't even come close to measuring up to his exacting standards.
By the time he had fully recovered from his foot injury, he had missed the entirety of the league and Kilkenny were already out of the Leinster Championship, shaken off by a determined Dublin at the second time of asking.
He finally appeared as a late sub in the qualifier showdown against Tipperary and again, briefly, in the second half against Waterford.
Just when it looked like things had turned a corner, he was sent off in the first half of the All-Ireland quarter-final against Cork.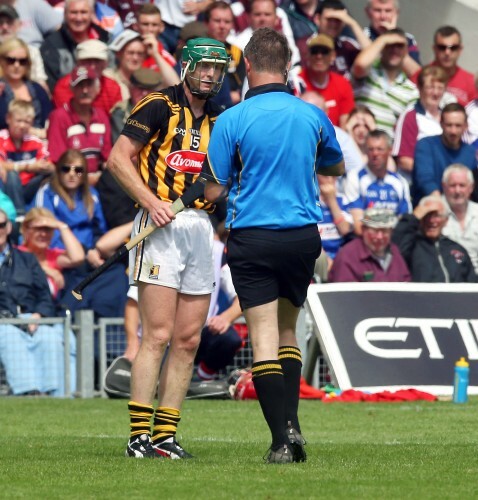 Donall Farmer / INPHO Shefflin saw red in the All-Ireland quarter-final, though it was later rescinded. Donall Farmer / INPHO / INPHO
Some summer.
But as autumn came and he got more game time under his belt with club Ballyhale Shamrocks, the decision on whether or not he'd be back for another tilt in 2014 became easier and easier.
"It hadn't been a very good Championship for me, injury-wise or form-wise. But I would say to you – and I have always said to you – I'd review it at the end of the year and my year wasn't over then.
I had a club campaign to go through and as the club campaign went on, I felt that I was getting stronger and better. I was in good shape physically and I said: 'Why not?'
Exclusive Six
Nations Analysis
Get Murray Kinsella's exclusive analysis of Ireland's Six Nations campaign this spring
Become a Member
"That was basically it. It was easy when it got to that stage. I didn't really think about it.
"Once the club campaign had gone fairly well, I just rolled in. We finished with the club in October and we were back fairly early doors in November. It happened very quickly."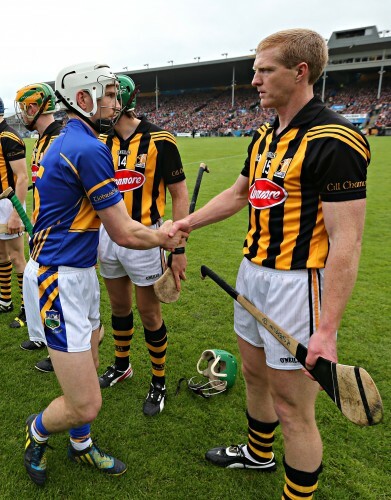 Cathal Noonan / INPHO Shefflin added another league title to his collection with a win over Tipp earlier this month. Cathal Noonan / INPHO / INPHO
From the outside, the news that Shefflin was already back in training came a lot earlier than expected.
Like most of Kilkenny's senior faces, he rotated in and out of the squad as Brian Cody tinkered through the league campaign.
"It was enjoyable for me because I was playing some days and I was part of the panel some other days. For me it was very good.
"I think what Brian wanted to set out to do was build a panel of players and that's what he did do. For the players themselves, we all know ourselves that we have to be on our toes so from that sense it's very good.
For me it was great to be involved in those matches because I missed all that in the last year. Last year I trained for nine months to be involved in two matches. Players want to play matches so it's great in that sense.
That he is sidelined again as the Championship begins has only added to his frustration but, now 35, he's been around the block enough times to know how to ride it out.
"The talk at home, it's all about the start of the Championship, but now thoughts have turned to the injury again which is frustrating I suppose.
"But that's the hand I've been dealt, and I'm in a much better position this year than I was this time last year, I would feel. I've a lot more training done and I've all those matches under my belt.
"Mentally, from my head point of view, I've all that behind me and in the bank. Hopefully that will be able to be used when I get back out on the field."