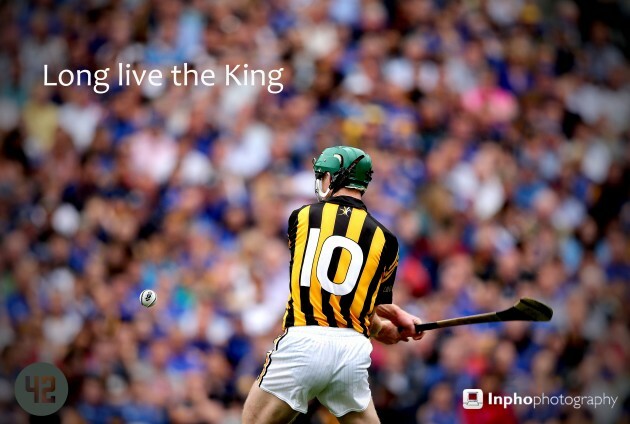 James Crombie / INPHO James Crombie / INPHO / INPHO
Updated 12.35
HENRY SHEFFLIN HAS officially brought the curtain down on his legendary inter-county hurling career.
It was announced yesterday that Shefflin would make a statement to the media and he has now confirmed that he is retiring after a glittering Kilkenny career that saw him win an unsurpassed 10 senior All-Ireland titles.
Joined by his wife Deirdre and Kilkenny county chairman Ned Quinn, as well as a huge media presence, the 36-year-old held a short press conference at the Set Theatre in The Langton Hotel in Kilkenny.
"It is with a deep sense of gratitude and personal contentment that I am announcing today that I am bringing to an end my inter-county playing career with the Kilkenny Senior Hurling Team," he said in a statement.
When I reflect back over the past 16 years playing the game that I love, at the highest level with Kilkenny, it is impossible to quantify the endless hours of happiness, satisfaction and fulfilment I have enjoyed.
"The various challenges I experienced along the way became opportunities for me to develop as a person both on and off the field of play."
Shefflin's decision brings an end to a remarkable career that began when he made his senior league debut for Kilkenny in February 1999. In September of that year he contested the All-Ireland final when Kilkenny lost to Cork but setbacks on the pitch would prove to be rare in his career.
The Gaelic Players Association paid glowing tribute to Shefflin as "the most successful GAA player of all time", "an extraordinary ambassador", and "a true role model for all aspiring athletes."
As a legendary figure in the Irish sporting world we hope that Henry's career, in time, is given due recognition by the State through a long-awaited honours system for our sporting heroes.
"However, he will certainly never be forgotten by the GAA family."
The full list of senior inter-county honours that he accumulated were:
10 All-Ireland senior medals (2000, 2002-03, 2006-2009, 2011-12, 2014), 

12 Leinster senior medals (1999-2003, 2005-11, 2014),

6 National hurling league medals (2002-03, 2005-06, 2009, 2014) 

2 Walsh Cups (2005-06), 

1 Oireachtas (1999)

3 Hurler of the Year awards (2002, 2006, 2012)

1 RTÉ Sports Person of the Year (2006)

11 Allstars (2000, 2002-09, 2011-12)
"I will always be eternally grateful to the numerous people who have encouraged and supported me in my pursuit of my sporting dreams," Shefflin's statement continued.
To my wife Deirdre, my parents, brothers and sisters I owe a huge debt of gratitude. Only they really know the many sacrifices they have made on my behalf.
"My club mentors in Ballyhale Shamrocks and my former teachers instilled in me not only a love of hurling but also the importance of developing the skills of the game.
"Brian Cody has been part of my senior inter-county career from the beginning and I benefitted greatly from his guidance and support. I thank him and his management teams for the huge role they have played in the success I have enjoyed.
"I am grateful to Ned Quinn and the Kilkenny County Board for their leadership and especially for all they have done for me over the years.
"I wish to thank the GPA for all they do on behalf of myself and inter-county players.
"Sincere thanks also to my employer Bank of Ireland for facilitating me in every way possible during my career.
The support I have received from Kilkenny supporters and from the GAA family all over Ireland in good times and in challenging times has been a humbling experience and made me realise how lucky and privileged I am.
Hurling is and always will be part of who I am. I now look forward to continue to play with my club Ballyhale Shamrocks and supporting Kilkenny Hurling teams for many years to come.