AT 4.30PM ON Friday, Hereford United may no longer exist.
Earlier this week, a judge showed some mercy and adjourned wind-up proceedings for a few more days. It was the 9th time since June that a reprieve had been granted.
The tale is a cliched one. In April, they miraculously stayed in the Conference thanks to an 88th-minute winner against Aldershot. But even then, they were submerged in debt. They owed £148,000 to their creditors – a list that included their then-manager Martin Foyle.
Later that summer and unable to pay off the debt, Hereford were banished from the Conference and Foyle submitted a wind-up petition over his unpaid wages. The club took refuge in the Southern Premier League and were subsequently taken over by London businessman Tommy Agombar, who promised the money owed would be paid off.
But ever since, the crisis has deepened amid broken promises, a ticking clock and a mysterious Irishman.
Agombar failed the FA's fit and proper person's test earlier this year, having been handed a seven year prison sentence in 1987 for robbery. Shortly after, an organisation called Alpha Choice Finance and the name Alan McCarthy began to circulate in Hereford United circles.
Quickly, Alan McCarthy became the majority shareholder of the troubled club.
"The first we heard of him was when Tommy Agombar, who was the first guy to buy the club when it all changed hands in the summer, failed the FA's test and so somebody else had to take control of the club. So we were told that Agombar's shares had gone to Alan McCarthy", Ian Morris, news editor of The Hereford Times, told TheScore.ie.
We were never told anything about McCarthy except for when he was announced as the new majority shareholder of the club. We're pretty sure he never attended any of the games or went to any meetings or anything like that. They were the same really – Alpha Choice Finance and Alan McCarthy. No one really knew much about them. It's just a completely anonymous organisation as far as most people in Hereford are concerned. People wanted to know about them because this was the company that owned Hereford United – a club that's got a lot of followers and a lot of history and it's well thought of by a lot of people around here. But it just formed part of the mysterious nature of the way the club was being handled."
Alpha Choice Finance, an Essex-based company, were reportedly one of the investors that Hereford brought on board in August with chairman Andy Lonsdale saying at the time, "It's a large investment, we won't have any problems satisfying the (winding-up) petition."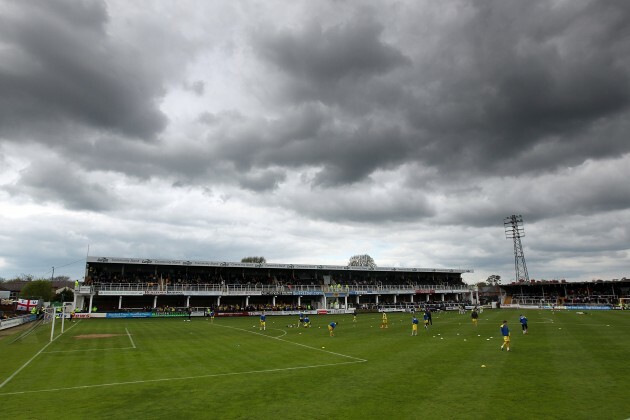 David Davies / PA Archive/Press Association Images There have been dark clouds over Edgar Street for a while now. David Davies / PA Archive/Press Association Images / PA Archive/Press Association Images
But that was a lie. McCarthy, despite being named the club's majority shareholder, never spoke to the media. He never released a statement. He was never photographed at the club. He was never seen. He was never heard. To many, he didn't exist. Nobody could reach him for comment. Even the Football Association.
"He's another character in the pantomime of what the club's become. I wouldn't say he's one of the main people that the supporters have focused their intentions on – that would be Agombar and Andy Lonsdale because they're much more public figures and they've spoken to the media and to supporters at least", says Morris.
Some of the people involved have been very transparent like Lonsdale – he's happy to speak. But we've drawn blanks trying to speak to McCarthy.  When you're a majority shareholder of a football club, most people want to know who you are, what you plan to do with the club and where you want to take it. McCarthy didn't even show his face or respond to the FA when they wanted him to take the owner and director's test and that's one of the reasons the club was suspended from all football activity two weeks ago. So it's not just the media he ignores – it's everybody, really."
Alpha Choice Finance and McCarthy are no longer involved with Hereford United. Earlier this month, they ended their association with the club because of what they termed as 'many weeks of harassment and misinformation'.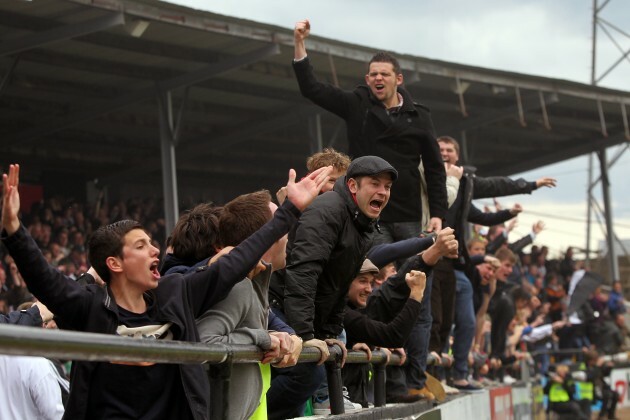 David Davies / PA Archive/Press Association Images Hereford United's fans in happier times, a lifetime ago. David Davies / PA Archive/Press Association Images / PA Archive/Press Association Images
Morris says that according to Lonsdale, McCarthy was on the receiving end of abuse from Hereford supporters while involved with the club.
"Lonsdale, who is the new majority shareholder, told me that a lot of the supporters boycotting the club had gone after McCarthy, were very rude to him and targeted his wife. She experienced problems at work because of it and was threatened with losing her job. But that was one of the only times we had heard McCarthy's name mentioned. The fact is, he's no longer the majority shareholder and he's no longer involved with the club. He's disappeared as quickly and as quietly as he arrived."
On Friday, with Hereford dangling on the precipice, the sorry mess may finally come to a conclusion.
"It could be game over", says Morris.
"It will be the 10th time they've been to court with the threat of a winding-up order hanging over them and it's in the hands of the judge, really. The club have to prove they have the funds available but they've had a long time to try and prove that and they still haven't done it. Most people think nothing's going to change and that the club will be wound-up and that it's just a question of how much patience the court has with them."