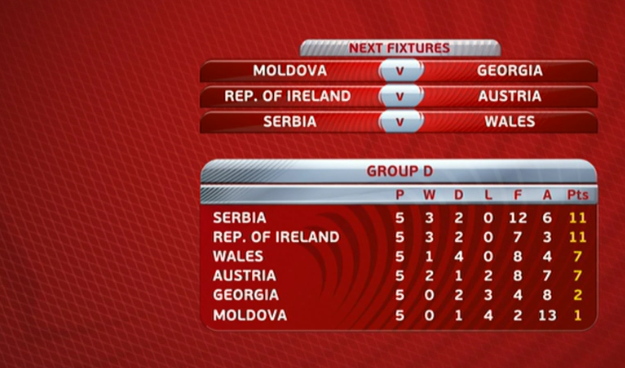 IRELAND'S 0-0 DRAW with Wales in addition to Serbia's defeat of Georgia, means that the Boys in Green on Friday surrendered top spot in Group D.
That said, only a slightly better goal difference currently separates the Irish and the Serbs, while Martin O'Neill's side have a healthy four-point lead over Wales in third and Austria in fourth.
It is now the halfway point of proceedings. Ireland have played everyone in the group once. Their remaining fixtures are as follows:
11 June – Austria (home)

2 September – Georgia (away)

5 September – Serbia (home)

6 October – Moldova (home)

9 October – Wales (away)
So what do Ireland need to do from here?
Obviously, five more wins would leave Ireland on 26 points and guarantee qualification.
However, Ireland can almost certainly afford to drop some points and still qualify, particularly given how tight this group is turning out to be.
Judging by previous qualifying campaigns and what is needed to advance, 20 points or over may well be enough to see Ireland through, meaning winning three of their remaining five matches should leave them in a healthy position, or indeed winning two and drawing three.
Home to Moldova and away to Georgia are certainly games Ireland would be expecting to win, though they'll likely need to beat at least one of the better sides or not lose to any of them.
Of the 'big three' games in question, their next match, Austria at home, seems the most winnable. Marcel Koller's side have been unconvincing in the group thus far, and a loss in Dublin would all but end their hopes of progression.
The Wales match in Cardiff is one where a point could be viewed as a good result, as it was against the Dragons the other night, although more optimistic fans might hope that Chris Coleman's team will be out of contention by that point, allowing Ireland to capitalise on their fading interest in the group.
Should Ireland benefit in this regard and defeat Austria in Dublin, and assuming they don't slip up against Georgia and Moldova, then they could probably afford to drop points against Serbia and still progress.
Four wins and a loss would leave them on 23 points, which would put them in a very strong position for automatic qualification. Indeed, if Ireland win four matches including the Serbia game and lose the other one, they will be almost assured automatic qualification. The only scenario in which they wouldn't prevail would be if Serbia win all their other games and manage to have a superior goal difference to Martin O'Neill's men (remember that goal difference outweighs head-to-head in these qualifiers).
And if we have to settle for the runners-up spot?
If Ireland don't finish first, they could potentially still qualify for the 2018 World Cup by coming second. Were that situation to occur, they would need to qualify via a playoff, as they did for Euro 2016, and provided they don't finish as the worst runner-up out of the nine Uefa qualifying groups (for further information on the qualifying format, click here).
Results against the last-placed team don't count in determining the best-eight runners-up, so assuming Moldova finish bottom of Group D, the outcome of October's game in Chisinau will be irrelevant if Ireland find themselves in this position.
In the last World Cup qualifying campaign, 18 points was enough to secure second place in all of the nine groups. Ireland therefore need seven more points from their remaining five games to be in with a very decent shot of finishing second. So if they beat Moldova and Georgia and earn at least one more draw, they may well be looking good for a runners-up spot, though at least 20 points will likely be needed to top the group.
Of course, it is relatively early days still and there will probably be plenty more twists and turns to come in the campaign, but for now, we can allow ourselves to dream at least.
N.B. A version of this piece was previously published on 14 November, 2016
The42 is on Instagram! Tap the button below on your phone to follow us!