AMIR KHAN LAST night alleged that an unidentified man 'interfered' with ringside judges during his loss to Lamont Peterson.
The Bolton star lost, contoversially, on points in Washington – and an appeal against the decision will be held in the coming weeks. Khan was deducted two points for pushing by the ref, but he has now insists there are scorecard irregularities.
Khan yesterday took to Twitter to post a series of images from the fight footage depicting a mysterious man in a cap sitting at the shoulder of fight supervisor Michael Welsh.
"Watch the fight from 9.10 seconds of this video there is a guy wearing a grey suit with a blue shirt wearing a hat.
"Sat on the main judges panel at the front on the right hand side 3rd to the end.
"No1 knows who this guy is and he is now being asked to move by Michael Walsh who is the main supervisor for the wba as he should be sat there.
"He now gets a chair and sits slightly infront of @OscarDeLaHoya and my father.
"At the beginning of round 2 he manages to squeeze in at the front again sat next to Michael Walsh.
"Now the IBF and the WBA have still not confirmed who this guy is till this date and what he was doing there.. Now the interesting part.
"Now this guy doesn't do anything apart from watching the fight but that's only until round 6 when he starts to interfere!
"From round 6 all the way through to round 12 this guy starts to interfere with what Michael Walsh is doing and they are both not watching the fight, watch the video and have a look for yourselfs.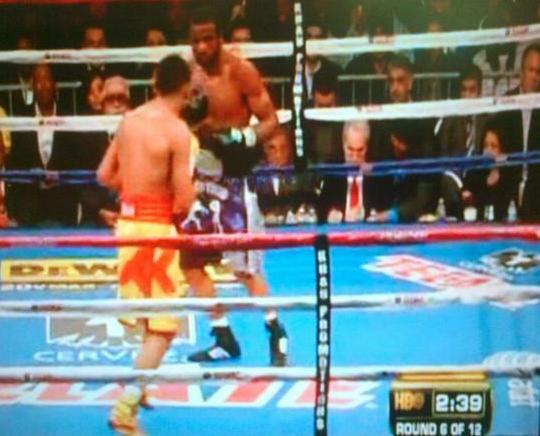 "This is what I meant on how he was interfeering, as no one is allowed according to the rules to touch hold the scorescards or even talk to the judges n commision during the fight.
"There are 3 judges in a fight n all have different colour slips, n at the end of evry round thy get passed on to the wba ibf n dc commision.
"This pic shows here in round 6 the guy wearing the hat clearing picks up one of the judges white slips n if you watch the video slides it down and towards him.
"And this guy doese it again at the beginning of round 7, n carries on throughout all the way to the end of the fight wtf?
"Again in round 8 and round 9, cleary not watching the fight at all and not allowing Michael Walsh to watch too.
"This time in round 11 he's seen here clearly picking up a yellow judges slip.. Strictly againts the rules."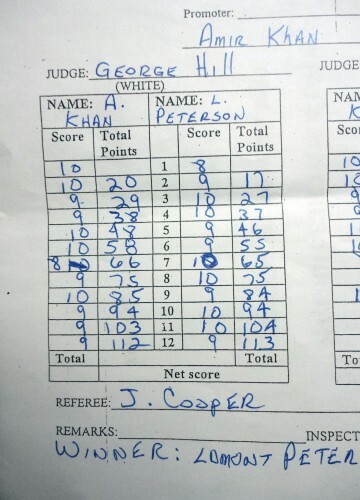 This is copy of judge George Hill's scorecard from the bout at the George E Washington Convention Center in Washington, USA. The crossed-out 10 is a bone of contention. (Phil Barnett/PA Wire.)
Here's footage of the incident from Sky Sports News:
YouTube credit: officialamirkhan
H/T: Joe.ie