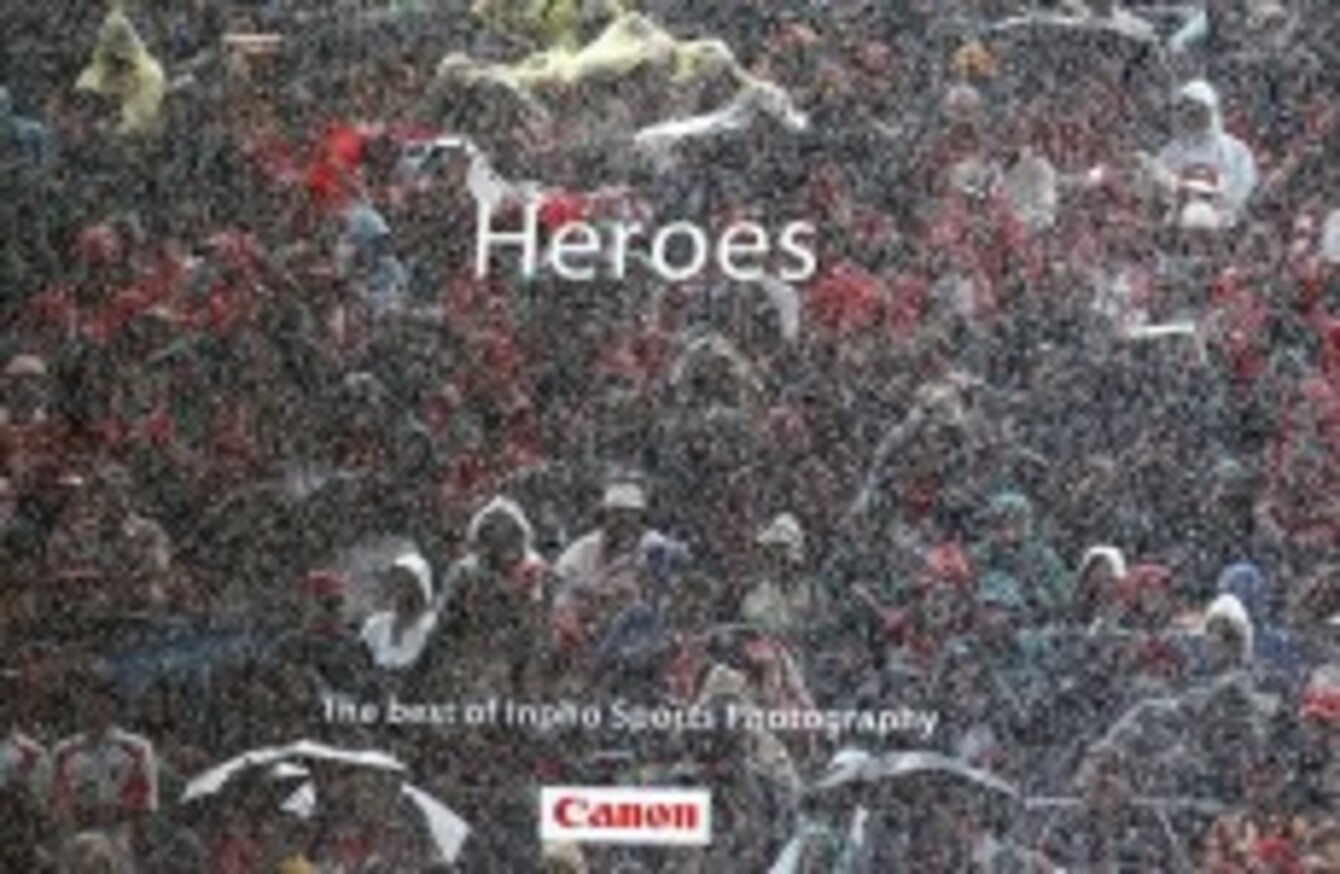 The cover of 'Heroes'.
Image: INPHO
The cover of 'Heroes'.
Image: INPHO
WHEN IT COMES to sport, Billy Stickland has just about seen it all.
After complete his degree at Trinity College and going into teaching, he became passionate about photography and got his first real break from Vincent Browne – then running popular magazine Magill.
Fond early memories involve an international game at Windsor Park, following the peleton at the Tour de France and travelling to Mexico for the World Cup in 1986.
In 1998, he joined forces with James Meehan (currently Pictures Editor of The Mail on Sunday) and founded Inpho, which today is the most successful sports photography agency in the country.
Having witnessed some of Ireland's greatest sporting feats over the past quarter of a century, Stickland had always wanted to release a book. And three weeks ago, 'Heroes' hit the shelves.
"We had been thinking about it for the last two or three years but we had no backing," Stickland told TheScore.ie this week. "Then I was at a dinner one night when I  got talking to people from our suppliers Canon about it and they said it would be a good idea to commemorate 25 years. So that's how it happened."
With just over 170 pages of space and thousands of photographs to choose from, Stickland had a tough task choosing which pics would be included but was eager to have a vast selection of different types.
"What we wanted to do was to make it a bit different. You get sports books that come out and it's just action, action, action. Or ones that are just full of portraits.
"We just wanted to mix it up as much as possible. The action is very important but so was our feature stuff. We also decided to throw in a few things.
The ideal scenario is that every time a person turns the page they go "wow". The featuring dozens of fan headshots was a surprise. I think it worked very well as it was very colourful and had people's facial expressions.
"There were loads of pictures to choose from and by the time you're finished you are really unsure whether they are all the best ones.
"Picking for a book like that is very subjective. If you had to choose you probably would have come up with a lot of different ones. There was a core that most would have picked but after that there are a lot that I think just fit well into the book.
"For instance, there is one of the guy covered in mud and then on the opposite page we have the woman rugby player. The two expressions worked very well together.
"There is another one with Jonny Sexton and the Leinster team celebrating winning the Heineken Cup with the Cork women celebrating in the same way. There was an element of design in some of the final decisions."
The result is an extremely rounded piece of work. While iconic action shots such as Sonia O'Sullivan finishing second at the Sydney Olympics and Packie Bonner's penalty save against Romania in 1990 will undoubtedly bring memories flooding back, other pre-planned images like former Dublin manager Kevin Heffernan sitting in the Dublin dressing room are equally as powerful.
So, what makes a good sports pic?
"It's a funny thing really," explains Stickland. "What makes a good action shot is cutting down on the element of luck. People might say you've got a really good camera and you can take hundreds of shots so why wouldn't you take a good shot.
Be part
of the team
Access exclusive podcasts, interviews and analysis with a monthly or annual membership.
Become a Member
"But by knowing the sport, having the right equipment, choosing the right angle and how the background looks you can cut down on that element of luck.
"When you have all those things together the photographs are much better. They are the general principles that I have for action photographs.
"With feature pictures you should just be really well-prepared and think about it beforehand. In most cases, you're dealing with somebody who will be nervous about being photographed so you have to be confident about what you want them to do and try to make them feel comfortable.
"You should be prepared well, know exactly what you're going to do and explain it to them. What I get the greatest satisfaction out of is when you get good photographs and they have enjoyed being in it.
"Planning is a lot to do with it. If you're given time and space most photographers will come up with something good. So you've got to create that time and space."
Some of the pictures included in 'Heroes' - Packie Bonner (top), Kevin Heffernan (middle) and Sonia O'Sullivan (bottom).
Stickland has seen the industry evolve behind recognition due to technological advancements in recent years. As the growth of the internet has resulted in a thirst for instant news, media outlets demand photographs to be on their desks minutes after they have been taken.
"The technology is so good nowadays and it would seem to have made our job easier but it has probably made it more competitive and harder.
"When we're photographing matches in say the Aviva Stadium or Croke Park we need to get photographs out really quickly. In the old days you waited until after the match or even delivered them the next day.
"And it's reflected in the newspapers who used to receive two or three pictures on an afternoon are now getting thousands.
"On somewhere like the TheScore.ie, you want a running commentary of matches so you want, for example, a picture of Joe Schmidt before the All Blacks match or Richie McCaw warming up, then you want the Haka and the action right through to the final minute.
"We have to keep providing those pictures all the time and technology allows us to do that. But it also puts us under more pressure."
Stickland reveals that it is currently difficult to get into sports photography as it is controlled by the agencies and getting recognised can be tough.
That said, there is clearly a talented new generation coming through and Inpho's own Ryan Byrne was just 21-years-old when he won a Press Photographers Association of Ireland (PPAI) award earlier this year.
I always say to look at life a little bit differently," answers Stickland when asked what advice he would give an aspiring photographer.  "That has driven me through all the photography I've ever done.
"That's why you have a camera and all the equipment. That's what we have always advised our photographers who come to Inpho. Just think about what you're doing - what angle you're taking it from, what lense you're using and try view something different.
"I get tremendous satisfaction when some of our photographers do and in the book there are about half-a-dozen pictures which are evidence to that."