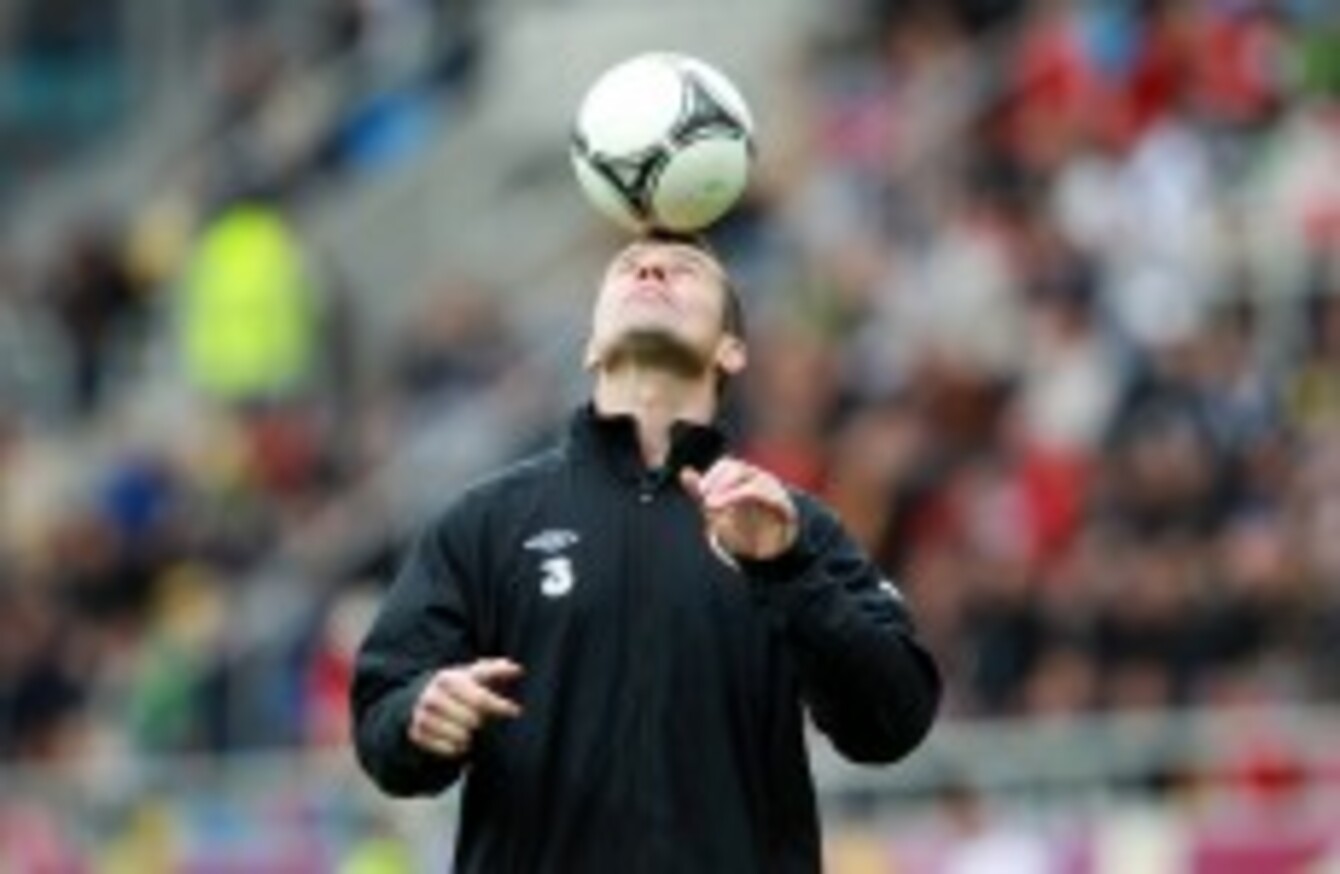 Goalkeeper Shay Given: he'll be fine for Croatia game.
Image: INPHO/Donall Farmer
Goalkeeper Shay Given: he'll be fine for Croatia game.
Image: INPHO/Donall Farmer
IRELAND GOALKEEPER Shay Given is ready to 'play tonight' if required, according to goalkeeping coach Alan Kelly.
Fears grew over the fitness of the 36-year-old goalkeeper when he played just 45 minutes of Ireland's 0-0 draw with Hungary in Budapest on Monday night.
The Aston Villa player pulled off two top class saves in the first half of the friendly, but there were doubts over whether his half-time substitution was a planned switch or enforced by a recurrence of his knee injury.
Given, Ireland's most capped player of all time with 122 caps, sat out the team's open training session on Monday in Gdynia's Municipal Stadium, where almost 14,000 enthusiastic locals came to watch. But Kelly, a member of Ireland's World Cup squads in 1994 and 2002, insists he had to stop Given from taking part in training.
"Shay is fine," Kelly said, "We had the open day yesterday in front of a really fantastic crowd, as you saw, and it's just part of his rest and recuperation.
"He played the 45 minutes the night before — I don't know if you noticed, but we were playing head tennis over in the corner and having a bit of 'craic' with the crowd, and he was absolutely busting a gut to get involved.
"Anybody who has seen Shay over the 122 caps will know his determination to play for Ireland, that's not going to go away.
"To play in the big championships, it's a bit of a cliche, but nobody is more desperate than Shay to play on Sunday. I don't think wild horses would keep him from being on that pitch.
"I think his determination and the willingness he has shown over 16 years to play for Ireland now is not going to go away overnight. He will be fit to play Sunday but Shay wouldn't do that if it meant an impaired performance.
"We have got to keep in mind the fella we're talking about and not do anything to lessen those chances. I have no qualms about him right now."
Trapattoni cancelled a planned training session in Gdynia on Wednesday, allowing Given and the rest of the players and staff a day off instead. It was not only a surprise departure from the schedule, it also prompted rumours of discontent after Aiden McGeady had claimed players were tired from over-training.
The Italian dismissed these claims yesterday, but then ceded some ground to the players by allowing them 24 hours to rest and recuperate ahead of tomorrow's training session.
"Why not?" was Kelly's response when asked why Trapattoni had given the staff a free day.  "It made sense after the travel, game and training we've had. It's like a normal week in club football — you get the Wednesday off before a game.
"So the manager decided the lads could have a day off, but that doesn't mean they will wander off willy nilly, they will be around the hotel.
"The players are getting a rest now, it's not going to be a case of 'go hell for leather' in the build up to the game on Sunday. Hopefully the players now enjoy the day off and are ready and raring to go.
"Who are we to question a manager of 50 years experience? We've been on the go 22 days now and mentally and physically it's good to have a time out. It's all about Sunday, whatever you have to do you do that."