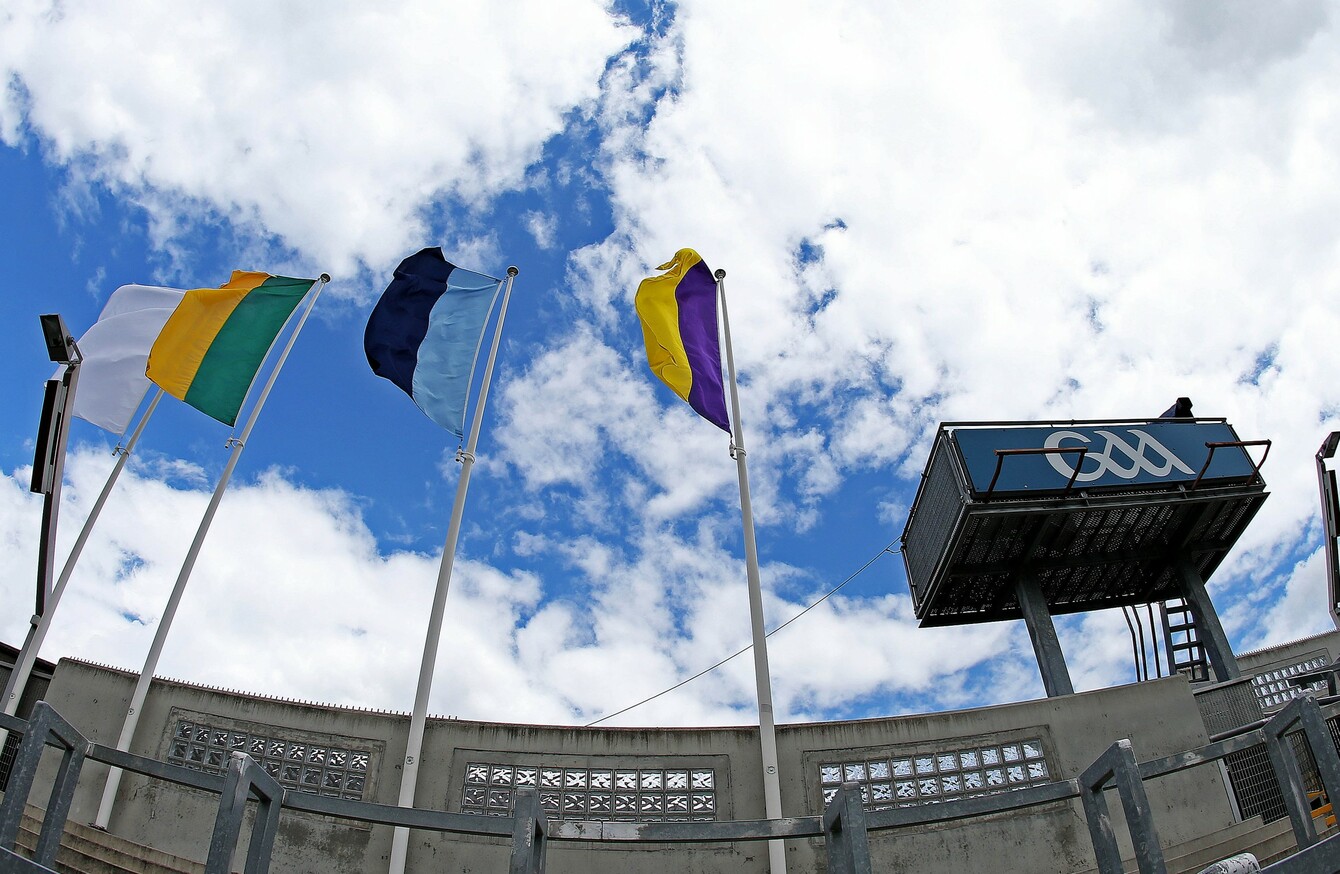 Image: Donall Farmer/INPHO
Image: Donall Farmer/INPHO
THE GAA WILL mark the 95th anniversary of the events of Bloody Sunday at a special ceremony at Croke Park before the start of the EirGrid International Rules test between Ireland and Australia tomorrow night.
The date of 21 November 1920 will be forever etched into the history of the GAA and that of Croke Park stadium as a result of the tragic events which saw British forces fire into the crowd attending a Dublin-Tipperary football challenge match.
There were 14 people killed, among them Tipperary player Michael Hogan.
This Saturday night, the lights of Croke Park will be dimmed and 14 flames will be lit on Hill 16 to represent each of the lives lost on that fateful day and their names will be read out in a special ceremony.
There will be no spectator access to Hill 16 for the game and the flames will remain lit for the rest of the evening.
Flag bearers will lead Uachtarán CLG Aogán Ó Fearghail and Ard Stiúrthóir Páraic Duffy out onto the Croke Park pitch and to the spot where Michael Hogan was shot and killed 95 years ago and where they will lay a laurel wreath – opposite Gate 41.
There will then follow a moment of silence.
GAA Árd Stiúrthóir Páraic Duffy said: "The events of Bloody Sunday on 21 November, 1920 are as much a part of the history of Croke Park as any of the epic sporting contests which have taken place there since Gaelic games were first played on Jones' Road.
"The tragic loss of 14 lives on that fateful day, when almost 15,000 turned up to enjoy a football game between Dublin and Tipperary, was a harrowing moment for the Association, and while we have thankfully left those dark days behind us, it is only fitting that we honour the memory of those who were killed.
"The memory of Tipperary's Michael Hogan, who was 24 when he was killed, has lived on through the famous stand at Croke Park that bears his name. We are happy to play a part to ensure the names of the other 13 lives lost at Croke Park on Bloody Sunday – Jane Boyle (26), James Burke (44), Daniel Carroll (30), Michael Feery (40), Tom Hogan (19), James Matthews (48), Patrick O'Dowd (57), Jerome O'Leary (10), William Robinson (11), Tom Ryan (27), John William Scott (14), James Teehan (26) and Joe Traynor (21) are also honoured."
The match programme contains a specially commissioned piece on the events of 95 years ago by journalist Michael Foley, who has written an award winning book on Bloody Sunday at Croke Park called The Bloodied Field.
There is currently a display in the GAA museum at Croke Park where visitors can view Michael Hogan's Tipperary jersey, complete with bullet holes, is currently on loan, as well as the match ball used.
The action starts at Croke Park tomorrow night at 4.35pm with a Hurling/Shinty international test between Ireland and Scotland and features newly crowned GAA/GPA Hurler of the Year TJ Reid playing for Ireland.
It will be followed by the Bloody Sunday commemoration which takes place before the start of the EirGrid International Rules clash between Ireland and Australia at 7pm.
Tickets for the evening are priced €25 for Adults and €5 for Under 16s and are available from gaa.ie/tickets, selected SuperValu and Centra stores and usual matchday outlets.