THE MATCH COMMANDER at Hillsborough on the day the disaster occurred has admitted to lying to then-FA chief executive Graham Kelly about how supporters entered the stadium.
70 year-old David Duckenfield was speaking at the new inquests into the events in Sheffield that led to the deaths of 96 Liverpool fans.
The court heard that at about 3:15pm on 15th April 1989, Kelly and another FA representative Glen Kirton, confronted Duckenfield in the police control box and asked what had happened. Duckenfield told them that fans had managed to enter the venue through Gate C when, in fact, he had asked for the gate to be opened.
"I said something in the order of 'some fans have got in through a gate', which was my belief in respect of one instance."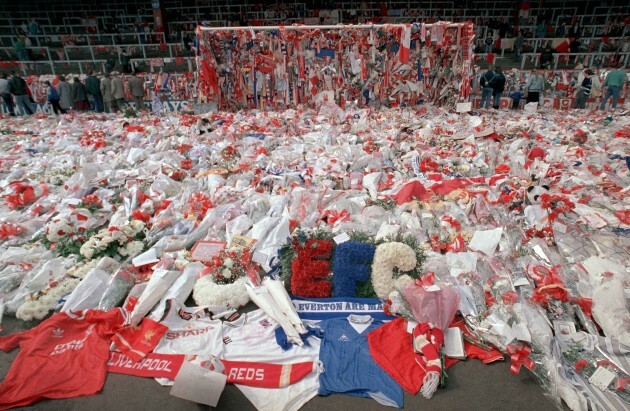 Peter Kemp / AP/Press Association Images Floral tributes are placed at the 'Kop' end of Anfield on April 17, 1989 - two days after the Hillsborough disaster. Peter Kemp / AP/Press Association Images / AP/Press Association Images
When told that the court had already heard evidence describing how he'd said the gates had been 'stormed', Duckenfield responded:
"I don't think I would have been as dramatic as that. It was a very difficult moment, a very tense situation, people were coming and going, making various demands of me, and I think frustration was increasing because we couldn't get on with the job.
"I quite honestly cannot be specific about that first encounter when he asked me what was happening. It was something like 'Some fans have got in through a gate'."
"I was pointing out that fans had gained unauthorised access to the ground."
What I didn't say to Mr Kelly, I didn't say, 'I have authorised the opening of the gates', I didn't tell him that."
"I was probably deeply ashamed, embarrassed, greatly distressed and I probably didn't want to admit to myself or anyone else, what the situation is.
"What I would like to say to the Liverpool families is this, I regret that omission and I shall regret it to my dying day. I apologise unreservedly to the families and I hope they believe it is a very, very sincere apology."
Duckenfield also admitted to not asking about the number of supporters that were still outside Hillsborough half an hour before the 3pm kick-off.
He also spoke of the 'very limited' experience he had in policing football-related events prior to his promotion to chief superintendent just 15 days before the FA Cup semi-final took place.