IN SELECTED EXTRACTS from his book "Stuttgart to Saipan: the players' stories", Miguel Delaney talks to the Irish players about play-offs past. First, up: Holland in Liverpool in a bid to reach Euro '96.
The depths to which Jack Charlton's previously dynamic reign had sank were probably summed up by its final, key decisions.
As Ireland prepared for the Euro 96 play-off against Holland at Anfield, confidence and personnel were seemingly decreasing by the day. When then-winger Steve Staunton broke down in training, Charlton went for a walk to ponder what to do next. It was on the streets of Chester that he spotted Terry Phelan doing the same.
Remembering he had watched the full-back win man-of-the-match against Newcastle for Chelsea the previous Saturday, Charlton decided to throw Phelan back in. There was no grand plan to it. Just pure chance.
On the left of midfield, Phelan was one of six defenders that started that night. Just as Charlton had essentially opened his era against Scotland with a unique approach to his backs, that's how he would close it. But, where once it was a sign of how he could out-think opponents, now it just illustrated how out of touch he was.
Against a dynamic young Dutch side that contained the core of the Ajax team that won the 1995 Champions League, Ireland were simply outclassed.
Watching from the bench, Alan Kernaghan sensed of inevitability to it all.
"Holland knew what we were going to do. They knew how to play against us and, the way we play, it was easy for them. Patrick Kluivert got most of the plaudits because he scored the goals and he did look very good on the night but they were fantastic. Too good for us, simple as that."
Holland's passing produced seven clear-cut chances from which they scored two. Ireland's chasing absolutely nothing. Phelan felt it playing against them from the start.
"They'd gone up a level. They had more than us. I was playing out of position and it didn't work."
At the least, Charlton could have introduced a bit of ingenuity. Perhaps even the honest creativity of Alan McLoughlin. But, when it came to making the key substitution, Charlton looked past the Portsmouth midfielder. To another defender.
"I was probably going to chuck the towel in then," McLoughlin says now. "I do love Jack to pieces, think he's a one-off. But I really thought I'd come to the end of the road. We needed a goal desperately and, at any point if you're going to bring me on that was it. But when he shouted for Alan Kernaghan that was the final straw. I took my boots off, threw them on the floor and thought "fuck this".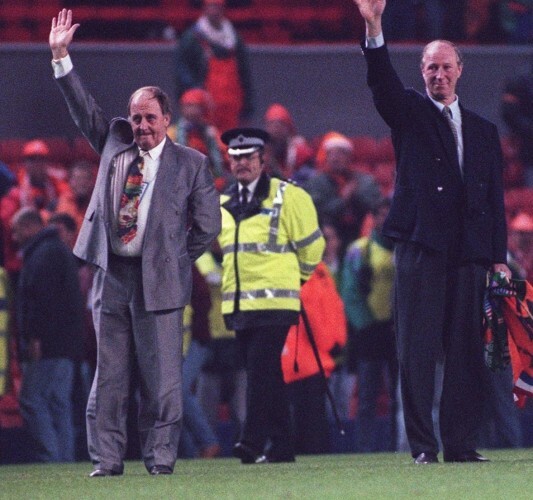 Maurice Setters and Jack Charlton wave goodbye to the Irish supporters. Pic: Matthew Ashton/EMPICS Sport
"I'm not saying I would have got on and scored but, no disrespect to Alan, I was going to affect the game much more in the last third than he was as a defender. So I was gutted. I thought there was no way back for me, that I was only going to be a bit-part player – which I was happy with, don't get me wrong – but at that particular point I was flogging a dead horse.
"That was as low as I felt playing for Ireland. But whether I'd have taken that step, I don't think I would have… but at that moment, no malice towards Jack who gave me my debut, I did feel like that.'
"It was if someone had let the air out of the balloon," Kernaghan concurred. "We all had an idea Holland was going to be Jack's last night. I don't think he said anything after but we all knew what was going to happen."
Miguel Delaney's book "Stuttgart to Saipan: the players' stories" is available from Mentor