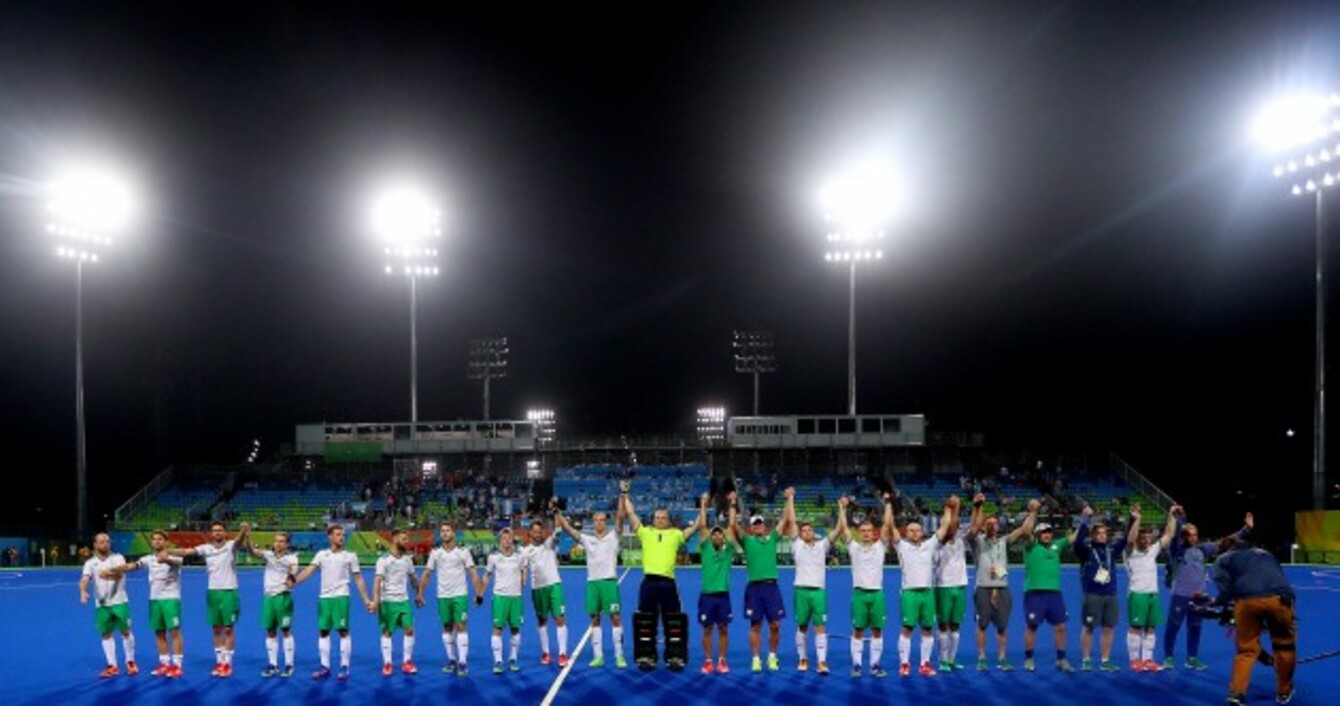 Ireland won't be involved in the new Hockey Pro League which starts in January 2019.
Image: James Crombie/INPHO
Ireland won't be involved in the new Hockey Pro League which starts in January 2019.
Image: James Crombie/INPHO
IRELAND CAPTAIN DAVID Harte has expressed his disappointment after Hockey Ireland's bid to be part of world hockey's new Pro League was rejected, adding that the players will seek clarification as to why they missed out.
The International Hockey Federation (FIH) last week launched its new 'game-changing' global tournament as part of a major shake-up of the sport's international structure.
Hockey Ireland's application for its senior men's and women's teams to be involved in the competition made the final 12-country shortlist, but neither national team will compete in the first four seasons of the league.
The competition will see nine teams play 144 matches on a home and away basis during a six-month period between January and June each year.
As part of the candidate evaluation process, the FIH assessed each national governing body's 'ability to ensure the quality of the league' and a lack of a world class venue on these shores resulted in Ireland's bid falling through.
As reported by The42 in March, a funding stand-off with UCD has left the National Hockey Stadium unfit for purpose and while Hockey Ireland pursued different options, they were ultimately unable to put forward a suitable venue as part of their tender.
The national governing body proposed the use of a new purpose-built stadium in Abbotstown but funding has yet to be secured for that project and the FIH set out financial sustainability as one of the 12 criteria applicant nations were judged on.
The42 also understands that Hockey Ireland 'half considered' playing home fixtures in Glasgow — a venue set to be used by Pakistan because of security issues in their own country — but it was decided that doing so wouldn't add up financially.
It all represents a huge setback for Ireland particularly because the league proclaims to involve the best nine teams in the world, when in fact Craig Fulton's side sit ninth in the world rankings. Pakistan, who essentially made the cut at Ireland's expense, are ranked five places below in 14th.
"It's pretty difficult to take but we're still yet to hear the exact ins and outs of why we didn't make it," Harte told The42.
"It's going to be a difficult time realising that it's four years and we're not involved. The opportunity for us to play in Scotland would have been a logical, geographical no-brainer, a short trip across the water and we would have been there."
It's no secret that Hockey Ireland operate under severe financial limitations, as evidenced last year when the squad had to fundraise ahead of the Olympics, and certainly it may have been a factor in missing out, but this is a missed opportunity both on and off the field for the governing body.
In a hockey context, Fulton's side need to be playing the best teams in the world on a consistent basis to continue their progress, and the same can be said for the women's national team who have enjoyed their own success recently. There is a real danger that the gap between the top teams and the chasing pack will widen with this new structure.
"Those nine teams will now unfortunately have an unfair advantage by playing each other consistently," Harte continued.
"What has worked for us a group over the last few years is playing against those teams, testing ourselves against the best and getting results against them. That in essence led to our qualification for Rio. You constantly want to play these teams.
"It's massively disappointing because you don't want to be playing lower-ranked teams and beating them six or seven nil because that's no good for us."
But, from a financial, marketing and media point of view, this was Hockey Ireland's chance to bring the sport to new audiences and raise its profile on this island. Granted their hand is restricted, but Harte suggests more could have been done to ensure Ireland secured a seat at the top table.
See Sport
Differently
Get closer to the stories that matter with exclusive analysis, insight and debate in The42 Membership
Become a Member
"We still don't have a main sponsor and we've missed out on this opportunity to be in the Pro League," the goalkeeper said.
"It remains to be seen [if Hockey Ireland are doing enough] and I understand it can be quite difficult with the shoe-string budget but you have to say being in that league was an opportunity to attract a main sponsor and we would have been able to develop a world class facility for us to use here.
"As one of the older members of the squad, I may not be around in four years to potentially play in the 2024 league. Hopefully we can learn from what happened in this round."
Hockey Ireland said they are 'disappointed' with the outcome but this process underlines the need to develop an international standard facility.
In an interview with The Hook hockey website, CEO Jerome Pels says the failure to get into the Pro League now means it's a good time to approach the government and Sport Ireland about financial support.
"This introduction of the Pro League, for us, makes it a good moment for us to go to the government and Sport Ireland to explain the need for having a place where we can host if we want to develop hockey to the next level," Pels said.
"Our ambition is to be a top eight country so we need to have the possibility to host big matches. The issue is now how to find the funding for it."
The FIH say they hope Hockey Ireland can continue to work on the infrastructure of the sport in this country and by the time the bidding process for the second season of the Pro League opens in 2021, they will be in a position to submit a stronger bid.
The42 is on Instagram! Tap the button below on your phone to follow us!