This article was originally published on the eve of the 2014 World Cup. 
Though the great sport successes are always fondly remembered, there's a special place reserved for those painful moments too.    
In the build-up to this summer's World Cup, we will examine a selection of the biggest tournament tragedies and chart the social and cultural impact they had on players, managers and fans. 
In the second of a series of essays, we look back on the Holland team of 1974 and how their beauty was scarred forever after a World Cup final defeat to Germany.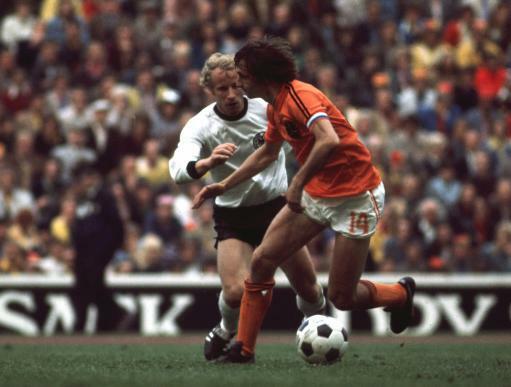 Wilfried Witters / Witters/Press Association Images Wilfried Witters / Witters/Press Association Images / Witters/Press Association Images
PERHAPS THE BIGGEST tragedy of all was the final few minutes. The Dutch were frantically searching for an equaliser. They harried the Germans, they crashed furiously into challenges, they desperately tried to charge past their opponents along the touchline.
Most tragically of all, they thumped the ball high and long into the German area, seeking some sort of miracle. In the midst of World Cup failure, they had inexplicably become like all the others. Out of ideas, they were reduced to imitation. It seemed a sin. They were revolutionaries.
July 7th, 1974 was a death knell for the freedom of expression that formed through the 60s. For the Dutch, their Summer of Love didn't end on Altamont Speedway in 1969 but at Munich's Olympic Stadium four and a half years later. Both incidents signaled the end of a counter-culture. Both incidents signaled the end of optimism, open-mindedness and new-wave. Both incidents signaled the start of pragmatism, cynicism and suspicion of anything different.
David Winner, author of Brilliant Orange: The Neurotic Genius of Dutch Soccer, tells The42 there's an undeniable cultural and social overlap.
The Dutch team of 1974 is often compared to The Beatles with Johan Cruyff as the John Lennon character. Total Football begins a few years later but its demise is a few years earlier than what happens to the Beatles' music with John Lennon murdered in 1980.

Altamont

occurs in 1969 — a symbolic end to the idealism of the 60s so it gets very dark. Holland's '74 team is somehow the Summer of Love, Sergeant Pepper, Altamont and the death of John Lennon all in one four-week period. You get the whole thing — the peak, the summation of this movement that's been developing since the mid-60s in Holland which embodies some of the ideals of the youth movement of later in the deacde and you have this team where Ruud Krol — this hard defender, is wearing hippie love beads in a World Cup final. And then there's this disaster that happens to them – there's the flowering of this lovely thing and then its destruction all in a very short time."
It's no coincidence that the Dutch team of 1974 seem such a reflection of the zeitgeist. They were formed through the discussions and rebellion of the previous decade. In Cruyff, the Dutch had a Johnny Strabler, Jim Stark and Steve McQueen all rolled into one. He may not have had a motorcycle but he had a football. He was a provocateur. And he was a movie star. In 1972, at the height of Ajax's peak, Maarten de Vos made a film about him, following his every move with a camera. We see him arrive at training in his sports car. We see him, in his checked, short-sleeved shirt and manicured shoulder-length hair in profile. We see him in slow-mo on the pitch, each movement appearing so poised, so balletic. It's all played out to a Burt Bacharach-inspired soundtrack.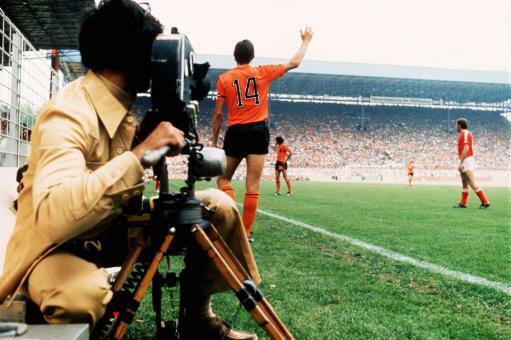 EMPICS Sports Photo Agency Cruyff, always the star, always the centre of attention. EMPICS Sports Photo Agency
Cruyff has long held the belief that Holland's 1974 World Cup was a success because the team's legacy was one of beauty. He felt their failure to win a trophy was irrelevant. They changed everything. They were unique. They ripped up the rule-book and created their own. They didn't need a piece of silverware to know they had accomplished something special. The sentiment has been carried through the last four decades and become part of the Dutch culture.
"Cruyff said afterwards – 'We were very successful in a way because we were acclaimed for our style and everybody said we we were the best team. But it deflected attention away from the failure. Over the years it became an excuse. The Dutch thing became beautiful losing. It became a national brand in their football. But that's not how it was pre-'74. The guys who played in that team were used to winning and (Rinus) Michels invented Total Football not as a way of making beautiful patterns on the field but as  way of winning. The Ajax team that were European champions three years running were much better than everyone else and won. That was the plan for 1974. Holland weren't there to make up the numbers and finish second and get acclaimed for their loveliness and their open-mindedness and their philosophical nature. They were there to win. So it was one thing before July 7th 1974 and then afterwards it was kind of re-tooled and re-imagined as 'Actually, we succeeded anyway.'  But they didn't. It was a failure.  But a success in other ways.  It was always a prickly thing that you couldn't come to terms with or move on from. It was an unresolved trauma.  The beauty and achievement was creating a wonderful brand of football."
In many ways, Holland shouldn't have been at the World Cup in 1974. They qualified on goal difference but in their final group game against the Belgians in the previous November, Jan Verheyen had a perfectly good goal ruled out for offside. Had it stood, the Dutch would've been eliminated. But, that doesn't quite fit the narrative. Like Altamont, the ideal would crash and burn on the biggest stage possible with the whole world watching.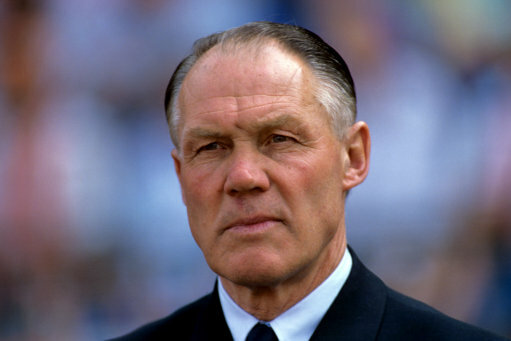 Duncan Raban / Duncan Raban/EMPICS Entertainment Rinus Michels - the man who conceived Total Football and instilled the same philosophy in the Holland side of 1974. Duncan Raban / Duncan Raban/EMPICS Entertainment / Duncan Raban/EMPICS Entertainment
Three months before the World Cup got underway, Holland changed their manager. Rinus Michels, the man who had created the Total Football, possession/precision-based system deployed by his glorious Ajax team of the late 60s/early 70s replaced Frantisek Fadhronc and set about re-creating his philosophy with the national side. The bulk of the team was made up of players from Ajax and Feyenoord. Between 1970 and 1973, they won four European Cups between them. In 1974, Feyenoord racked up a UEFA Cup too. In Johan Cruyff, Holland also possessed a Spanish league winner and reigning World Footballer of the Year. But, the best club team in Europe in 1974 was Bayern Munich. Beckenbauer, Muller, Maier, Breitner and Hoeness were the spine of the German side too, a side crowned European champions in 1972.
Holland were drawn in Group 3, alongside Sweden, Bulgaria and Uruguay. Their first game against the South Americans was a breezy affair with Johnny Rep scoring very early and very late to ensure a comfortable 2-0 win. The next assignment was a game against Sweden and it's best remembered for providing the perfect snapshot of the Dutch team.
Roeboe / YouTube
Cruyff invented an impudent piece of trickery when he instantly killed a cross-field ball with his left foot and somehow kept control as it threatened to bounce away from him. Marshaled by Jan Olsson, Cruyff was forced away from goal, the defender snapping at his heels. As he went to pass the ball inside, Cruyff planted his left boot in the turf for balance and used his right to sweep the ball behind him. It all happened too quickly for a bamboozled Olsson, who bought the dummy and stuck out his left foot to try and block the pass. Cruyff had already gained a couple of yards and headed for the touchline. The arrogance continued when he bent in a wondrous cross using the outside of his right boot. It really should've been converted but, fittingly, Holland squandered the chance.
The game ended scoreless. Typical Holland. Though a defining football moment, 'The Cruyff Turn' happened in a game the Dutch failed to win. It was beautiful but flawed. Useless beauty, but not. Cruyff, so magnificent in his movement, balletic like in his film two years before, wasn't a footballer. He seemed something else, other-worldly almost. To dub him a 'footballer' seemed disrespectful. He was an artist, an architect and athlete rolled into one.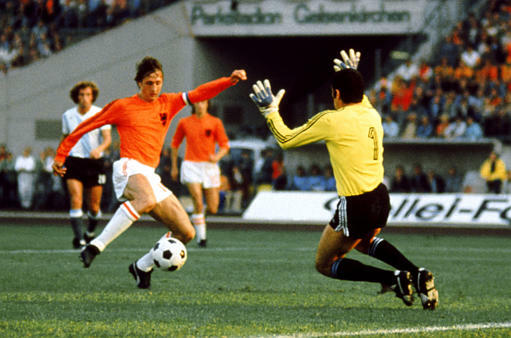 Peter Robinson / EMPICS Sport Peter Robinson / EMPICS Sport / EMPICS Sport
Against Bulgaria in their final group fixture, Cruyff was masterful again. His pace and power made the first goal – a penalty scored by Johan Neeskens. As the teams ran back to the centre-circle, Cruyff, ever the leader, mouthed instructions to his comrades. Theo de Jong scored Holland's fourth and final goal with an astute diving header. It was created by Cruyff, who nonchalantly curled in a pinpoint cross onto de Jong's forehead. It was effortless.
In the knockout stage, Holland destroyed Argentina, beating them 4-0 in what was an irresistible performance. Cruyff scored twice and set up another for Johnny Rep with a majestic cross from the left side. Even Cruyff's second goal is something to behold – a controlled right-footed volley from a tight angle through a crowded six-yard area.
guushermans / YouTube
On a wave, Holland swept aside the challenge of East Germany and prepared for a 'semi-final' against Brazil. Four years on from 'jogo bonito', Pele's dummy and that goal by Carlos Alberto, it seemed like the passing of the baton. Two countries intent on expressing themselves, determined to use the field as a canvas and the ball as a brush. Except, this was a different Brazil. A nastier team with a temper. The violence was punctuated by two Dutch goals with Cruyff, naturally, involved in both. For the first, he sent in a low cross from the right side that was floated to the net by Neeskens. Shortly after, Cruyff flung himself at a cross from the left side, powerfully and acrobatically volleying home at the near post. Cruyff had, single-handedly, qualified his side for a World Cup final. And that's when the fun started.
Holland had become arrogant. They were complacent. There were weird things happening that seem almost inconceivable now. In the middle of the tournament, Rinus Michels goes to Barcelona (where he was still manager) to supervise them playing in the Spanish Cup final which couldn't possibly happen now for all kinds of reasons. But because you didn't have the media scrutiny you have now, no one copped what was going on and the players were running the show. Ajax had beaten Bayern 4-0 the previous year and they just felt very confident. They thought they were going to win easily and the Germans prepared very thoroughly and the Dutch didn't. They felt that the hard game for them was beating Brazil in the semis and so they took their foot off the gas and didn't keep focus and weren't sharp as they should've been. That's part of the tragedy – that they did it to themselves to some degree. They underestimated the event and the task and the opponents."
The opponents were important. Germany. It allowed references to the second World War creep into conversation. Holland, it was whispered, were out for revenge. When the war started, Germany promised never to attack Holland. And then they did. So, this time, Holland looked to humiliate the Germans, to embarrass them. One of the Dutch players, Wim van Hanegem, had watched his father, his sister and his two brothers die in the war. Hubris. But ultimately, Holland's biggest opponents were themselves and their preparations for the final were lost in a haze of ill-discipline. The fatal flaw thesis. What built them up brought them down. What set them apart, ripped them asunder. The blind arrogance and freedom of expression led to devastating downfall.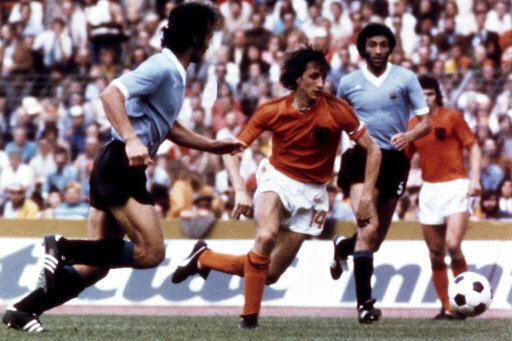 PA / PA Archive/Press Association Images PA / PA Archive/Press Association Images / PA Archive/Press Association Images
Five days before the final, the German newspaper BILD Zeitung published a story detailing how a 'naked pool party' had taken place at the Holland team's hotel with several unidentified players and local girls involved. The paper alleged it had photographs but never ran them. At a press conference, Michels denied everything and claimed it was all part of a wider German conspiracy. The players did likewise but it added an extra edge to the Munich decider and fueled rumors that the Holland squad were losing control.
The Dutch players were living like rock stars and there were girls in the pool and the way they tried to pass all that off as a 'dastardly' German attempt to smear the good name of the innocent Dutch was unattractive to say the least. It's now accepted that the BILD story was not only accurate but it was a very mild reflection of the lack of discipline that had overtaken the Dutch squad.The story didn't have much play outside of Holland. The resonance had more to do with the 'pesky' Germans and memories of the war. In fact, the Germans fans were disenchanted with their own team – they thought it was rather ugly and functional and unappealing. And they had fallen hook, line and sinker for the Dutch. There was a huge amount of warmth and love for the Dutch – it didn't translate into the Germans wanting the Dutch to win but there was a lot of warmth towards them. And that's a discredit to Michels and the Dutch team because they had a meeting after the story broke and said 'Okay, this is the version we tell.' And that's what they went with and it was not true. But nobody would've talked about it if they'd won."
As promised, Holland set out to toy with the Germans. The game kicked off and within moments, Cruyff had the ball. He took his time in possession and then, suddenly, he took off. He glided towards the area, chased by Berti Vogts. As he reached the eighteen-yard line, Uli Hoeness lunged at him and brought him down. Referee Jack Taylor pointed to the spot though it looked like the infringement occurred outside the box. Neeskens, so reliable in front of goal  throughout the tournament, stepped up and scored. The first German player to touch the ball was their goalkeeper, Sepp Maier. Humiliating.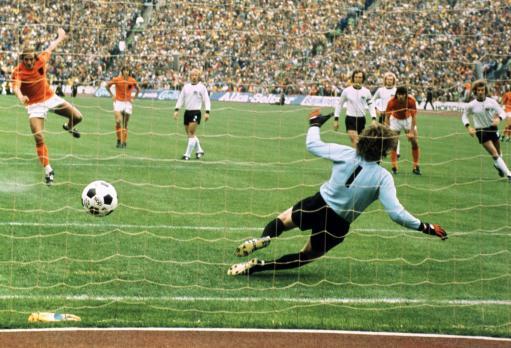 PA / PA Archive/Press Association Images PA / PA Archive/Press Association Images / PA Archive/Press Association Images
But Germany would head to the half-time interval in front. Paul Breitner equalised from the penalty spot after Wim Jansen had clumsily fouled Bernd Holzenbein. Just before the break, Gerd Muller scored a superb poachers' goal, showing impeccable balance to align his body just right and sweep a low strike to the far corner from close-range after initially mis-controlling.
The second half saw Holland pepper the German goal to no avail. It was especially cliched: the resolute Germans and the beautiful losers from Holland. But as the full-time whistle sounded, the Dutch drew two major conclusions: the Germans had cheated and Holland had done well – the World Cup had been a resounding success with just a minor blip at the end. And those two misguided conclusions ensured the country is still trying to get over the trauma.
The virtuous Dutch against the ugly Germans – I don't think that works any more. Replaying the war? I don't think that really works. What happened was they took so long to face the problem directly. The first reaction was 'Oh, it doesn't matter'. They had a party when they came home.  They had a reception with the Queen and it was as if they were rehearsing for all the future disappointments. But their feelings were very raw. They pretended they were satisfied sometimes. Knowing that they were the best and that they came up with this completely new way of playing football which was better than everyone else's – that was a part of it. It wasn't okay to come second. It was an enduring pain. And it happened again in 1978 and happened again in a slightly different way in 1998 when the best team should've won it. Dennis Bergkamp – an embodiment of the mentality that disasters aren't that disastrous and the joys aren't that joyful, he's still haunted by 1998 – which was his generation's 1974. Holland should've won. They were the best team. They were the team the French didn't want to play in the final. They were better than the Brazilians and yet they failed.  And it nags at him, he can't do anything about it, some sixteen years later. It's too late.  You can't replay the game. It's that moment – you had to take your chance and you didn't. That's why it lingers and gnaws away. And because a World Cup comes around every four years, it's not like a Champions League or a league title. It's once in a lifetime and  that's why it hurts."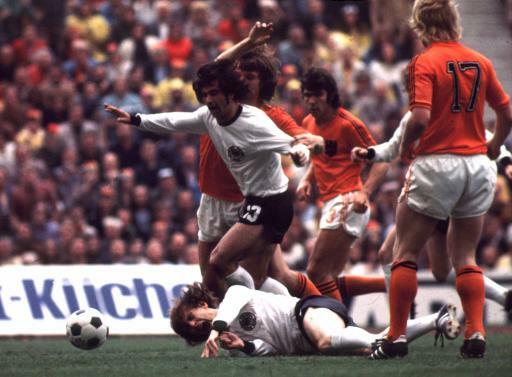 Wilfried Witters / Witters/Press Association Images Wilfried Witters / Witters/Press Association Images / Witters/Press Association Images
They called it The Lost Final. It took on mythical status. 'How did we lose?', they asked themselves. The fascination with the 'cheating' Germans continued throughout the next decade. The Dutch grew to despise them. After the sides met in the semi-final of Euro '88, Ronald Koeman wiped his backside with Olaf Thon's jersey. The next year, when the teams clashed in Rotterdam, a banner in the home section likened Lothar Matthaus to Hitler. At the World Cup in 1990, Frank Rijkaard was sent-off for spitting at Rudi Voller. At Euro '92, hooligans fought on the streets. It was relentless until 2004 and the publication of a book entitled '1974: We Were The Best' by Auke Kok which suggested the Dutch had deserved to lose, that Germany deserved to win and it was because of self-destruction that Holland failed to win the World Cup. It became a best-seller in Holland. Catharsis.
It is a tragedy that maybe the greatest team ever fell short and it's strange that the template of Total Football fell at the final hurdle whereas its strongest, direct-line  successor is the Spanish team that's adopted the Cruyff/Dutch idea of how football should be played and forty years later, it's swept all before it. In 1988, when they beat the Germans almost in an exact mirror image, a 2-1 game in Hamburg, the eruption of joy and revenge, etc. It was a long-delayed reaction to 1974 in some ways. It didn't make up for '74 – at the time it did but it didn't really. It was a lesser competition, it wasn't the same team."
There's a fascination to those that self-destruct. It dates back to Icarus. There's a litany of books and magazines and films and TV shows dedicated to those that fly too close to the sun and get burnt. Those that got away, never properly fulfilling their purpose. Then again, perhaps they did. Perhaps the short, fleeting glimpse of something uniquely powerful or beautiful was enough. Perhaps that's all we needed. Certainly, the Holland team of 1974 carries a mystique, an energy, a fascination shared only by those that left too soon.
It's a bit Jimi Hendrix and JFK and Marilyn Monroe and Kurt Kobain and Keats and Shelley and Byron. It's a romantic story. It's almost Jesus-y. When I'm using my voice-recognition dictation system and I say the name 'Johan Cruyff', it will always translate it as 'Johan Christ'. Which makes me think that there are quasi-religious elements to the story. It taps into the Christian narrative that Jesus is very young. We understand it as him having died too young. But for a cause, in pursuit of an ideal. It's got all these cultural resonances which do very little to diminish its powers as an attractive, compelling story and I think the Dutch of '74 and Hungarians of twenty years previous share similarities. But 1954 was the end for the Hungarians. For Holland 1974, the teachings went around the world, kept evolving and became a quasi-religion in itself. When you see Van Gaal, Guardiola, Wenger and Sacchi – all these sort of apostles or disciples of the Dutch school – it has spread. It's really all very Christian. The original thing dies but it goes around the world and forms an idealistic or better way. It's a compelling and upsetting story in the same way as all the tragic characters who are beautiful and gifted but die young."
The42 is on Snapchat! Tap the button below on your phone to add!