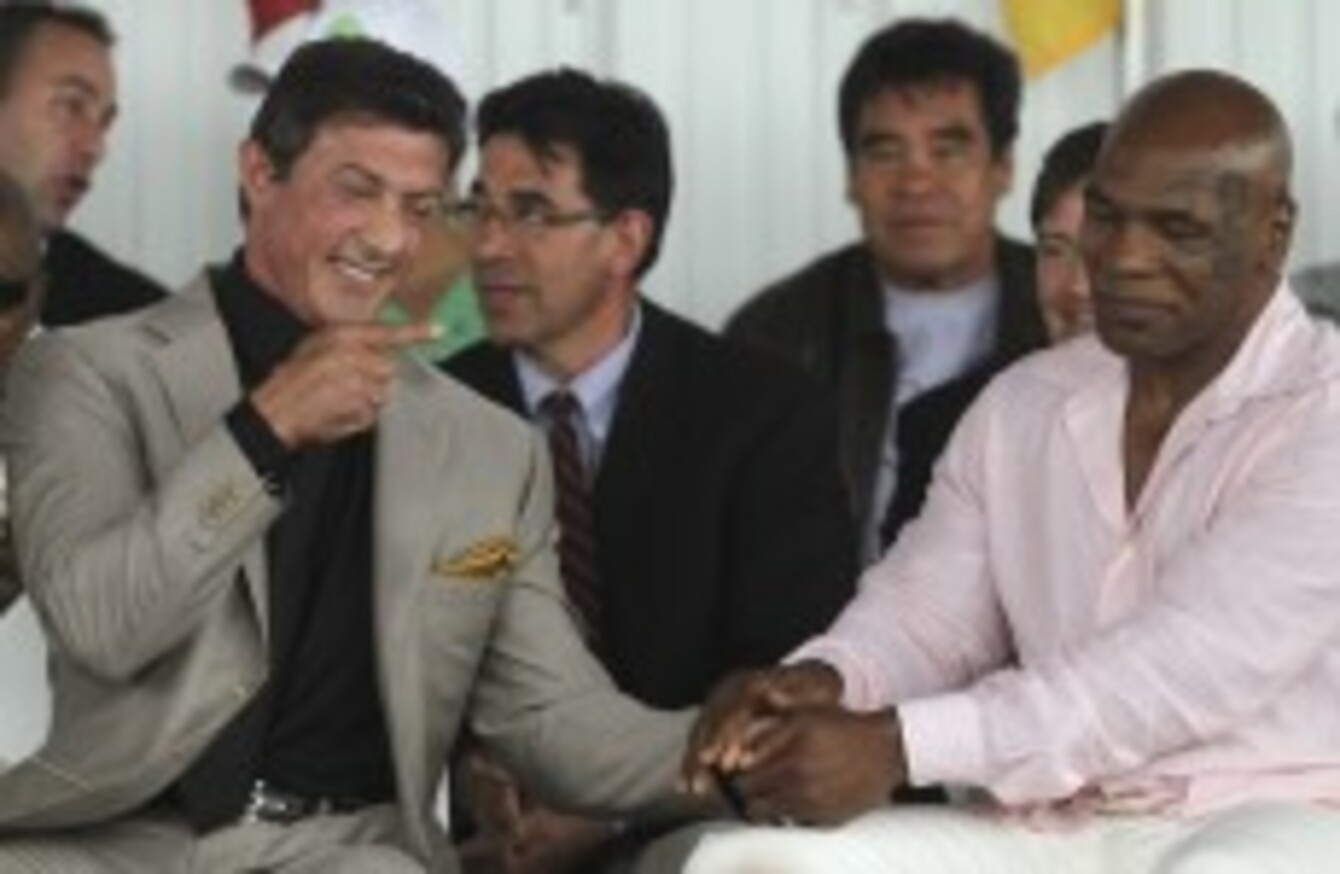 Sly Stallone and Mike Tyson at the ceremony yesterday.
Image: AP
Sly Stallone and Mike Tyson at the ceremony yesterday.
Image: AP
THE ONCE-PROCLAIMED "baddest man on the planet" fumbled for words that wouldn't come. Sylvester Stallone knew exactly what Mike Tyson was feeling.
Both were inducted in the International Boxing Hall of Fame yesterday, Tyson for his reign as heavyweight champion of the world, Stallone for his "Rocky" movie series, and the fans turned out in droves on a rainy, overcast afternoon.
Thousands packed every corner of the induction grounds, and Tyson was no match for the emotion of the moment.
"I've got to be goofy about this or I'll get emotional up here," Tyson warned before trying to honor the late trainer Cus D'Amato, who became his legal guardian after Tyson's mother died and taught him the finer points of the sweet science in a gym in Catskill, N.Y., just a 2½-hour drive from the Hall of Fame.
D'Amato died in 1985, the year before the hard-punching Tyson knocked out WBC champion Trevor Berbick in the second round to become the youngest heavyweight champ in history at age 20.
"All this stuff started when I met Cus, and Bobby Stewart (a social worker and boxing fan who introduced Tyson to D'Amato)," Tyson said. "I was in reform school because I was always robbing people.
"All my life I watched these guys. I look at them different," Tyson said as he looked around at a dais that included hometown heroes Carmen Basilio and Billy Backus, Jake LaMotta, Leon Spinks, George Chuvalo, and Marvin Hagler, among others.
"Why would I want to be like these guys I always say. I don't know.
Tyson paused briefly — the crowd erupted in "Come on Mike!" — and then he tried in vain to continue.
"Oh, man," Tyson said. "I have to take my time with this because there's other guys up here, you know. When I met Cus, we talked a little bit about money, but we wanted to be great fighters.
"Hey guys, I can't even finish this stuff. Thank you. Thank you," Tyson said, then sat down.

If anyone could understand the 44-year-old Tyson's mind-set, it was Stallone, who penned the script about an underdog boxer from Philadelphia named Rocky Balboa and then played the part in the movies. "Rocky" was released in 1976 and was nominated for 10 Academy Awards, winning best picture, best director and best film editing.
"Rocky" made Stallone what he is today and captured boxing's heart from the outset. Every induction weekend is punctuated by the theme song from "Rocky," and on this day it seemed a little bit louder than usual as it blared over the loudspeakers when the honorees made their way onstage.
"I've never pretended to be a boxer. I don't possess those skills," said Stallone, who skipped the annual pre-induction parade because of security concerns. "What I do think I have is an understanding of what goes on outside the ring. Outside the ring is sometimes maybe an even bigger struggle than what goes on inside the ring, and I was able to capture that. Then I believe that you can identify more with the fighter."
Stallone paused as the crowd erupted again.
"More than that, you also realize that our life is a constant battle," Stallone said. "Sometimes I write things that may seem a little sentimental, but I truly believe it's not how hard you can hit — it's how hard you can get hit and keep moving forward because that's really what makes the difference in your life."
- AP