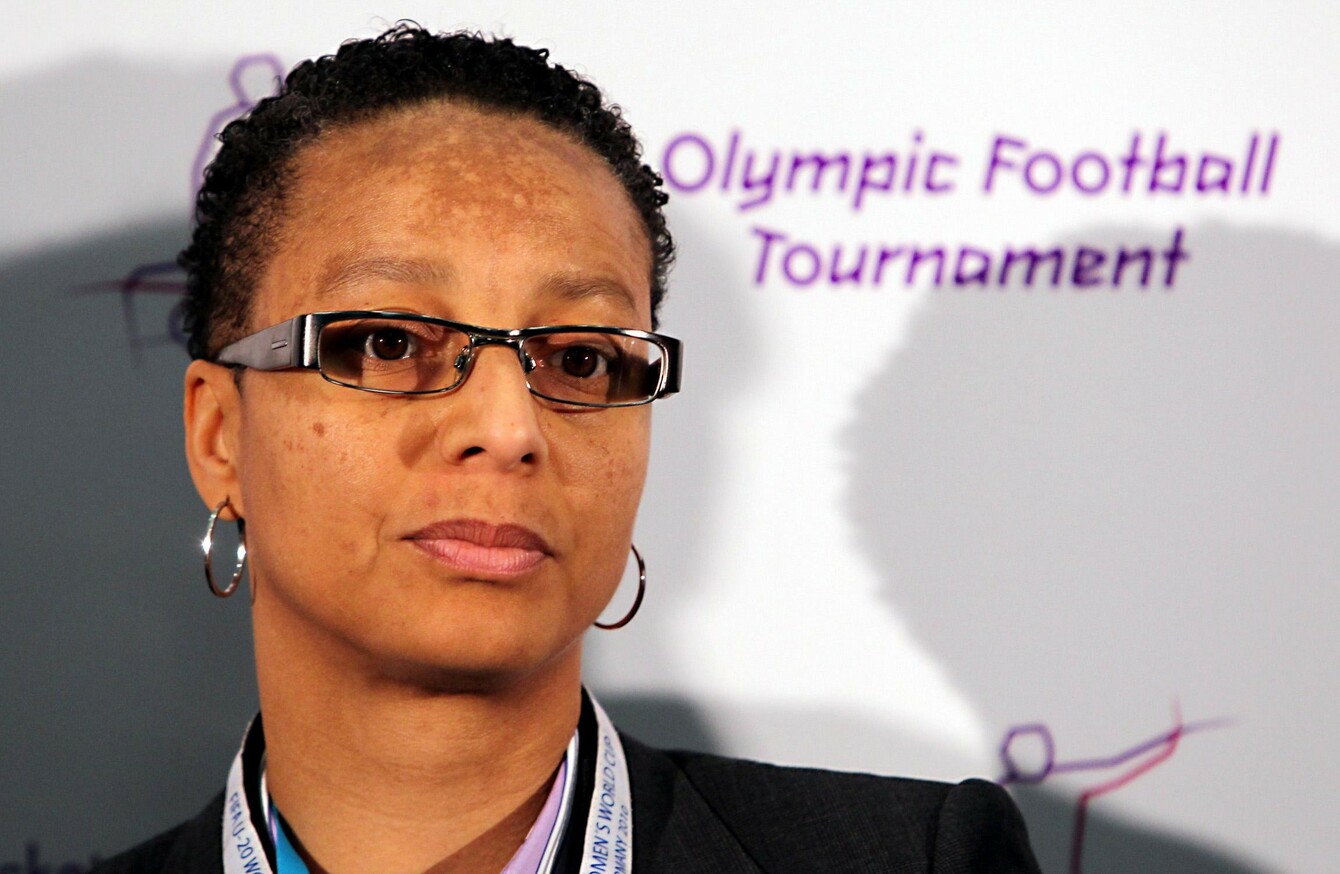 Image: PA Archive/PA Images
Image: PA Archive/PA Images
THE FOLLOWING PASSAGE is an extract taken from the recently released book Hope Powell: My Life in Football.
I was born in 1966, the year England won the World Cup. It's hard to believe, but at the time I came into this world women were banned by the FA from playing football in this country.
For 50 years, the oldest football association in the world did not recognise women's football, did not approve of it and refused to let it happen on any pitch, patch of ground or stadium that had any association with the FA. They gave the red card to any qualified match official officiating women's games. They banned recognised coaches and managers from working with women's teams.
Most of the world has had a long head start on us, because our national association denied women the right to play the greatest game. I am a genuine student of that game and always want to learn. One of the things that has fascinated me is learning more about the history of women's football in the United Kingdom.
This is what I know. Women were playing organised football in this country well before the outbreak of World War One. But it was during the Great War when women's football really took off . With the men away, women came much more into the workplace. Thousands got jobs in the armaments factories, which were dangerous places to work – not just because of accidents and explosions, but due to the chemicals that were used in the making of bombs and bullets.
To try to give the women a healthier workplace, they were encouraged to get out during their breaks, exercise and play sport.
The game the girls all wanted to play was football.
Armaments factories all had their own teams, and matches began between them to help raise money for war charities.
A nationwide tournament, the Munitionettes' Cup, was launched. Matches were played at Old Trafford, Ewood Park, Highbury and many other professional club grounds, in front of crowds numbering 20,000 and 30,000. Women's football developed from being a novelty to serious sporting business.
Then the war ended. The men came home and were given their jobs back in the armaments factories. Most of the women lost work and many of the factory teams folded.
But the keenest of the women players were determined to play on. New clubs were formed, one of which became legendary – the Dick, Kerr's Ladies team. Based in the north-west, the side attracted the country's best women players. They played, and beat, a French women's national team and, in 1920, played a match at Goodison Park against St Helen's in front of 53,000 paying fans.
But a powerful lobby against women ' s football had begun — and the FA listened to it. In 1921, the FA effectively banned women from playing football in this country, a decision that would not be changed for 50 years.
It's probably one of this country's biggest sporting injustices, but sadly unknown by many and largely forgotten.
Be part
of the team
Access exclusive podcasts, interviews and analysis with a monthly or annual membership.
Become a Member
The FA made much of a book published in 1920 by Dr Arabella Kenealy, entitled 'Feminism and Sex-Extinction'. Dr Kenealy did womankind a huge disservice. Her book gravely warned that ' over-use, in sports and games, of the muscles of shoulder and chest, occasions atrophy of mammary glands such sterilisation, where it is not actually producing diseased and degenerate offspring, is producing a pitiful race of pallid and enfeebled babies and children. '
The FA pounced upon her warning, gave it maximum publicity through the press, and went out of its way to smother women's football in the cot. They even lectured other countries on the ills of the game. When the Dick, Kerr's Ladies went on tour to Canada, the FA wrote to their male Canadian counterparts urging them to ban the team from playing in their country. The Canadian FA agreed and the Dick, Kerr's Ladies were forced to travel south to the USA to rearrange their tour to play against American teams.
Even then, the US football authorities would only let them compete against men ' s teams. Rather interestingly, in their six matches, they won two, drew two and lost two.
For over 50 years, the women's game in England went 'underground'. Matches were played on rugby grounds and in parks, but mostly not in any kind of organised way. There were no leagues, no structures and little administration.
In 1969, the fightback began. The England men's World Cup win in 1966 was a real shot in the arm for English football generally. Everyone wanted to play. The rebel Women's Football Association was formed and, though it was a terminally underfunded and largely voluntary organisation, it sowed the seeds of what was to come.
In 1971, thanks to pressure from UEFA, the all-male board at the FA was forced to lift its ban on women ' s football being played on their affiliated grounds. Not that this meant they would have the remotest interest in becoming involved in supporting the women's game.
The WFA battled on, and in the same year launched the first national knockout Cup for women, the Mitre Trophy, which would eventually become the FA Women's Cup. A year later, the WFA launched an official England national team – almost a hundred years after the first men's international fixture. Their first match was a 3 – 2 win against Scotland in Greenock. Sylvia Gore had the honour of scoring England's first ever international goal.
In 1975 the Sex Discrimination Act was made law, a long overdue and genuine step forward for gender equality in Britain generally. But football was exempted. Those responsible for framing the Act argued that women had many qualities superior to those of men, but did not have the strength or stamina to run, to kick and tackle.
So as late as 1975, the establishment officially viewed women as poor, weak little things who shouldn't be let near a football. It was against this background that I began to play football. All I ever wanted to do in my life was to play the game and to fight the cause for women's football.
Hope Powell: My Life in Football is published by Bloomsbury. More info here.
The42 is on Instagram! Tap the button below on your phone to follow us!